/ Source: The Associated Press
Everybody loved "Raymond" one more time, honoring the show Sunday as best comedy series for its final season. That denied the prize to newcomer "Desperate Housewives" while giving best drama honors to another first-year hit, "Lost."
"All year long they've been asking us, 'Do you think, now that your show is going, is this the end of the sitcom?"' said "Everybody Loves Raymond" executive producer Phil Rosenthal. "I want to say, yes. Beyond that, it's the end of laughing and the end of smiling."
Felicity Huffman and Patricia Arquette became first-time Emmy winners as they received lead actress honors while Tony Shalhoub and James Spader once again proved favorites in the best actor category.
"I've turned into one of those actresses and I'm sorry," Huffman, who plays an overwhelmed homemaker on ABC's "Desperate Housewives," said as she teared up at the start of her acceptance speech.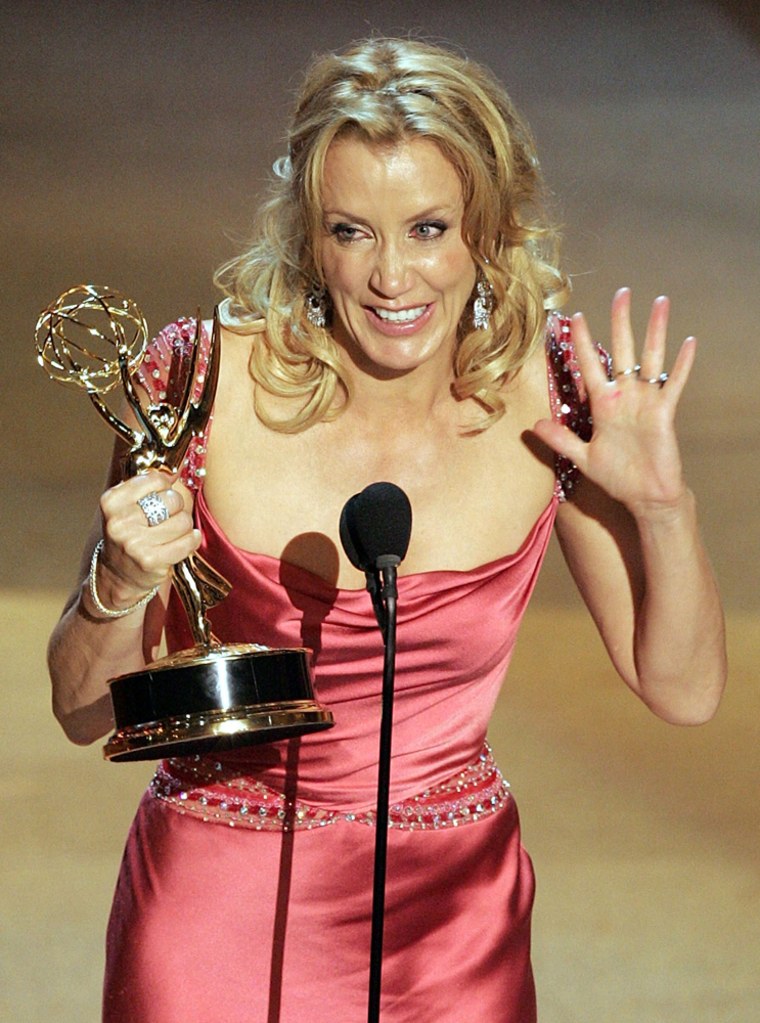 She thanked "the women of Wisteria Lane," her co-stars Marcia Cross and Teri Hatcher — also nominees in the category — and Nicollette Sheridan and Eva Longoria.
Arquette, who plays a crime-solving psychic in NBC's "Medium," won the best drama series actress award.
"I want to thank you for this honor, for putting me in this incredible company," she said. She offered her "respect and gratitude" to volunteers helping Hurricane Katrina victims and issued a prayer that soldiers in Iraq "come home safe and sound."
Shalhoub was named best actor in a comedy series for "Monk."
"I just want to say there's always next year, except for Ray Romano," Shalhoub said jokingly of his fellow nominees.
Spader was named best dramatic actor for "Boston Legal" for his portrayal of a lawyer with an ethics problem — his second consecutive win.
"I'd like to thank the academy and I'd like to thank my mother and I'd like to thank my mother again, because I forgot to thank her last year," he said.
Other past Emmy favorites grabbed trophies at Sunday's ceremony, with Brad Garrett and Doris Roberts of "Everybody Loves Raymond" and William Shatner of "Boston Legal" receiving best supporting actor honors.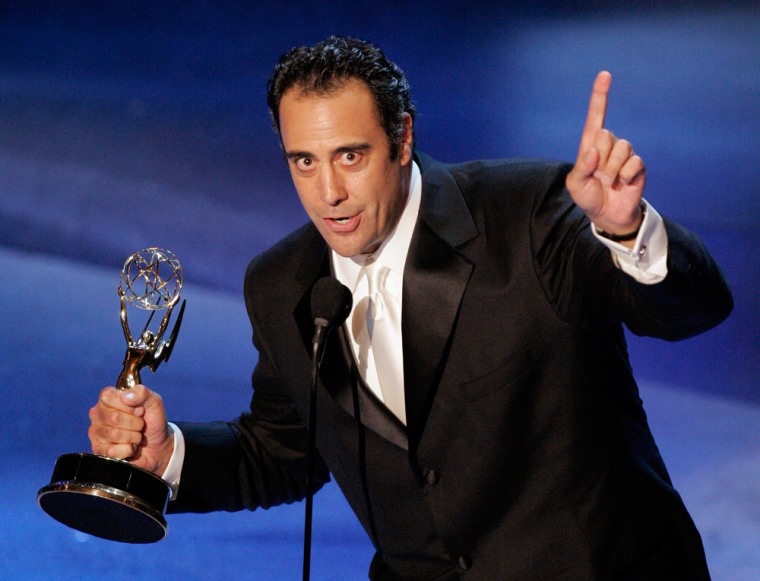 Garrett received his third Emmy for the CBS sitcom and Shatner received his second Emmy for the character of egotistical lawyer Denny Crane, which also had first been featured on "The Practice."
"Oh, my gosh. ... Thank you so much," said Garrett, adding facetiously: "I have to dedicate this to Britney (Spears) and our baby. This is amazing."
Roberts appeared on stage with two grandsons at her side.
"This is the icing on the cake," she said, accepting her fourth trophy for her role as a meddling mother-in-law. "Nine wonderful years on 'Everybody Loves Raymond' and to finish it off with this is wonderful."
Blythe Danner was named best supporting actress in a drama for Showtime's "Huff."
"I think my husband Bruce Paltrow is up there, stirring this up for me," Danner said, making a sentimental reference to her late husband, a director, then turned to two pressing national issues.
Danner said Paltrow (their children include actress Gwyneth Paltrow) would want her to pay tribute to hurricane-ravaged New Orleans and she issued a plea for the return of troops from Iraq.
Host Ellen DeGeneres paid brief tribute to the victims of Hurricane Katrina. The magnolia on her lapel was for them; presenters also were asked to wear the state flower of Louisiana and Mississippi. And Jon Stewart, a winner and a presenter, did a comedic bit that blasted the federal response to Katrina. But for the most part, the tragedy that had drawn Americans to their TV sets received scant attention as the ceremony's focus remained mainly on the awards.
The ceremony did include a tribute to late-night king Johnny Carson, the "Tonight" show host who died this year, with David Letterman remembering the man who entertained America and was mentor to so many comedians.
The ceremony also honored network TV's veteran news anchors, the retired Dan Rather of CBS and Tom Brokaw of NBC and the late Peter Jennings of ABC. Rather and Brokaw drew a prolonged standing ovation when they took the stage.
For their supporting acting work in a miniseries or a movie, Paul Newman was honored for "Empire Falls" and Jane Alexander for "Warm Springs," both on HBO.
Hugh Jackman was honored as best individual performance in a variety or music program for his work as host of the 58th annual Tony Awards.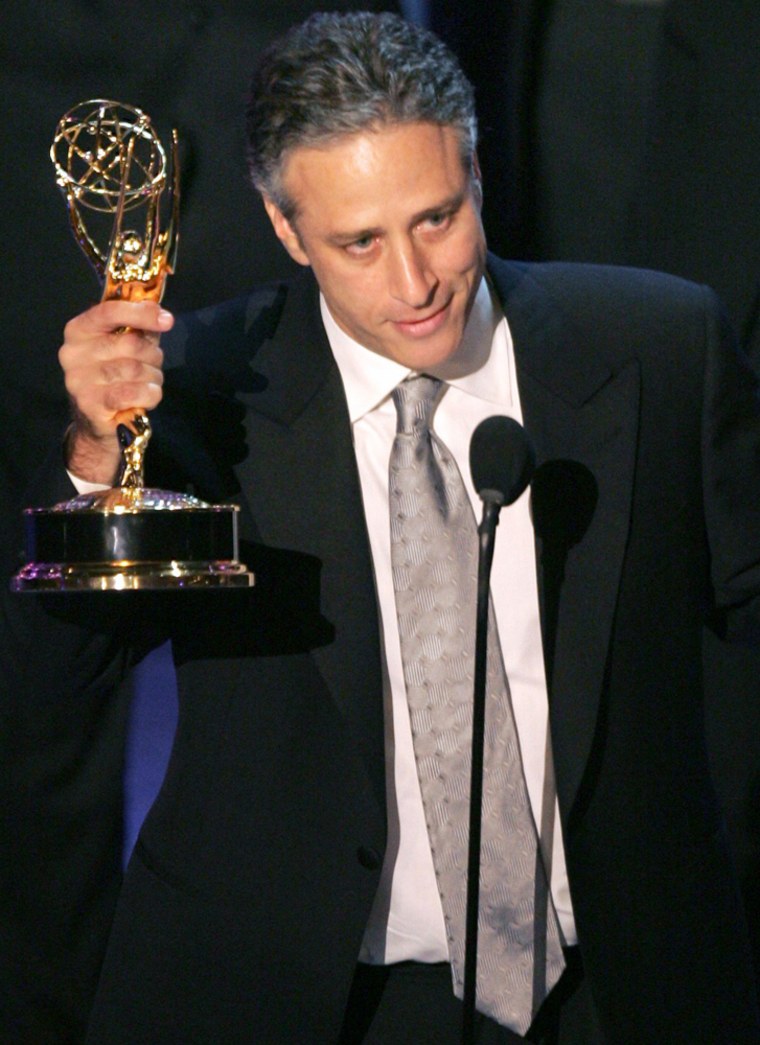 "The Daily Show With Jon Stewart" repeated as best variety, music or comedy series and again won for writing.
"The Amazing Race" was named outstanding reality-competition program for the third time.
The directing and writing awards for a drama series were split between two new hit shows. "Lost" won the former and "House" took the latter.
Geoffrey Rush was honored as best actor in a miniseries or movie for "The Life and Death of Peter Sellers," HBO's dramatic take on the comic actor which also claimed writing and directing awards.
S. Epatha Merkerson was named best actress in a miniseries or movie for "Lackawanna Blues," on HBO, and proceeded to charm the audience by announcing her acceptance speech, which she'd tucked into her bosom, had slipped down and couldn't be retrieved.
"Desperate Housewives" won the comedy series directing award while the writing trophy went to Fox's "Arrested Development."
HBO's "Warm Springs," which dramatized Franklin D. Roosevelt's battle against polio before becoming president, was named best TV movie. The best miniseries trophy went to PBS' "The Lost Prince."
Earth, Wind & Fire kicked off the show at the Shrine Auditorium with a revamped version of its song "September," paying tribute to the TV season past. The Black Eyes Peas jumped in with a few rap verses, including a Martha Stewart lyric: "Went to jail, got a show, that's the way entertainment goes."