While "Game of Thrones" won a record-breaking 12 Emmy Awards on Sunday night, perhaps the most memorable trophy was bestowed upon "Mad Men" star Jon Hamm, who finally won his elusive first Emmy with his 16th nomination.
Although Hamm had earned a Golden Globe and other accolades for playing troubled ad executive Don Draper on "Mad Men," he'd never won an Emmy for his work on the AMC drama, which wrapped this year. Nominated for lead actor in a drama, he beat out Kyle Chandler ("Bloodline"); Jeff Daniels ("The Newsroom"); Bob Odenkirk ("Better Call Saul"); Liev Schreiber ("Ray Donovan"); and Kevin Spacey ("House of Cards").
Hamm: 'This is impossible'
"There's been a terrible mistake, clearly; thank you for that," said Hamm, who'd skipped the stairs and opted to crawl onto the stage to claim his previously elusive award. "This is impossible. It's impossible to be named with all of those extraordinary gentlemen [in this category]. It's impossible to be standing up here. It's impossible to have done this show with this incredible cast, with these incredible people, these incredible writers, our incredible crew."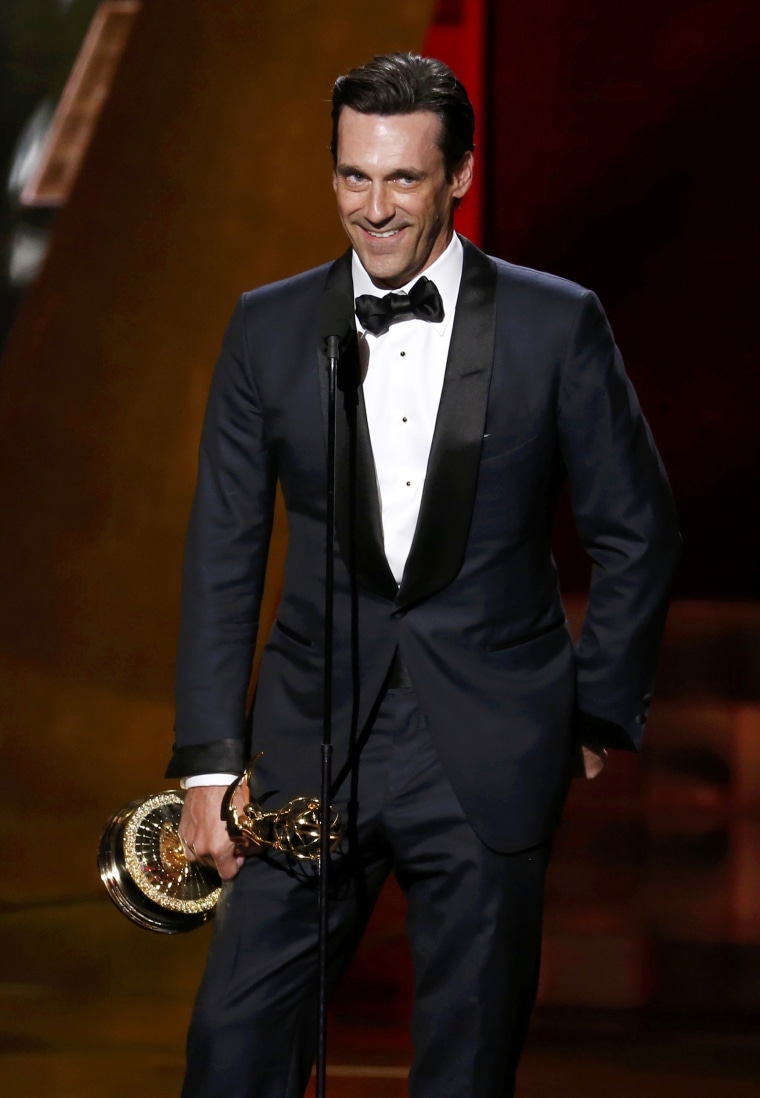 Hamm, who lost both his parents when he was young, also thanked "families who have chosen, for some reason, to take me in, and be nice to me, along this strange, strange road."
Record-breaking year for 'Game of Thrones'
Hamm's series, however, did not win best drama. That award, and many others, went to HBO's "Game of Thrones." Peter Dinklage won his second Emmy as a supporting actor in a drama for his work on that series, which also won awards for directing and writing Sunday night.
The series also won eight Creative Arts Emmys last weekend, bringing its total to 12. That's the most a single series has won in a given year, according to Variety.
Hail to the 'Veep'
Among comedies, "Veep" was arguably the night's biggest winner, taking home awards for best comedy series, two major acting awards and another trophy for writing.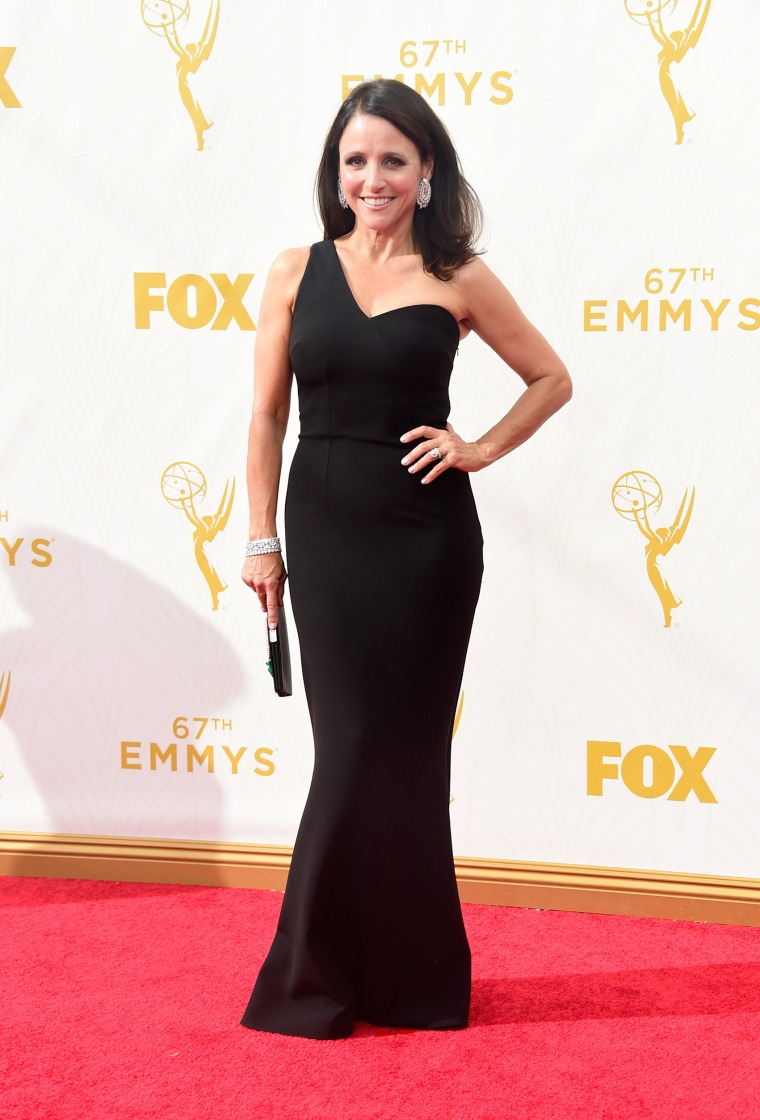 "Veep" star Julia Louis-Dreyfus won best lead actress in a comedy — spoiling Amy Poehler's last chance to win an Emmy for her "Parks and Recreation" work. (Poehler appeared to know what was coming, as she was seen sporting oversized sunglasses and a sweatshirt when the nominees were announced.)
In accepting her sixth Emmy, Louis-Dreyfus quoted her own show and said, "What a great honor it must be for you to honor me tonight." She added, "Oh, no, no, I'm so sorry: Donald Trump said that. I'm sorry." She also thanked the "powerful, funny women" in her category.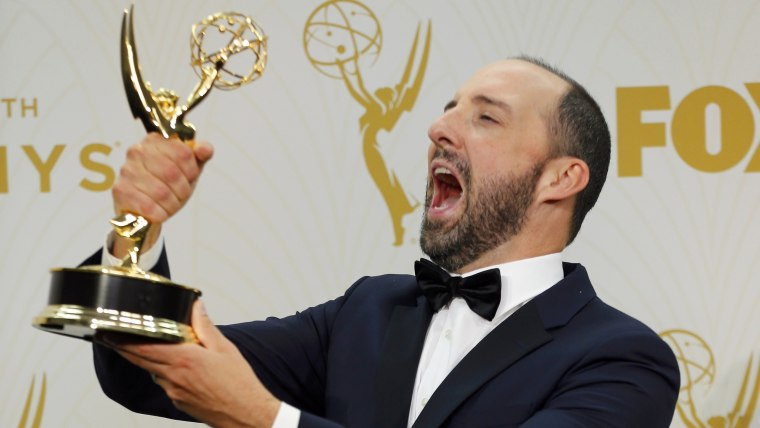 Louis-Dreyfus' "Veep" co-star, Tony Hale, won his second Emmy in the supporting-actor comedy category. He thanked a long list of people, including the "Veep" writing team of Simon Blackwell, Armando Iannucci and Tony Roche, who'd just accepted their first Emmy for their category. "They make it possible to do what we do, and I am so thankful," Hale said.
Groundbreaking wins for 'Transparent'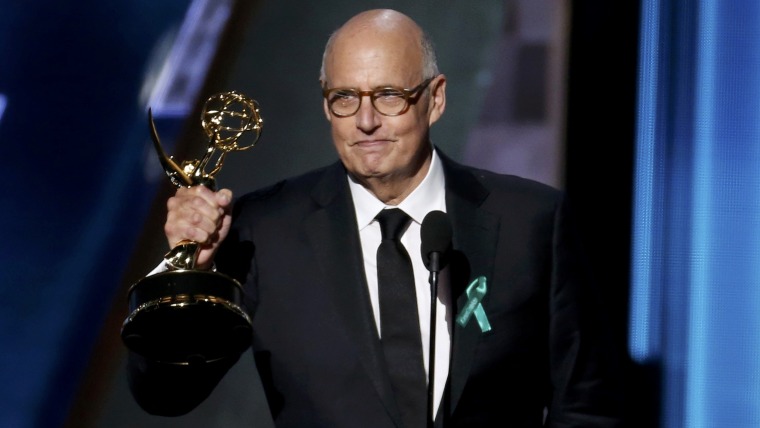 "Transparent" also fared well in the comedy categories. Jeffrey Tambor won best actor in a comedy series for his potrayal of Maura Pfefferman, a member of the trans community.
"I had a teacher who used to say, 'When you act, you have to act as if your life depends on it,'" he told the audience. "And now I've been given the opportunity to act, because people's lives depend on it."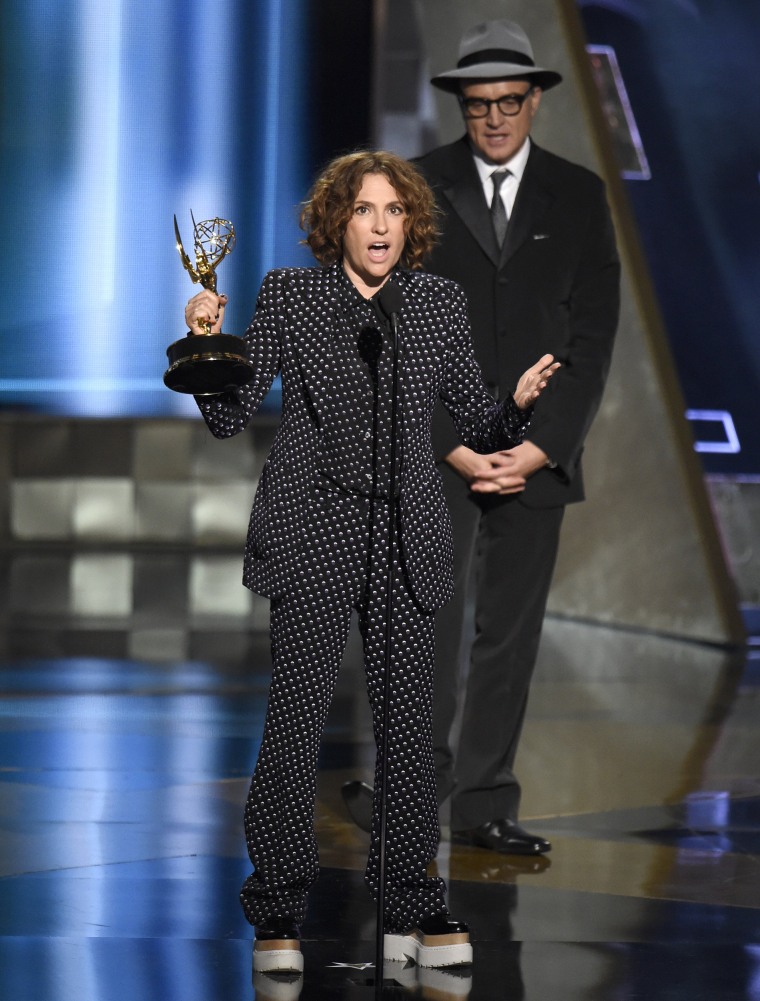 While accepting her first Emmy for directing a comedy series, "Transparent" director Jill Soloway thanked her "Moppa" — her transgender mother — and encouraged viewers to vote to pass a trans equality bill.
"She could tomorrow try to find an apartment, and in 32 states, it would be legal for the landlord to look her in the eye to say, 'We don't rent to trans people,'" Soloway said. "We don't have a trans tipping point yet. We have a trans civil-rights problem."
MORE: Here are all the must-see looks from the Emmys — vote for your favorite!
In ceremonies held before Sunday's national broadcast, fellow "Transparent" actor Bradley Whitford won an Emmy for his guest appearance in the comedy series, which can be streamed on Amazon.
Viola Davis: 'Opportunity' knocks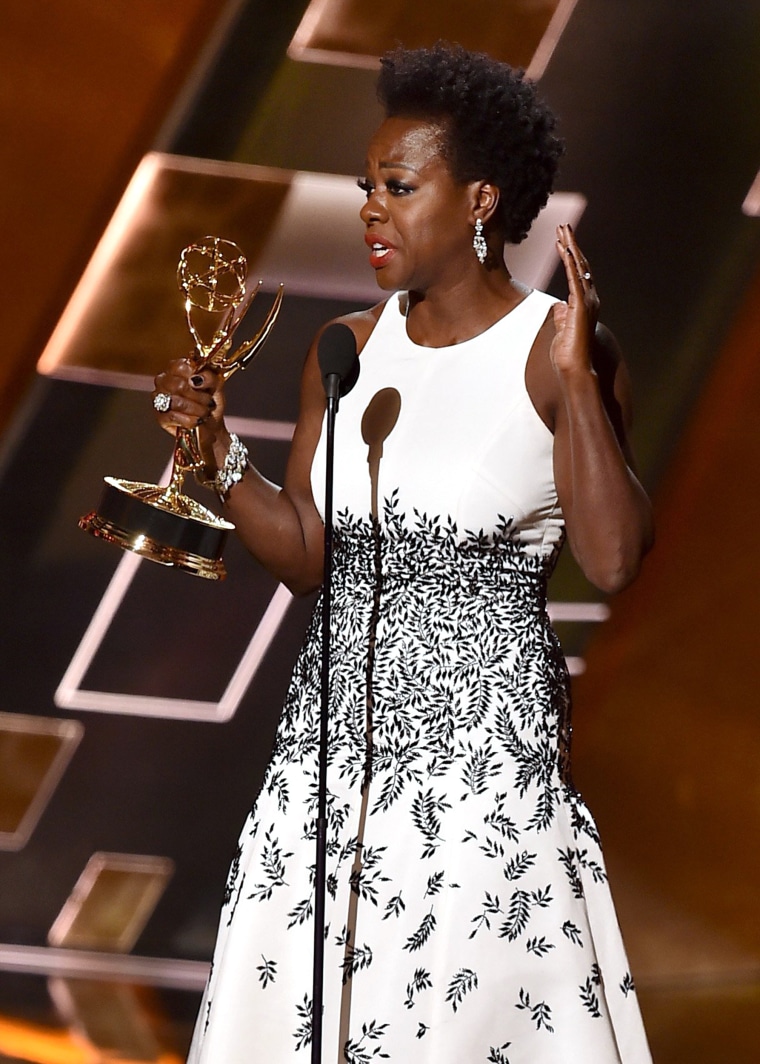 Viola Davis of "How to Get Away With Murder" won the Emmy for best actress in a drama, and began her acceptance speech paraphrasing the words of Harriet Tubman: "In my mind, I see a line. And over that line, I see green fields and lovely flowers and beautiful white women with their arms stretched out to me, over that line, but I can't seem to get there no how. I can't seem to get over that line."
After citing those words, Davis provided her own commentary, "Let me tell you something: The only that separates women of color from anyone else is opportunity. You cannot win an Emmy for roles that are simply not there."
Jon Stewart's last laugh(s)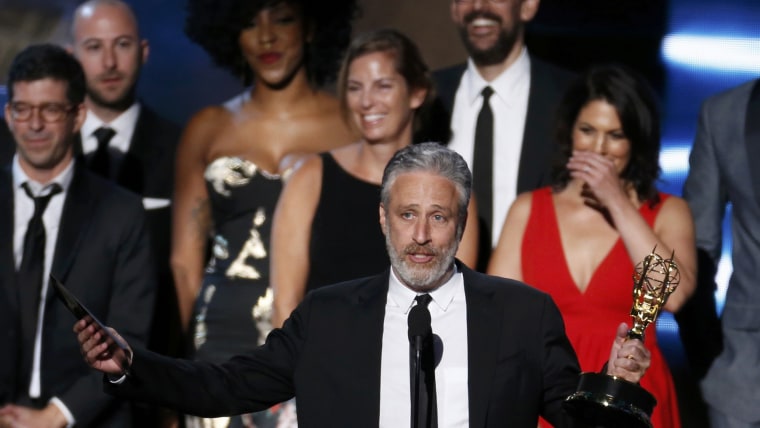 After its final season with Jon Stewart as host, "The Daily Show" won Emmys for best series, best writing and best direction in variety-series categories. It's won 60 total Emmys to date, including 10 straight in the best variety-series category from 2003-2012 — and Stewart seemed to apologize for his frequent acceptance speeches.
"These people I love desperately," Stewart said after accepting the best variety series Emmy. "Thank you very much. You will never have to see me again."
Amy Schumer's series anything but 'Trainwreck'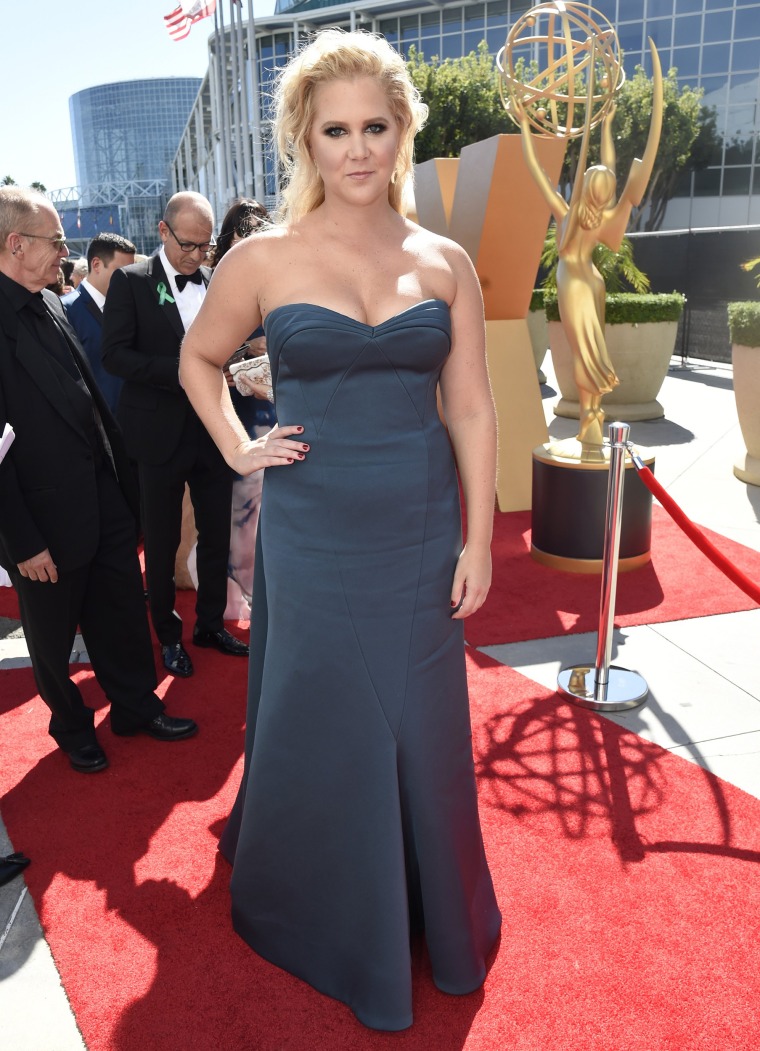 The Emmy for best variety sketch series went to another Comedy Central series, "Inside Amy Schumer."
The show's star, who starred in the summer blockbuster "Trainwreck," told the audience, "This show fights for what we believe in. Thanks to everybody who's helped me, [including] the girl who gave this sort of a smoky eye: I really love it."
Lucky seven for Allison Janney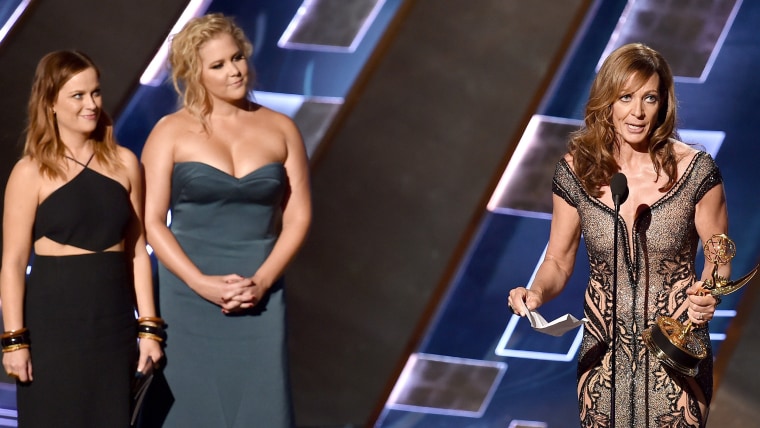 Allison Janney won the award for best supporting actress in a comedy for her work on CBS' "Mom." In winning her seventh Emmy, she beat out Julie Bowen ("Modern Family"); Mayim Bialik ("The Big Bang Theory"); Anna Chlumsky ("Veep"); Gaby Hoffmann ("Transparent"); Jane Krakowski ("Unbreakable Kimmy Schmidt"); Kate McKinnon ("Saturday Night Live"); and Niecy Nash ("Getting On").
MORE: Stars share behind-the-scenes pics at Emmy Awards
Noted Janney, "There were eight of us in this category; I feel like I won the lottery, because you all are amazing and should be up here as well."
New category, same result for Uzo Aduba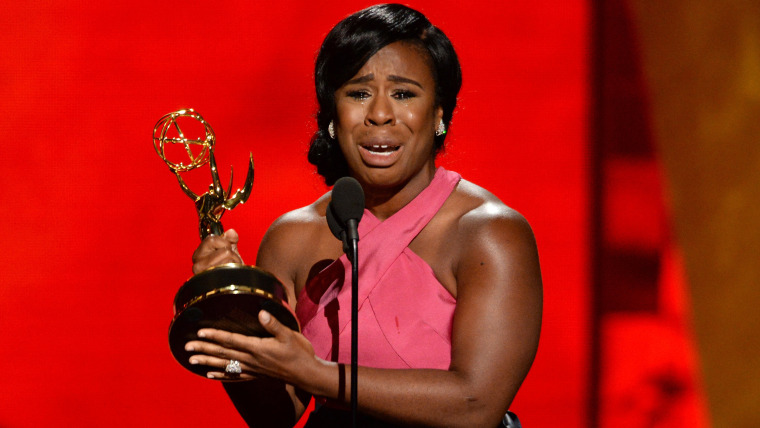 With "Orange is the New Black" now considered in dramatic categories, Uzo Aduba won best supporting actress in a drama for her role on "Orange Is the New Black." Last year, for the same role on Jenji Kohan's prison-life series, Aduba won the Emmy for guest actress in a comedy series.
MORE: Here's the full list of Emmy winners
"If I could say 'thank you' a thousand times it would not be enough to cover the amount of thanks that I feel for you, Jenji Kohan," Aduba said. "I love you so much. I appreciate you for putting believe back in my heart."
HBO limited series wins nearly 'Olive' the awards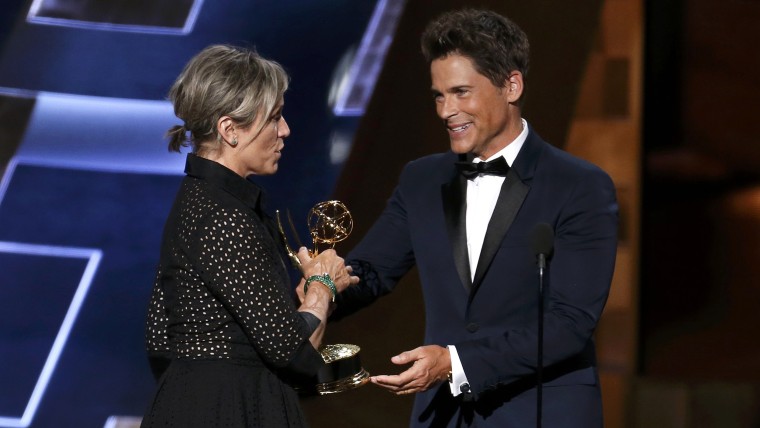 HBO's "Olive Kitteridge" cleaned up in the limited series/movie category, winning six Emmys, including best limited series.
Prior to Sunday's broadcast, "Bessie" won the Emmy for TV movie.
Andy Samberg gets consistent laughs as host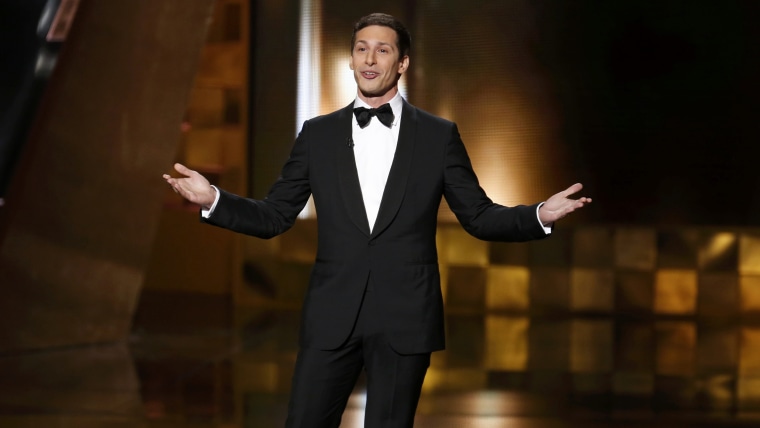 With the help of cameos by fellow actors Jon Hamm, Kerry Washington and Will Forte, Emmys host Andy Samberg opened the show with a taped musical segment that showed him watching "every show" from a TV bunker.
His pre-taped segments also featured cameos by many of the night's nominees, including Hamm, Kerry Washington, Will Forte, Nathan Fillion, and "Parks and Recreation's" Jim O'Heir.
MORE: Missed the Emmys? Watch Andy Samberg's rousing opening number
On the Microsoft Theater stage, Samberg warned that winners whose speeches have go long would be chased off the stage by the "mean nun from 'Game of Thrones,'" played Sunday night by Jane Lynch, who repeatedly shouted, "Shame!" It was a bluff, however, as the pit orchestra was assigned that task through music alone.
Keeping it real (and hi, Carson!)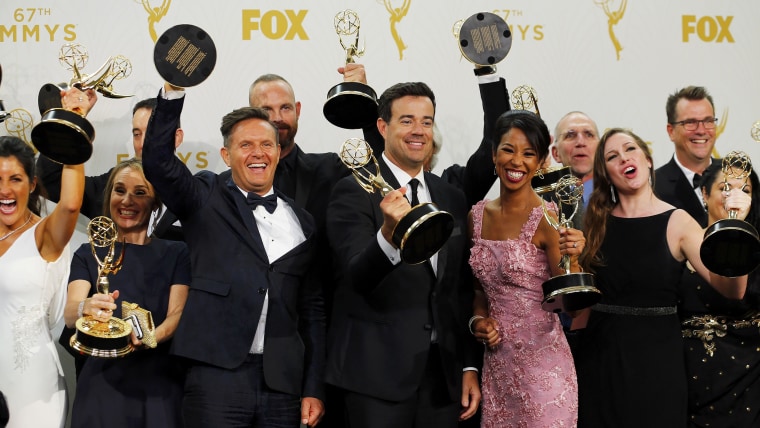 NBC's "The Voice" won for best reality competition — and TODAY's Carson Daly, who hosts the show, was there to help celebrate.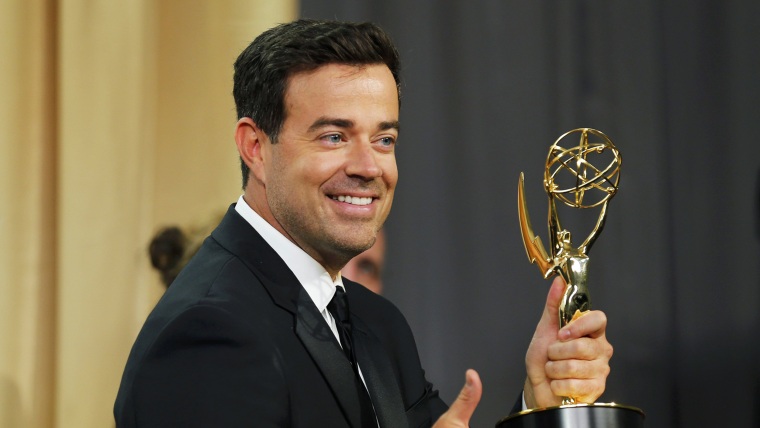 In other reality categories, "Shark Tank" and "Deadliest Catch" for structured and unstructured reality series, respectively; and Jane Lynch ("Hollywood Game Night") won an Emmy for hosting.
'SNL' at the Emmys
Prior to the televised portion of the ceremony, "The Saturday Night Live 40th Anniversary Special" won the Emmy for best variety special. The comedy series and its specials have won at least three dozen Emmys overall.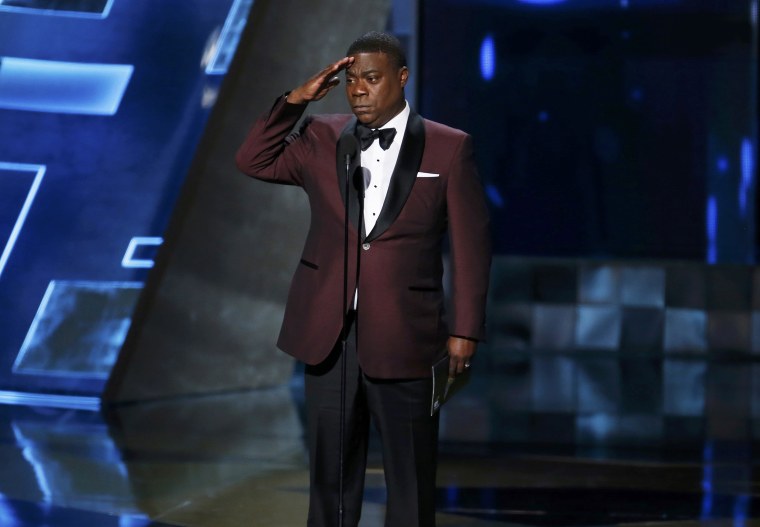 Near the end of Sunday's broadcast, "SNL" alumnus Tracy Morgan received a standing ovation as he walked onto the stage to present the award for best drama series to "Game of Thrones." Set to host "SNL" on Oct. 17, Morgan continues to recover from a devastating June 2014 accident that seriously injured him and claimed the life of his friend James McNair.
Offstage, Morgan appeared to be in good spirits while posing for a photo with Hamm. "Man it feels good to be back!!!" he tweeted late Sunday. "Love you all!"
.
Follow TODAY.com writer Chris Serico on Twitter.