/ Source: The Associated Press
Jay Pintor was convinced that dancing "didn't look manly." Not even five years of cajoling from his wife, Nicole, could coax him onto the dance floor.
But it took only three months for football great Emmitt Smith to change Pintor's perspective.
Smith, the NFL's career rushing leader, was half of the winning couple on the third season of ABC's "Dancing With the Stars." Dance instructors across the country say Smith's victory in November has redefined the boundaries of "coolness" and inspired legions of reluctant men who otherwise considered dancing beneath their dignity.
"I definitely wasn't into it," said Pintor, 40, a landscaper who attended a recent "Dancing With the Stars" performance with his wife at the Bradley Center in Milwaukee. "But then you see this big football player doing it — I mean, you don't get much manlier than Emmitt. I just don't feel as awkward anymore."
Now Pintor practices waltz moves in his living room with his self-taught wife, a change of heart that dancers say is playing out across the nation.
There are no official statistics on dance-studio enrollments. But instructors say they've seen a surprising increase in the number of formerly hesitant men who say Smith is the reason they're giving ballroom dancing a whirl.
Bobby Gonzalez, manager of Arthur Murray Dance Studio in San Jose, Calif., said he definitely noticed an "Emmitt effect." His studio added about 45 students during the three-month period in which Smith's "Dancing" season aired, as compared with about 10 in the same period last year.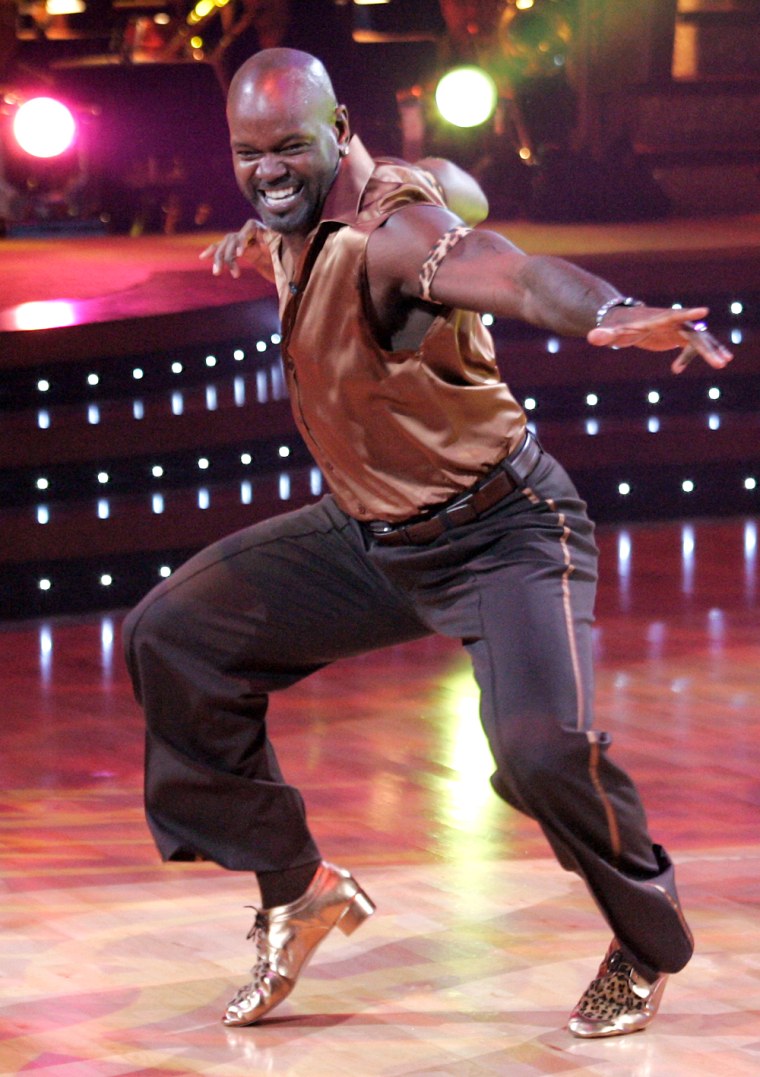 "Lots of guys didn't really give credit to how much (dancing is) a sport, how athletic it can be," said Gonzalez, 43. "But Emmitt definitely proved it is."
One of Gonzalez's students, Steve Hill, said Smith's success persuaded him not only to take up ballroom dancing but to be proud of it.
"It was inspiring to see this rough and tough guy not just surviving, but excelling," said Hill, 46. "Now I figure, if I want to do it, I should do it. Let the stigma be for the viewers, not the doers."
Male dancers have frequently risked stigma even though performers such as Gene Kelly, Fred Astaire and Savion Glover have "made the world safe for men," said Dan Froot, who teaches choreography and performance at the University of California at Los Angeles.
Movie stars, such as John Travolta, inspired dancers in the 1970s, a time when dance fads like the Hustle also emboldened men to boogie with a partner.
The publisher of a magazine dedicated to dance education said Travolta succeeded because he replaced tights and dancing shoes with fashionable clothes and a masculine demeanor. Rhee Gold of Gold Rush magazine said Smith extended that philosophy.
"When you see football players on dancing shows, whether they win or not, that's going to change a masculine guy's mind," Gold said.
Kris Gehring of Hartford, Wis., was nicknamed "Twinkletoes" after he told other construction workers that he now takes ballroom dancing lessons. But he takes the teasing in stride, especially since his burly friends seem more intrigued than condescending.
"I honestly had a good conversation with my boss when he found out," said Gehring, 29. "He asked if I dance like Emmitt. I said, not quite."
A marketing agent for Smith said the former Dallas Cowboys running back was not available to discuss his dancing.
But plenty of Smith's fans unabashedly laud their idol for inspiring them to waltz and fox-trot.
Cyndi Dorber, the owner of A Dance With Me in the Dallas suburb of Lewisville, said 50 new students enrolled at her studio during Smith's run, compared with 10 in the same span last year.
"It's been crazy — my phone's been ringing off the hook," Dorber said. "If nothing else, he reinforced that it's OK to be a big man and dancing."
It's even OK to be a dancing ex-Marine, as Jim Leverett, 50, can attest. He and his wife had already taken up ballroom dancing, but Leverett credited Smith's performances with giving him the courage to admit his hobby to his ex-military friends.
"(Smith) changed other people's perspectives," said Leverett, a project manager from Flower Mound, outside Dallas. "I wouldn't have felt comfortable telling people I dance. But now he's made it OK."