Emily Blunt had never starred in a movie with husband John Krasinski until the two worked together on the new horror film "A Quiet Place," which Krasinski also directed and co-wrote. Not surprisingly, their chemistry was as strong in front of the cameras as it is in their marriage.
However, not everyone expected that to be the case.
"We collaborated so well together. 'Cause it's a bit of a gamble if you're gonna work well together as a married couple," Blunt, 35, explained to Willie Geist on Sunday TODAY.
"And everyone was like, 'You're gonna be divorced by the end,'" the British actress added with a laugh. "And actually, we weren't. We were closer."
Blunt and Krasinski met a decade ago after being introduced by friends. She was immediately smitten with the former "Office" star.
"We both met at a time where neither of us were wanting to meet anybody particularly," she explained, "and so that's usually when it happens, I think. And then he came over and was so funny and sweet. And that was it."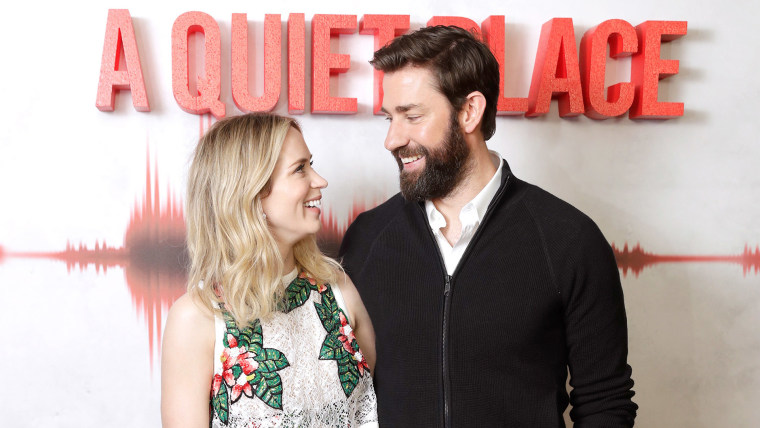 The two have been married since 2010 (though, as Krasinski recently revealed on "The Tonight Show," a London customs agent found that hard to believe). They have two daughters: Hazel, 4, and Violet, who turns 2 in June.
As Blunt recalled on Sunday TODAY, the couple's relationship reached a new level while she was making the 2014 musical "Into the Woods." Krasinski had never heard her sing before, and he was deeply moved by her performance during a recording session for the Rob Marshall-directed film.
"Rob goes, 'Are you ready?' Like that. And John was like, 'Actually, do you know I've never heard her sing?' And Rob went, 'What?' (John) goes, 'I've never heard her sing.' (Rob) started up the 60-piece orchestra and I sang. And John, like, cried," Blunt shared.
But don't be too impressed.
"He cries a lot, so it's not like a huge deal," Blunt admitted.
Blunt gets the chance to show off her singing skills again later this year in the highly anticipated sequel "Mary Poppins Returns," a project that reunited her with Marshall. Watch the video above to hear what Blunt has to say about taking on the titular role — and her reaction to what the original Mary Poppins, Julie Andrews, thinks about her.
Follow Shane Lou on Twitter.