Ellen DeGeneres has a blast every year on her Halloween episode, but on Wednesday, the funny lady outdid herself.
The "Ellen" host dressed up as a "Bachelor" contestant named Kelllly D. (four L's), a dental assistant from New Jersey who tries to woo a dashing "Bachelor" played by Milo Ventimiglia.
Ellen wore a long blond wig and donned a glittery silver gown that showed off hilariously fake cleavage. "There are six other Kellys on the show so this season you can call me Kelllly D. That's not my initial, that's my breast size," she quipped, adding, "My dress is from Versace, and my boobs are made from Mattel."
Once she was introduced to her "future husband" Ventimiglia, Kelllly seemed dead-set on nabbing the first-impression rose.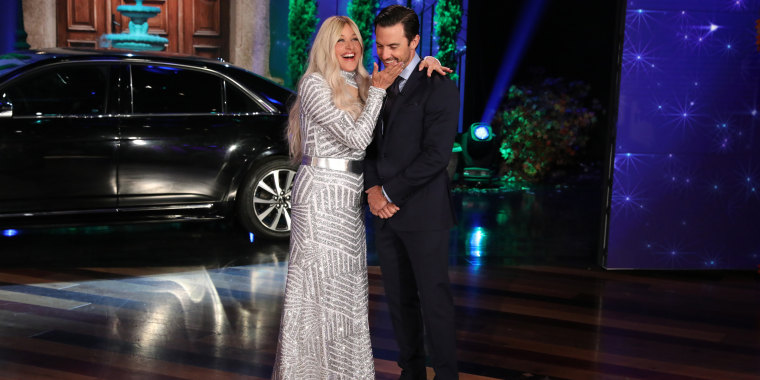 "It's really nice to meet you," said Ventimiglia, 41, who wore a suit and tie for the occasion.
"Nice to meet you, too. You look like that guy from that show. The sad, sad show that makes me cry — 'Dateline,'" Kelllly responded, adding saucily, "My name is Kelllly D., but you can call me anytime you want. I'm a dental assistant. Would you like me to examine your mouth with my tongue?"
Kelllly later presented the "This Is Us" star with an awkward gift: A used slow-cooker!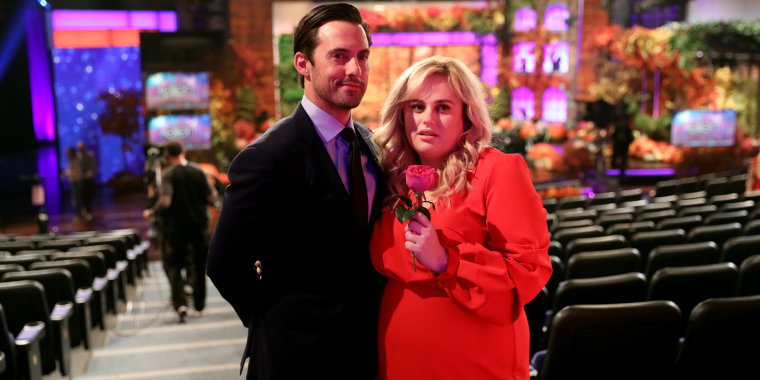 The hilarious sketch also featured a cameo from "Bachelor" season 21 star Nick Viall, who romps in a Jacuzzi.
Unfortunately for Kelllly, in the end, Ventimiglia gave another contestant his rose — comedian Rebel Wilson! The new lovebirds even ended up sprawled on a bed together.
Watch Ellen's hilarious "Bachelor" parody in the video above!