Fans may still be in mourning over the departure of Dr. Derek "McDreamy" Shepherd from "Grey's Anatomy" a year ago, but it doesn't seem that his co-star Ellen Pompeo (who plays the titular Dr. Meredith Grey) is one of them.
While visiting Ellen DeGeneres on her show Monday, Pompeo noted that "Grey's" continues to have massive success in its 12th season, the first full one since McDreamy died.
"It's doing very, very well," said DeGeneres. "That's amazing. And everybody thought because Patrick [Dempsey] was leaving that it wouldn't do well, but it's doing very well."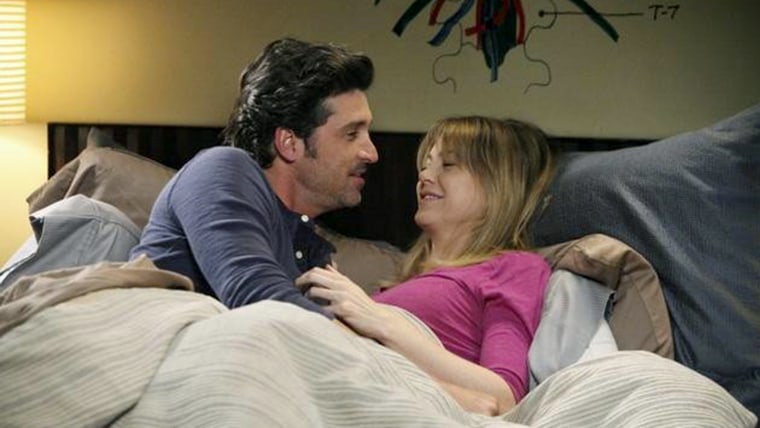 MORE: The McDream is over! 'Grey's Anatomy' kills off beloved lead character
"Yeah," agreed Pompeo. "It's amazing how much you get done without a penis."
Now, it is true that Grey was married to Shepherd on the show, and their long-standing on-and-off affair was a significant plot driver for years. But this almost sounds a little bit ... personal.
Dempsey admitted long before his exit that he'd lost his passion for the show, telling TODAY in 2013 he much preferred race-car driving. "I'm not necessarily bored with the show," he said. "When you're on the show, coming up on 200 episodes, it's about surviving. There's not a lot of homework that goes into it. You learn your lines and try to stay present and try not to get caught acting. I'm glad I have the gig, but it's not the same as being in a race car."
Still, Pompeo quickly clarified her comment on "Ellen." "We miss him dearly, but yeah, the show is doing very well," she laughed.
MORE: Patrick Dempsey turns 50: See the 'McDreamy' actor on TODAY in 1990
As for the 12th being "Grey's" last season, don't count on it. "A lot of people were really upset about his departure, which is super understandable, but I think the change is part of the reason why the show goes on so long," she said. "I think they get so upset about the change, but change is precisely what everyone always needs to sort of get to the next place."
Follow Randee Dawn on Twitter.