Ellen Pompeo's popular character on "Grey's Anatomy" is known for being open and outspoken — and those are traits the 48-year-old actress shares as well.
"People are always going to judge, especially now with social media," Pompeo told TODAY. "You put filters on your Instagrams so you can look as good as possible, and people are still going to judge you. So, give them your authentic self. Who gives a s--- what people think? Life is way too short."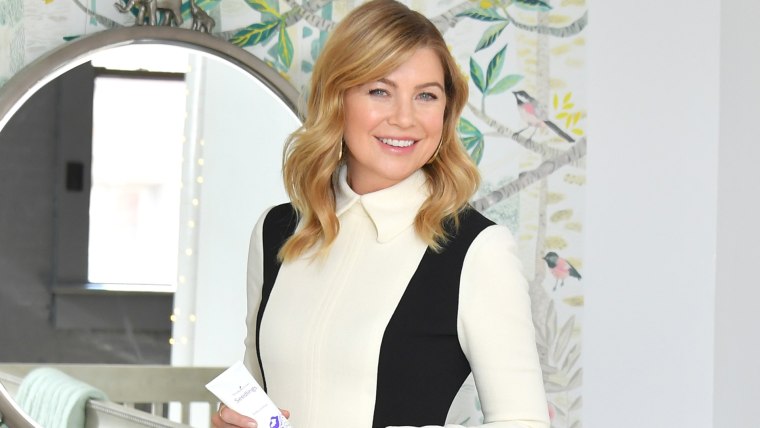 Pompeo said being older and having a steady a job (she's currently the highest paid TV actress) have given her the platform to speak her mind.
"A lot of high-profile people are very concerned about what they look like because they have to worry about their next job," she said. "So, one of the freedoms I have, because I've stayed in my job this long and been able to make the salary that I do, is that I don't care about my next job."
The mom of three added, "I don't have to be afraid of what anybody thinks of me. I have to worry about being kind and speaking up for things that aren't cool. I think the world is in the state it is in because nobody wants to speak up. It's infuriating to me."
The star revealed she wasn't always this outspoken though.
"I was such a people-pleaser earlier in my life," said Pompeo. "There is something so empowering about getting older and being secure on many fronts — secure with yourself, financially secure — that gives you the freedom to tell someone to go f--- off, if that is what you need to tell them."
And it's this bold attitude that she hopes to pass on to her daughters. "It's easier to say when you get older. I think it's harder for younger girls not to care what people think. But it's something I tell my daughters every day," she said. "I literally say to them that closed mouths don't get fed. You have to speak up for what you want. No one will ever know you want something if you don't ask for it and all anyone can ever say is no."
Being a mom has also changed Pompeo's lifestyle as well. She recently revealed that her family has gone vegan and she recently partnered with Young Living Essential Oils as a spokesperson for its new Seedlings line of baby care products.
"Right when you get pregnant, you start thinking more about having natural products in your home," she said. "I think our society has just become so polluted with chemicals and non-natural things. So, anything that is natural, organic, plant-based, and socially conscious, we all should be moving towards. That's why I love essential oils, and this partnership made sense. It checked all those boxes."