There's been a lot of buzz about the future of "Grey's Anatomy" and whether or not leading lady Ellen Pompeo will continue to make the rounds at Grey Sloan Memorial after her current contract is up.
But in a new interview with Ellen DeGeneres, the actress put an end to the will-she-or-won't-she talk and fought back tears as she explained why she's "got to keep doing" the beloved medical drama.
In short, "Grey's Anatomy" is too just too important to walk away from any time soon.
"Everywhere I go — whether it's Italy, whether it's France, London, Kansas — the people come up to me with tears in their eyes and tell me how meaningful the show is to them," she said.
And it's not just viewers who've told her that over the course of the past 15 seasons. Once, during the very first episode she directed, a young actor opened up to her about the impact of the series has had on his own life.
"A teenager was in the show and he was gay, and he played a gay character," she recalled. "After we'd filmed the whole entire episode, he said to me, ''My whole life, I've watched this show with my parents, and I sort of used the show as a way to tell my parents that I was gay — and to show my parents that it's OK, that I'm not different, there's nothing wrong with me. 'Grey's' really helped my parents to understand what having a gay son meant, and that it wasn't necessarily a bad thing.'"
Pompeo's eyes welled up and her voice broke as she continued to quote him, adding, "'And for my parents to now see me as an actor getting a part on this show, has just been everything.'"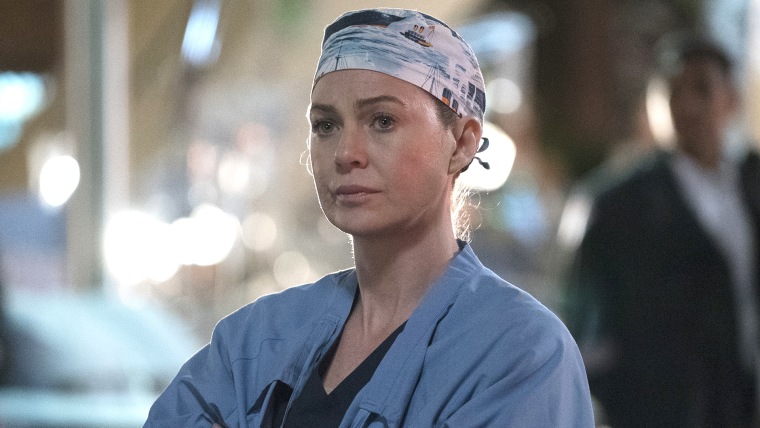 That kind of reach and effect is what makes it all worthwhile for the star.
"So I've got to keep doing it, man," she said. "Because we're touching lives and making a difference."
Pompeo remains under contract for "Grey's Anatomy" through 2019's season 16, and told DeGeneres, considering the ratings, "There's just no end in sight."
That's a comment that's sure to put fans at ease just weeks after the actress hinted that the end could be nigh — both for her and the series.
"I'm clearly not prepared right now to make any formal announcement about my future on the show," she told Entertainment Weekly. "That's something that Shonda Rhimes and I will do together. But I'm feeling like we have told the majority of the stories that we can tell. I was really excited to be back working with (executive producer) Krista Vernoff again (starting last season) because we started the show together, so finishing out the show together feels really appropriate."