When Ellen DeGeneres and Matt Lauer chatted on TODAY Tuesday morning, the pair had plenty to talk about — including her affinity for practical jokes. (DeGeneres recently played a series of "Fifty Shades of Grey"-themed pranks on Lauer and Al Roker, too.)
But their conversation covered more serious topics too. DeGeneres opened up about "One Big Happy," the new NBC sitcom for which she serves as executive producer, which follows a family composed of a gay mother and straight father. She also discussed whether she and wife Portia de Rossi plan to have children.
Here are some highlights from the interview.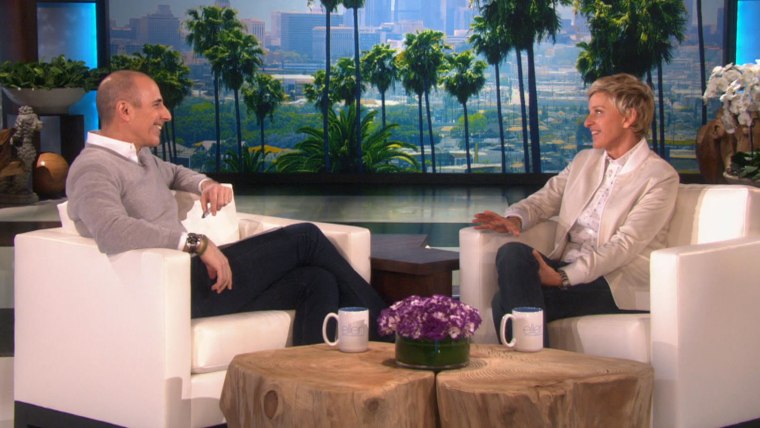 DeGeneres on being a jokester: "Well, it's not like I grew up playing pranks on people, and I was not that girl in school. I was very shy in school, and I didn't do things like this. I think it really is because I can, because we have so many opportunities to scare people or to surprise people."
DeGeneres on whether she'd like to have kids: "I think I would. But that's not enough to have kids. I love kids. But that's such a big commitment. And it seems long-term. It seems like a commitment that you have to stick with. And I just don't know if I can — it's too risky. Like, what if I don't like the kid? [laughs] What if it turns out that it's not as cute as I wanted or as talented? I'm gonna compare it to all these kids that I have on this show that are so smart and so funny. And I'm like, 'You are nowhere near these kids I had on today.'"
DeGeneres on "One Big Happy" versus her '90s sitcom 'Ellen' (on which her character came out as gay in 1997, shortly after she did in real life): "The story is about best friends, and here's a woman who happens to be gay who wants to have a child. My story on my [previous] sitcom was about someone who realized she was gay and came out, and what were the repercussions of that? This is a whole different thing."
DeGeneres on coping with rumors about her relationship with de Rossi: "There doesn't even need to be a [thick] skin, 'cause it's not real. I'm just more flabbergasted by the fact that someone needs to make up a story. .There's never been a point where we were breaking up or divorcing or fighting. None of these stories are even remotely true. I don't know the magazines and I don't have a publicist, so I don't know."