At just 5 years old, Macey Hensley knows more about the history of the White House — including its many residents — than most grownups do. So when Ellen DeGeneres gave her the opportunity to see 1600 Pennsylvania Avenue for herself, it turned out to the biggest thrill in the little girl's life.
"There's James Polk and Abigail Adams and William Harrison!" Macey said as she pointed to portraits throughout the hallowed halls. "Benjamin Harrison!"
Now c'mon, who gets that excited about our 23rd president? This girl.
Macey, who hopes to be president herself one day, walked through the rooms with wide-eyed wonder and a smile as she continued to name off familiar faces — Chester Arthur, Calvin Coolidge, Grover Cleveland and Hillary Clinton. And when she got to Andrew Jackson, she offered up some trivia to her tour guide.
"At Andrew Jackson's funeral, his parrot was saying bad words!" she said. (And she was right.)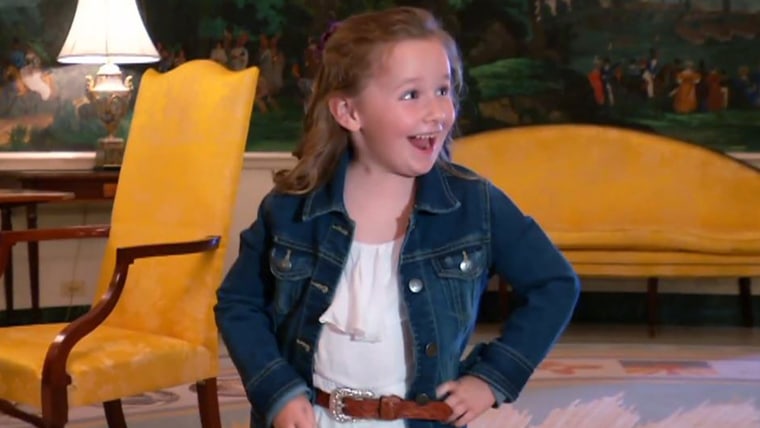 Speaking of presidential pets, Macey even got to meet President Obama's canines, Sunny and Bo. But it was another dog that really got her attention.
When Macey sat behind Vice President Joe Biden's desk, her mother read a letter from him, expressing his regrets for not being there. But the precocious tyke's attention seemed firmly fixed on a plush toy dog right in front of her. When she found out that it was a gift from Biden's own dog Champ, she beamed.
"It was the best day ever!" she later told DeGeneres.
Watch it all for yourself, and then check out Macey's presidential showdown with the small screen's commander-in-chief, Kevin Spacey.
Follow Ree Hines on Google+.