If it's Halloween, then it's time for Ellen DeGeneres to put on a seriously hilarious costume to delight us all.
In past years she's been Amal Alamuddin, Nicki Minaj, Sofia Vergara and Jennifer Lopez, just to name a few — and there tends to be one common element in each outfit: Ginormous fake breasts with lots of cleavage.
Well, maybe it's time to get that fake chest its Screen Actors Guild card, because it came back for 2015 as DeGeneres revealed herself as the latest addition to the Kardashian clan ... Karla!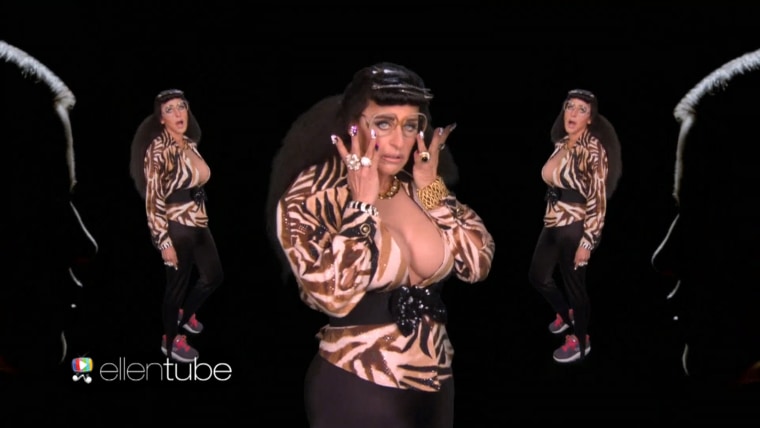 You know she's a member of the family thanks to her pneumatic front and extended behind, super-tight clothes and shiny dark hair. But Karla does color outside the lines a bit, as DeGeneres revealed in a fake "Keeping Up with the Kardashians" trailer.
In the trailer, which blends Karla neatly in with most of the other glam sisters, Karla's a little more ... well, exposed. And unsure. And with a lot of fingernail extensions, huge jewelry and glasses that look like she stole them from Sally Jessy Raphael, we can see why she might not have been out front all this time.
"I'm the younger sister, so I get all the hand-me-downs," she admitted in a clip from the show posted on Facebook. But, she added, "the booty is all mine!"
Fact is, Karla reminds us of just how good we have it with the actual Kardashians!