As TODAY's Matt Lauer knows all too well, Ellen DeGeneres loves to prank a pal — especially when it's for a good cause.
So when actor Ryan Reynolds paid a visit to her show earlier this week, he may have planned to talk about his latest film and one of his favorite charities. But before it was over, he was all wet.
That's because fun-loving Ellen had a soggy plan for her famous friend.
After the "Deadpool" star explained how playing the leading role in the unlikely superhero flick has helped him bond with young fans battling cancer (his character is diagnosed with an incurable form of the disease in the movie), he went on to talk about Make-A-Wish — an organization that does so much for kids in similar circumstances.
MORE: Ryan Reynolds reveals sweet story of how he fell in love with Blake Lively
"Make-A-Wish is just obviously what I think is the most incredible organization in the whole wide world," he said. "What they do is so unique, and they truly make kids dreams come true."
MORE: John Cena reveals plan to grant his 500th Make-A-Wish on air: I'll go on 'as long as they'll have me'
So, of course, he wouldn't turn down the opportunity to raise money for Make-A-Wish on the spot. Knowing that, Ellen pointed him in the direction of a giant dunk tank, and he was all too happy to go along with her plan.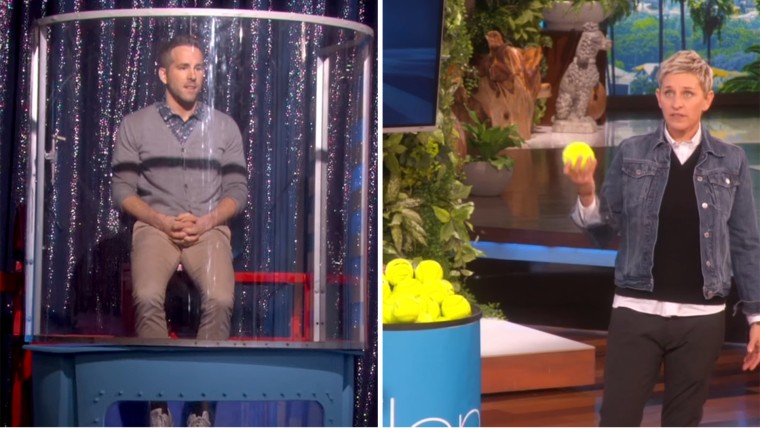 Despite the fact that the host said she wasn't too good at pitching, it didn't take long for her to hit the target and send her guest to the bottom of the tank.
But he didn't mind. After all, what's a little water when it turns out to be worth $25,000 for such a worthy cause?
Follow Ree Hines on Twitter.