As gags go, a clown jumping out of a box and screaming "aaaaaaaah!" might seem simple, but it works — again and again, evidently — and that's all that matters to prankster Ellen DeGeneres.
In fact, on Tuesday's episode of her daytime talk show, she employed her go-to scare tactic on a grand scale, earning jumps, gasps and even a few quiet curse words from the entire cast of "Modern Family" at once.
DeGeneres convinced stars Eric Stonestreet, Julie Bowen, Ty Burrell, Sofia Vergara, Ed O'Neill, Sarah Hyland, Nolan Gould, Rico Rodriguez, Ariel Winter and Jesse Tyler Ferguson that they were gathering together to take a pre-interview group photo, but they soon learned that one of the many white cubes that framed the set wasn't like the others.
Moments after she had the group smile for the cameras, her clown pal burst out of a box and caused a commotion.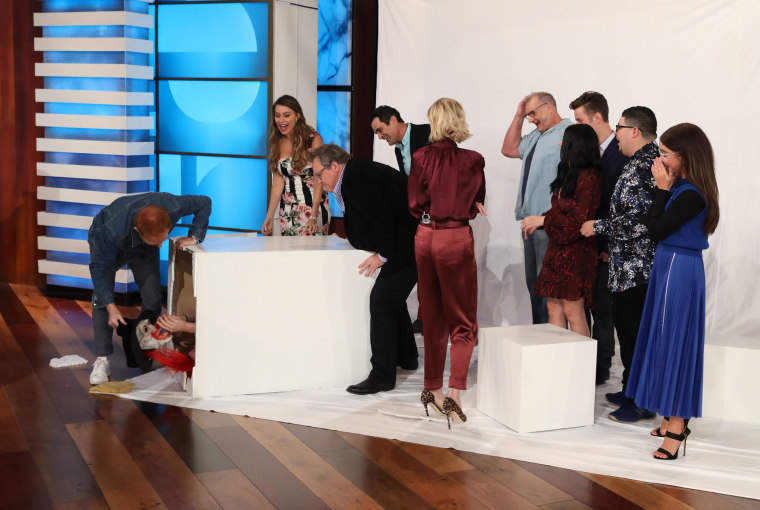 There was one member of the "Family" who seemed to be in on the joke, though — and that was Stonestreet. He surveyed the set carefully and stepped away from the clown cube in plenty of time.
But that's only fair, considering how many times DeGeneres has pulled that prank on him in the past.
The fright fest was only part of the fun on Tuesday's show.
In fact, when the cast sat down for a chat, Bowen had a lot to say ... but she sounded a lot like Vergara when she said it.
As it turns out, the actress does the best impression of her friend and co-star, and if you have any doubts about it, hit play on the clip above and close your eyes — you'll soon be hearing double.
And then, for a different sort of impression, DeGeneres asked the stars to describe what it was like when they met each other 10 years ago.
O'Neill, who was already a familiar face to TV fans for his long-running stint on "Married ... With Children," said his first impression of his co-stars-to-be was that "none of them are famous."
Times have changed!