After her acting career took off, Elizabeth Olsen received some helpful advice on how to handle celebrity life from two people who would know: her older sisters, Mary-Kate and Ashley Olsen.
"They're very tight-lipped — notoriously so — and I was not caring what I was saying (in interviews) because I'd assumed no one would read it," Olsen recalled in an interview with Modern Luxury. "That's when we'd have conversations. They'd say, 'You know, even if you don't think anyone's going to read this article, someone might pull the quote later for (something else).' It's all part of how you hope someone interprets you, and how they frame who you are and the work you do."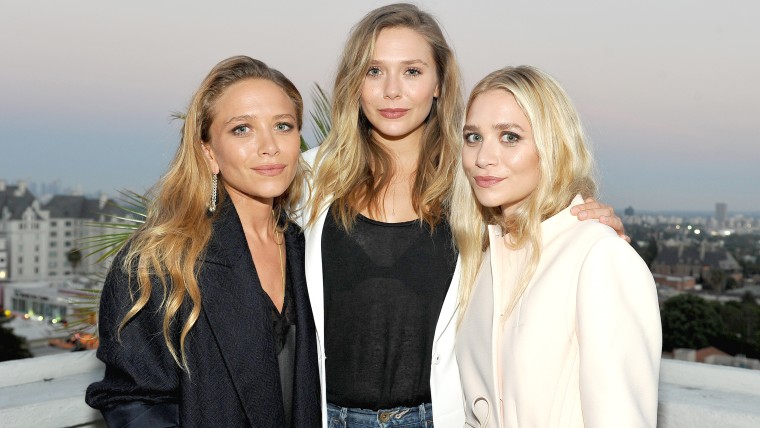 Nowadays, the 28-year-old "Avengers" star is more conscious of what she says and how she says it.
"Your 30s sounds like the best decade for a woman. I can't wait!" she said. "I still deal with so many anxieties of how I come across. I'll go home at night, spinning with a guilt complex of, 'Did I say something stupid to that person who I respect? Do they think I'm a freak?' I don't want to think like that anymore.
"What's so beautiful about being older and wiser is you are sitting heavier in your shoes with your feet on the ground."
Olsen already has her eye on the future, including the possibility of becoming a mom as she renovates a home she recently bought in Los Angeles.
"I was also thinking, 'There's this small room upstairs, which would be good for a kid,'" she told Modern Luxury. "But I don't know where things will lead, but I do think about it in that way: 'I think I could raise kids here.'"
She's come a long way since she was a kid herself, when she decided to not become a child actress like her sisters (aside from a role in one of their movies).
"I did try and audition when I was younger. I thought, 'Well that sounds fun. I see what my sisters do.' I went on a few auditions, 'Spy Kids' being the first one, and they asked me to read the script. It looked bigger than the Bible to me," Olsen shared. "I didn't understand why I would ever read something that big. I realized I would miss out on after-school sports and forfeit things I enjoyed doing at a young age. My dad had me write a list of pros and cons, and the cons side was bigger. I decided to stick to my after-school activities."
The decision certainly didn't hurt her career in the long run. Her latest films, "Wind River" and "Ingrid Goes West," are now in theaters.
Follow Shane Lou on Twitter.