Ed Sheeran couldn't have made 80 lucky fans any "happier."
That's because the pop star, who regular sells out arenas and stadiums, performed Wednesday afternoon for a capacity crowd — well, capacity for a Washington, D.C.-area living room.
And not just any living room: The 20-minute set — posted by intimate venue concert promoter Sofar Sounds as part of a massive charity campaign — took place in the home belonging to organizer Fitz Holladay's parents.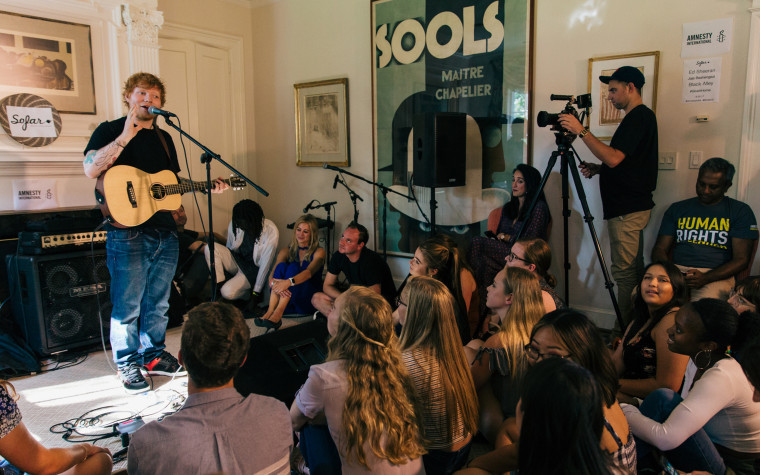 "That night when I got home and got to breathe, it was amazing," Holladay, director of Sofar Sounds D.C., told TODAY. "I didn't think (growing up) something like that would be possible — hosting a megastar in your parents' living room."
But the 26-year-old crooner wasn't there just to provide a high note in the lives of those particular fans who paid for the premium tickets. Sheeran, after all, had to rush from the Holladay house to a slightly larger sold-out gig at the Capital One arena later that evening.
Proceeds went toward providing homes for refugees courtesy of a partnership between Holladay's company and Amnesty International. It was just one show in the Give a Home concert series, which spanned 300 shows in 60 countries on Wednesday, all part of the same good cause.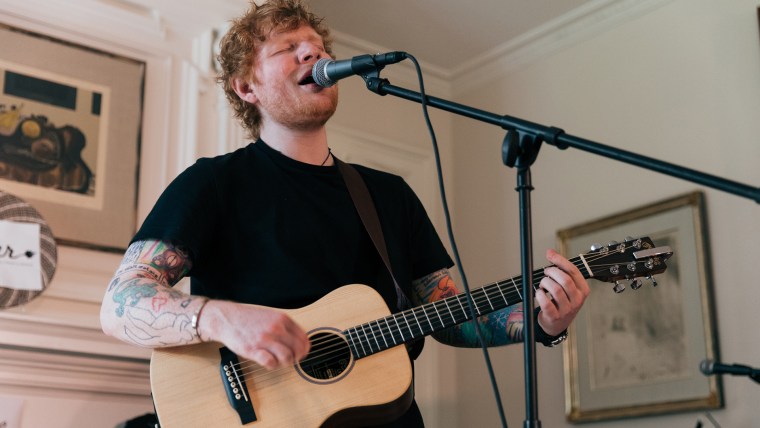 "It's a cause that's important to him and a cause that's important to Sofar Sounds, and he did it pro bono for charity," said Holladay. "He couldn't say no, despite his busy schedule, he wanted to figure out to make it work. Play four songs and in doing so draw a ton of awareness to the refugee crisis, he said he felt an obligation to do it, and obviously we're very appreciative he accepted."
So Sheeran busted out his acoustic guitar and played his hits "Thinking Out Loud," "Shape of You," "Castle on the Hill" and "Perfect." To keep the intimate vibe, organizers asked the audience to refrain from taking photos and videos after the first song.
Jaja Bashengezi and Black Alley also performed at the gig, with Holly Branson, the daughter of British billionaire philanthropist Richard, on board as a guest emcee.
Sheeran came across as gracious as he seems publicly — "I was blown away by how humble and chill he was," said Holladay — having cut his teeth jamming in pubs before being discovered.
"It's really nice to be back playing in a living room," Sheeran told the crowd, according to a Washington Post reporter in attendance. "This is how I used to make my living (before becoming famous)."