Paul Rosolie's much-hyped Discovery show, "Eaten Alive," was ostensibly about the conservationist being … well, eaten alive. But after all the anaconda buildup, it turned out, Rosolie and his crush-proof suit never made it into the belly of the beast.

It's not exactly surprising that the prime-time bait and switch left viewers tweeting mad, but even so, the man behind the anaconda incident isn't sorry.
That's because, according to Rosolie, despite the title of the show, it was really all about raising awareness about the destruction of the rainforest.
"I don't care if you're upset I didn't get eaten by (an) anaconda," Rosolie said in an interview with NJ Advance Media. "A, I tried, and B, there's a chance for me to do work with the Discovery Channel and bang my drum about the dangers [to the Amazon], and I'll do that."
As criticism continued to come his way Monday, both from viewers and from People for the Ethical Treatment of Animals (PETA), Rosolie visited "Jimmy Kimmel Live!" to stress that everyone is focusing on the wrong thing.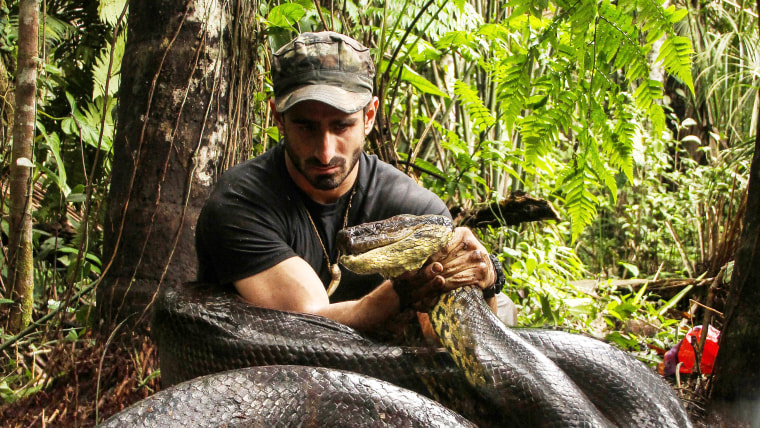 "It's funny, because I think PETA and everyone else has watched the last 20 minutes of the show and they're hinging on that, and totally forgetting everything else — that we're trying to actually protect these animals," he said, adding that he wasn't worried about disappointed viewers "because I think they missed the point of the whole show then."
Then again, the show wasn't called "Saving the Amazon."
As for the network behind it all, Discovery defended Rosolie and his project.
"Paul created this challenge to get maximum attention for one of the most beautiful and threatened parts of the world, the Amazon Rainforest and its wildlife," a statement from Discovery read. "He went to great lengths to send this message and it was his absolute intention to be eaten alive. Ultimately, after the snake constricted Paul for over an hour and went for his head, the experiment had to be called when it became clear that Paul would be very seriously injured if he continued on. The safety of Paul, as well as the anaconda, was always our number one priority."
Read more: Outrage! 'Eaten Alive' ending leaves viewers angrier than the anaconda
Still, during his chat with Kimmel, Rosolie admitted that maybe he needed to do a little something to appease the public.

"I think I owe it to the people of Planet Earth to be eaten by something," he joked.
Follow Ree Hines on Google+.