On Sunday night, Discovery aired the highly anticipated "Eaten Alive" special, in which conservationist and filmmaker Paul Rosolie went head first into the jaws of a 20-foot anaconda — or at least that's what viewers were led to believe would happen.
Maybe the show should have been called "Rolling Around in the Mud Alive," "Constricted Alive" or "Made to Feel Really Uncomfortable … Alive!"
By the end of the two-hour event, one thing was clear: Rosolie, outfitted in a compression suit covered in a generous coating of pig blood, did convince the anaconda to go after him — but he was by no means eaten, alive or otherwise.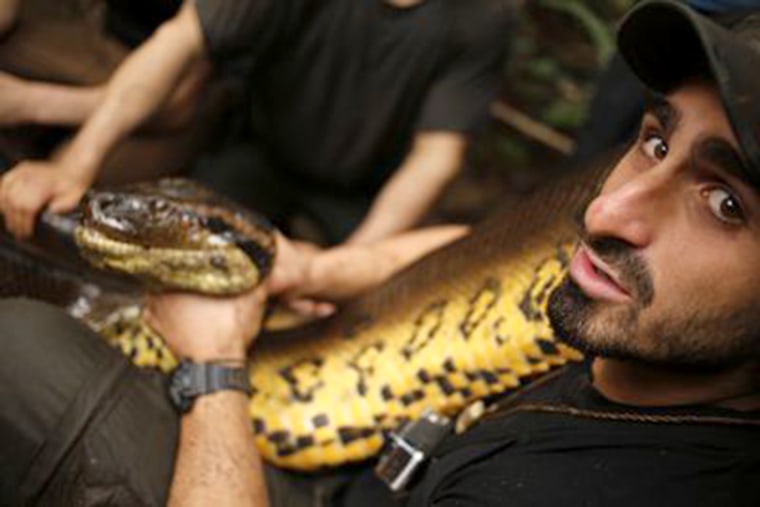 For those who'd waited a full hour and 45 minutes into the show to see the stunt start, the bait and switch left them angrier than the anaconda.
That's a shame, because as the show started, they couldn't contain their eagerness about it on Twitter.  
They got in on the fun.
And, of course, they told the obvious jokes.
But after sitting through all the buildup only to see Rosolie "tap out" when he feared his arm might break (after electing to remove some of his armor), the fan fun was replaced by regrets and outrage.
Well, at least it's over — for now. After the encounter, Rosolie teased, "Now that I know this suit can withstand the crush, we're ready to take it to a real giant."
Whether or not that giant will eat him remains to be seen.
Follow Ree Hines on Google+.