/ Source: The Associated Press
The National Toy Hall of Fame is paying homage to the electric age.
The Easy-Bake Oven and Lionel model trains joined Mr. Potato Head, the Frisbee and 32 other classic but watt-free toys Thursday in the Strong-National Museum of Play's eight-year-old hall of fame.
Longevity is a key criterion for getting into the all-star lineup. Each toy must not only be widely recognized and foster learning, creativity or discovery through play, but endure in popularity over multiple generations.
"This is the year of the plug-in toy — and a sign of things to come," said Christopher Bensch, the museum's chief curator, noting that the 12 nominees in 2006 included the iconic Atari video game system.
"Will it be time someday for the GameBoy or the PlayStation or the Xbox? I think so. Those are the toys people are going to have nostalgia for and maybe pass on in their latest forms to their kids and grandkids."
The latest, still pre-computer child favorites to be honored have been around for awhile: The first Easy-Bake Oven showed up in stores in 1964, and Lionel trains have been chugging along for more than a century.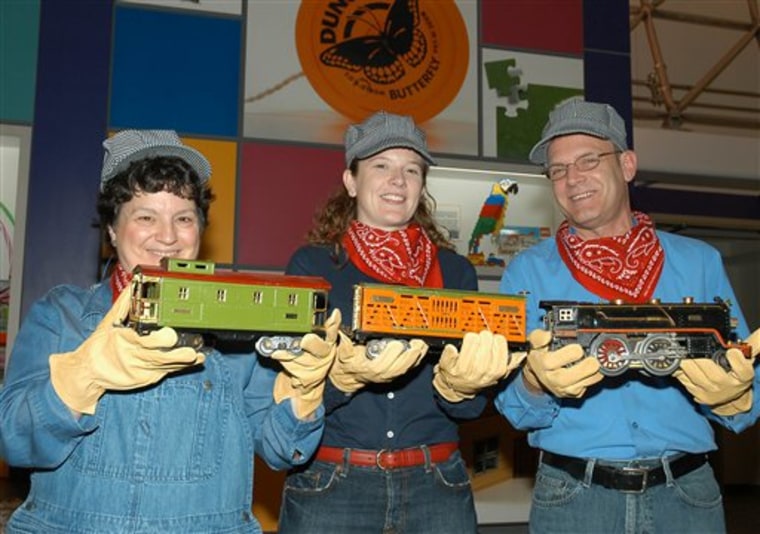 Engineer Joshua Lionel Cowen built his first electric toy train as a store-window attraction around 1900. When a customer bought the train instead of other toys it advertised, he launched the Lionel Manufacturing Co. Its sales peaked at $32.9 million in 1953.
Pretzel vendors in New York City gave toymakers at Kenner the idea of a child-suitable gizmo that actually heated food in a small working oven. Kenner, now a division of Hasbro Inc., has since sold 23 million Easy-Bake Ovens and more than 140 million mixes.
"It's safe, it works and the best part is that the play makes its own reward," said museum curator Patricia Hogan. "Fifteen minutes in the oven and a slurpy, gooey, doughy concoction becomes a delicious — OK, edible — confection."
The museum, which boasts the world's largest collection of toys and dolls, acquired the hall in 2002 from A.C. Gilbert's Discovery Village in Salem, Ore. So far, 36 classic toys have been enshrined, from Barbie to Jack-in-the-Box, Legos to Lincoln Logs, Slinky to Play-Doh and Crayola crayons to marbles.
The corrugated cardboard box — a universal plaything or recreational backdrop since the 1890s — was inducted into the hall last November.