Dylan Dreyer recently visited the set of "The Price Is Right" and even gave the Big Wheel a spin, but the real treat for the TODAY anchor was the chance to follow in some impressive family footsteps.
If you think "The Price Is Right" is exciting these days, what with the big-budget Showcase Showdowns and Wheel-spinning victories, just wait until you hear about the thrills from the early days of the long-running game show — when Dylan's own grandmother was a contestant!
And not just any player — her grandma was once the winningest contestant in the show's history, long before Drew Carey carried the mic on "The Price Is Right" and even before Bob Barker told contestants to "come on down."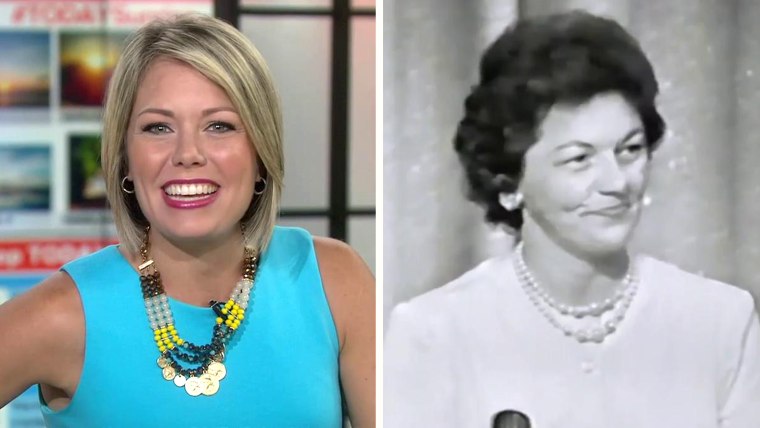 RELATED: Bob Barker, come on down! Classic host returns to 'Price Is Right' for a day
It was 1963, and host Bill Cullen was the man who handed out the prizes to lucky players — and oh, what prizes.
"[My grandmother] won a house in Florida," Dylan explained. "She won an ice cream truck full of ice cream; she won Jaguars! They gave out big prizes back then."
Grandma (aka Doris Milke) raked in an amazing haul.
"She's won more merchandise than anyone ever has in all the years — a total of $72,769," Cullen announced on the show as Milke launched into her sixth week as champ.
Adjusting for inflation, the Consumer Price Index calculator puts that at over a half million in today's dollars.
RELATED: Remember that time Dylan Dreyer was on 'Sex and the City'? Here it is!
Part of that win consisted of several fur coats, and that, according to Dylan, is why you'd be hard-pressed to find those early shows (beyond the rare clip).
"You can't find the episodes because Bob Barker was against fur," she said.
Barker, who took over as host when the show underwent a reboot in 1972, went on to become the executive producer in 1988.
Follow Ree Hines on Twitter.