It was a great romance that never was.
"Dancing With the Stars" judge Carrie Ann Inaba stopped by CBS' "The Talk" on Tuesday and revealed that she and John Stamos once dated.
Inaba, 50, said she and the "Full House" star, 55, were an item for a hot minute back when she was a Fly Girl on "In Living Color." (Jennifer Lopez also had the same dancing gig on her resume.)
So, how exactly did these two crazy kids get together?
"When I was a Fly Girl, the dreamiest thing happened," Inaba said. "Somebody was like, 'Somebody wants to meet you across the room.' The room parted, and on the other side of the room was John Stamos."
They dated, and it ultimately didn't work out, but Inaba has no animosity whatsoever toward the actor. She even takes the blame for the romance fizzling.
"We dated for a little while and, I have to tell you, he's the loveliest human being in the whole world," she said. "I met his mother and the family; they're just so great. It didn't work out because I was not quite ready for someone as good as John Stamos in my life at that moment."
Inaba, who is still single, quickly realized letting go of someone as amazing as Uncle Jesse himself may not have been a smart move, so she joked that she resorted to stalking him. "I pushed him away, and then I was like, 'Uh oh, that wasn't a good idea' ... so I went back to his house and I was outside on his driveway with a little note in his mailbox," she recalled. "We didn't get back together."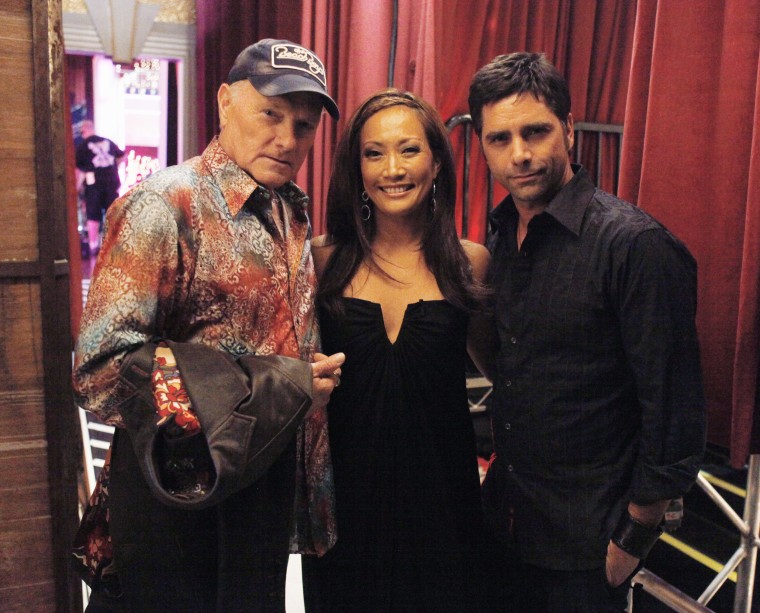 Despite the failed relationship, Inaba said Stamos proved to be a true gentlemen, especially when they crossed paths years later on her show. "Later on, he came to 'Dancing With the Stars' and he's so cool 'cause he knew I was embarrassed and he was performing and he came right up to me and said, 'I'm so happy for your success. I wish you all the best. It's great to see you.' And I was like, 'Oh my God.'"
If he was crushed years ago, Stamos has moved on. After marrying and divorcing Rebecca Romijn, Stamos tied the knot with Caitlin McHugh earlier this year. The happy couple also welcomed a baby boy named Billy in April, a milestone event that the actor gushed about while wishing his new bride a happy Mother's Day back in May.