The release of "Furious 7" is a mixed emotional bag for all of its stars, and Dwayne "The Rock" Johnson is no exception. But as he noted on TODAY Wednesday, now that the movie's coming out in theaters, it gives him a great chance to talk about his co-star, the late Paul Walker.
"I couldn't wait to talk about [the movie] because it's an opportunity to talk about Paul," he said. "I miss him, I love him. ... It was an opportunity for us to try and find a balance between entertaining the audience but also paying a respectful tribute to him."
Walker died in 2013 in a car crash while on hiatus from filming "Furious 7," and Johnson notes, "Paul is beautifully honored at the end of the film."
But there was lots more to talk about with Johnson, including:
Fighting 'for real' in the movie with Jason Statham"He is one of the few movie stars who has a legitimate skill set in terms of fighting," said Johnson. "We weren't pulling a lot of punches ... especially as it was in the body. If it was in the body, we thought, 'Well, let's just take it,' as silly men do.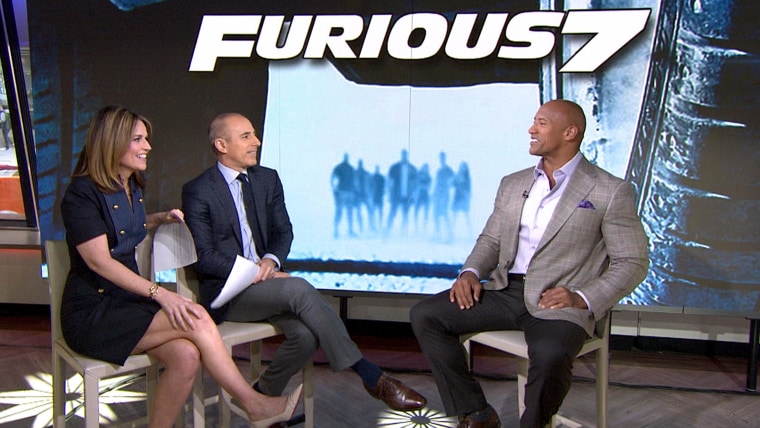 Suggesting Matt Lauer could appear in 'Baywatch,' the movieOne of Johnson's upcoming projects is a "big, brash, rated 'R'" take on the beach TV series, and after seeing Lauer in his 2013 "Baywatch" Halloween duds, Johnson noted, "You've got a lot of assets, Matt."
He's thrilled to host 'Saturday Night Live' for the fourth time this weekend"For me, in 2000 when I first hosted, it gave me an opportunity to showcase a little bit of skill at that time, but it really broke me in terms of my career," he said. "I love going back."
Check out the videos to hear a lot more!
"Furious 7" opens in theaters on April 3.