He's an actor, a producer and a wrestler ... and now Dwayne "The Rock" Johnson is also the Sexiest Man Alive.
Sure, anyone who's watched him on the big screen or in the WWE ring already knew he was sexy — talented and strong, too.
But on Tuesday, People magazine made it official by announcing him as their pick for the hottest man on the planet.
The cover of the annual issue describes Johnson as "sweet, smart and sculpted," and there's no denying it.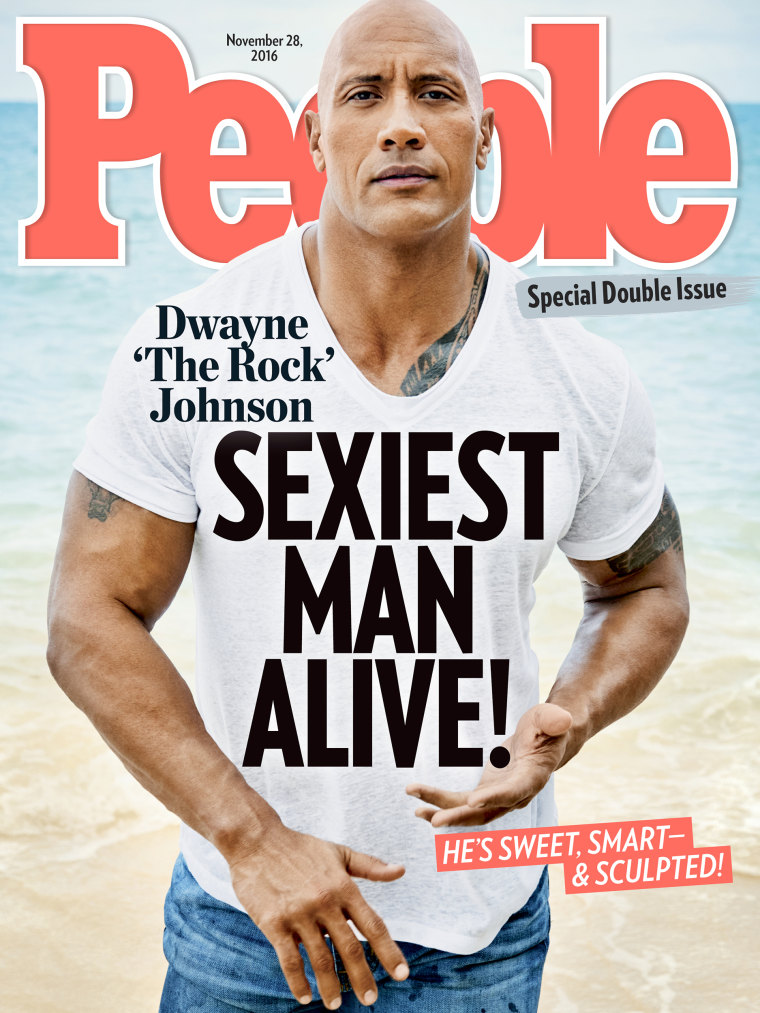 The sculpted part is apparent (just look at the cover), and you don't have to look any further than the former University of Miami football player's unique career path to see evidence of his smarts.
As for sweet?
Well, this is a man who's rescued a drowning pup, gets choked up just talking about his kids and who's just as grateful to meet his fans as they are to meet him. It doesn't get much sweeter than that.
People's senior West Coast editor Julie Jordan stopped by TODAY and explained why they selected Johnson as this year's cover guy.
"Professionally, he's had an amazing year," she told us. "He's transitioned from wrestling to Hollywood. He is the highest paid actor in the world now. He's got (Disney's) 'Moana' coming out next week, and he has 'Rock the Troops' coming out for military families Dec. 13."
But really there was a simpler reason.
"He's a big guy, and he's got an even bigger heart," she added.
The father of two daughters — 15-year-old Simone and 11-month-old Jasmine — will appear on "The Ellen DeGeneres Show" Tuesday.
In a preview of their sitdown, we learned how the 44-year-old star feels about the honor.
"I can tell you now that what this means is that I still have to drive in my pickup truck and change Jasmine's diapers, but now I'm just the Sexiest Man Alive (too)."