/ Source: The Associated Press
"Fool's Gold""How to Lose a Guy in 10 Days" stars Matthew McConaughey and Kate Hudson, who team up for another romance, this one a lame tale that sends them on a treasure hunt in the Caribbean. McConaughey and Hudson play a recently divorced couple tossed back together as they find clues to the whereabouts of a Spanish ship that went down at sea with a trove of riches. Fittingly for this thin comedy, the DVD and Blu-ray high-definition disc come with skimpy extras, including just a gag reel and a featurette on the two stars discussing their on-screen chemistry, which they describe as an ability to "fight and flirt well." DVD, $28.98; Blu-ray, $35.99. (Warner Bros.) Read the review.
"Welcome Home Roscoe Jenkins"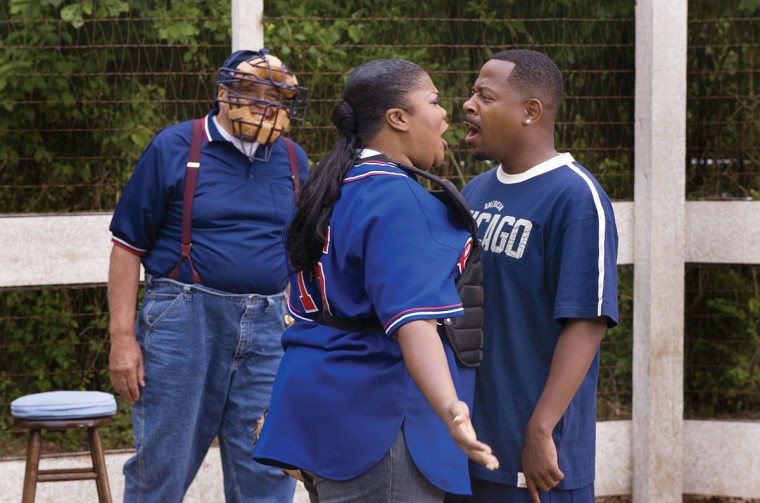 Martin Lawrence stars in a family reunion comedy that seems to have misplaced the comedy part. Loaded with gross gags, bad dialogue and unfunny quarrels among relations, the movie features Lawrence as a successful author and TV personality who comes home to Georgia for the 50th-anniversary bash of his parents (James Earl Jones and Margaret Avery, whose talents go utterly wasted) and ends up back in an old rivalry with his brazen cousin (Cedric the Entertainer). If you like Lawrence, Cedric or co-stars such as Mo'Nique or Mike Epps, the DVD is loaded with 45 minutes of extra footage, including an alternate opening. Writer-director Malcolm D. Lee provides commentary. DVD, $29.98. (Universal) Read the review.
"Be Kind Rewind"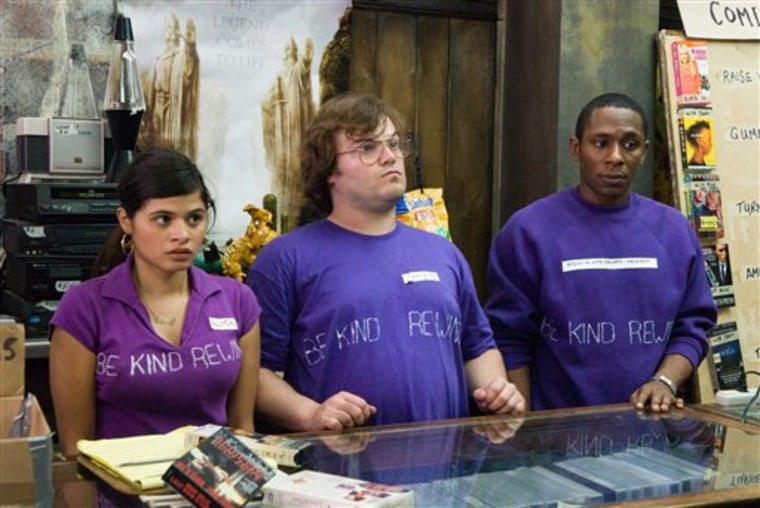 In a clever premise, Jack Black stars as an inept video-store clerk whose encounter with an electromagnetic field results in the erasure of all the movies at the shop where he works, prompting him to enlist his buddy (Mos Def) to reshoot all the films and foist off their amateur efforts on unsuspecting customers. The DVD has both widescreen and full-screen versions but only a featurette on Passaic, N.J., the setting for the story, as an extra. The Blu-ray version adds more, including a segment on Fats Waller, whom co-star Danny Glover's character idolizes, plus a conversation with Black and director Michel Gondry. DVD, $27.95; Blu-ray, $35.99. (New Line) Read the review.
"Under the Same Moon"Not many dramas centered on illegal immigration come off as inspirational, but this one about a boy trying to reunite with his mom on the other side of the border proves to be a feel-good story. The film follows a 9-year-old (Adrian Alonso) as he sets out from Mexico to find his mother (Kate del Castillo), who has left her son with his grandmother and crossed over to the United States to build a better life for them. The DVD includes a making-of featurette and a segment on the colorful murals created for the film. DVD, $29.98. (20th Century Fox)
"The Sword in the Stone," "The Jungle Book 2"Two Disney animated tales return to DVD, led by a 45th-anniversary edition of "The Sword in the Stone," a musical about the early years of a boy named Wart, destined to become Britain's legendary King Arthur. The new edition comes with a couple of medieval-themed cartoon shorts featuring Disney standard-bearers Mickey Mouse and Goofy and a profile of Richard M. and Robert B. Sherman, who wrote songs and music for many Disney adventures. "The Jungle Book 2," Disney's follow-up to its classic Rudyard Kipling adaptation, features Haley Joel Osment providing the voice of Mowgli, the boy raised in the wild. The DVD comes with deleted scenes, a featurette and music videos. DVDs, $29.99 each. (Disney)
TV on DVD:
"Burn Notice: Season One" — Blackballed from the intelligence game and his cover blown, a spy (Jeffrey Donovan) takes a gig as a private eye while trying to track down who burned him in the espionage community. A four-disc set has the first 11 episodes, plus commentary with cast and crew. DVD set, $49.98. (20th Century Fox)
"Californication: The First Season" — David Duchovny returns to series television in a wildly different manner than his "X-Files" persona, starring as an author dealing with writer's block, drug and sex addictions and huge family troubles. The two-disc set has the first 12 episodes. DVD set, $42.99. (Paramount)
"Jericho: The Second Season" — Canceled after its first season then resurrected by popular demand, the show about a Kansas town coping with a nuclear aftermath is dead again. The final seven episodes of the re-canceled show are packed in a two-disc set, along with deleted scenes and commentary. DVD set, $29.99. (Paramount)
"ER: The Complete Ninth Season" — The venerable medical drama lives on, with stalwart Noah Wyle, part of the cast from the beginning, still on call along with such co-stars as Goran Visnjic and Laura Innes. Year nine's 22 episodes come in a six-disc package. DVD set, $49.98. (Warner Bros.)
"Dynasty: The Third Season, Volume One" — John Forsythe, Joan Collins and the rest of their scheming kin return with a three-disc set bearing the first half of year three from the nighttime soap. DVD set, $36.99. (Paramount)
"Sabrina the Teenage Witch: The Fourth Season" — Melissa Joan Hart is back as the young woman balancing teen life while training to use her supernatural powers under the guidance of her aunts. Year four's 22 episodes come in a three-disc set. DVD set, $42.99. (Paramount)