/ Source: The Associated Press
"The Bucket List"Geezers made their mark at the box office with Jack Nicholson and Morgan Freeman's feel-good buddy tale about getting the most out of life in the face of death. Putting director Rob Reiner back on the commercial track after a string of duds, the movie stars Nicholson as a rich guy and Freeman as a working stiff, both diagnosed with terminal cancer, the duo teaming up to travel the world with a wish list of exotic adventures to squeeze in before kicking the bucket. The DVD and Blu-ray high-definition releases have an interview with screenwriter Justin Zackham and a John Mayer music video. The Blu-ray disc also features Reiner interviewing both Nicholson and Freeman about their roles. DVD, $28.98; Blu-ray, $35.99. (Warner Bros.) Read the review.
"Jumper"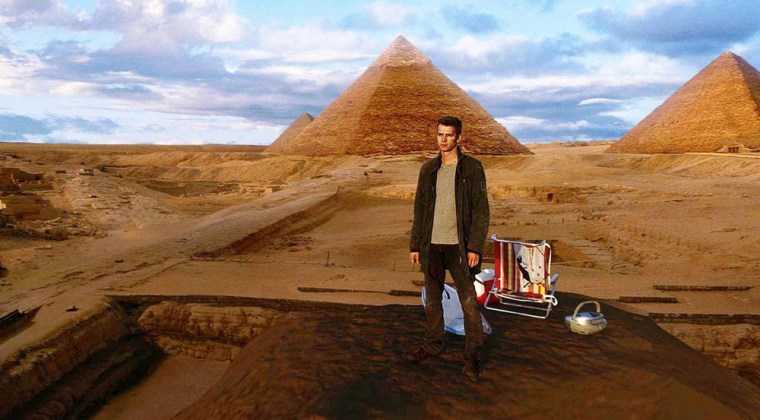 Hayden Christensen fights the high cost of fossil fuel by teleporting around the globe in this sci-fi adventure about "jumpers" able to travel anywhere instantly. Sporting bright blond hair, Samuel L. Jackson co-stars as an operative for a secret society that aims to destroy the jumpers as genetic abominations, while Jamie Bell plays a fellow teleporter who teams up with Christensen. Extras on single-disc DVD, two-disc DVD and Blu-ray editions include commentary by director Doug Liman and three making-of featurettes. The Blu-ray and two-disc DVD releases also have six deleted scenes, more featurettes and a digital copy of the movie for portable DVD players. Single DVD, $29.98; two-disc DVD set, $34.98; Blu-ray, $39.98. (20th Century Fox) Read the review.
"The Other Boleyn Girl"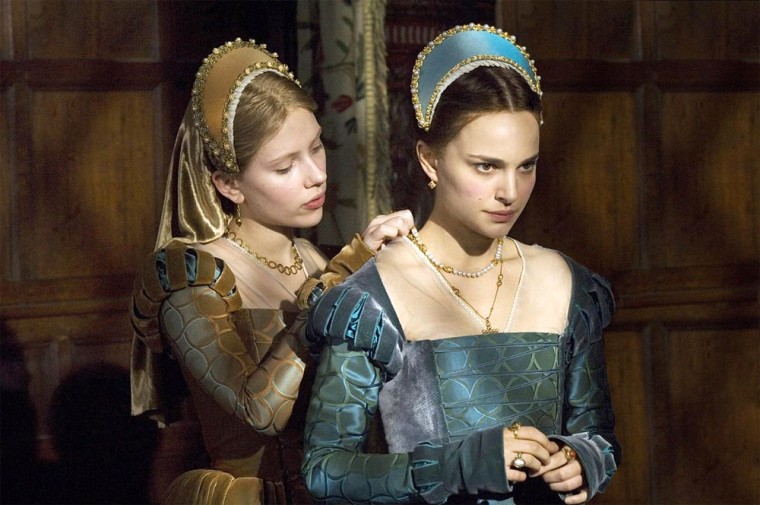 Natalie Portman is the scheming sister and Scarlett Johansson's the nice younger sibling among the Boleyn family, whose girls find themselves at odds over the attention of Britain's King Henry VIII (Eric Bana). The rivalry is set in motion by the sisters' father and uncle, who plot to foist Portman's coquettish Anne off on the king only to find the monarch attracted to Johansson's innocent — and newly married — Mary. The DVD and Blu-ray discs have deleted and extended footage and three behind-the-scenes segments examining life at court in the 16th century and how the filmmakers adapted their story from Philippa Gregory's novel. DVD, $28.96; Blu-ray, $38.96. (Sony) Read the review.
TV on DVD:
"John Adams" — Paul Giamatti stars as one of the United States' key founding fathers in the acclaimed miniseries that features Laura Linney as his wife, Abigail Adams, Tom Wilkinson as Benjamin Franklin and David Morse as George Washington. The seven-part series comes in a three-disc set, tracing Adams' life as he balances politics and the presidency with devotion to his family. The DVD set includes a segment on author David McCullough, whose book was the basis for the miniseries. DVD set, $59.99. (HBO)
"Home Improvement: The Complete Eighth Season" — Tim Allen finishes his run as the TV tool guy in the final season of his family sitcom. A four-disc set packs the last 28 episodes plus a reunion special. DVD set, $23.99. (Disney)
"Soap," "What's Happening" — Two 1970s comedies arrive in complete-season sets, with a 12-disc package containing all 90 episodes of the soap-opera parody "Soap" and a nine-disc collection gathering all 65 episodes of the buddy show "What's Happening." DVD sets, $59.95 each. (Sony)
"7th Heaven: The Sixth Season" — The wholesome show about a pastor (Stephen Collins), his wife (Catherine Hicks) and their brood of children (including Jessica Biel) continues with a six-disc set containing all 22 episodes from year six. DVD set, $49.99. (Paramount)
"Hawaii Five-O: The Fourth Season" — Jack Lord books more bad guys in the crime show centered on a police squad that goes after major criminals in Hawaii. The six-disc set has the fourth year's 24 episodes. DVD set, $54.99. (Paramount)
"The Odd Couple: The Fourth Season" — Jack Klugman and Tony Randall return as slob Oscar and finicky Felix in the comedy based on Neil Simon's play about mismatched roommates. Season four's 22 episodes come in a four-disc package. DVD set, $42.99. (Paramount)
"The Fugitive: Season Two, Volume One" — David Janssen is still on the run as a doctor falsely convicted in the murder of his wife. A four-disc set has the first half of year two's 30 episodes. DVD set, $42.99. (Paramount)
"Army Wives: The Complete First Season" — The home-front drama features Kim Delaney and Catherine Bell among a group of military spouses on an Army base. The first 13 episodes come in a three-disc set, accompanied by deleted scenes, cast and crew commentary and behind-the-scenes segments. DVD set, $39.99. (Disney)
"The Boondocks: The Complete Second Season" — The animated comedy about two urban boys living in the 'burbs continues in a three-disc set with all 13 episodes from season two, plus two installments that did not air in the United States. DVD set, $49.95. (Sony)
"McLeod's Daughters: The Complete Sixth Season" — An eight-disc set has all 32 episodes from year six of the Australian saga about half-sisters who inherit a cattle ranch and run it with an all-woman team of cow hands. DVD set, $79.98. (Koch Vision)
"Da Vinci's Inquest: Season 3" — The Canadian crime show centers on a coroner in Vancouver investigating suspicious deaths. A four-disc set has the third season's 13 episodes. DVD set, $59.99. (Acorn)