/ Source: The Associated Press
"27 Dresses"The romantic comedy that's also a major mystery — as in just how is it that a woman who looks like Katherine Heigl cannot find a husband? Heigl stars as the ultimate always-a-bridesmaid pal, a woman who has stood up as a member of the wedding 27 times without getting any closer to her own nuptials. She's finally jolted into action after her secret, unrequited love (Edward Burns) ends up falling for her own sister. The DVD and Blu-ray high-definition discs have deleted scenes and four featurettes, including one on wedding gown designs. The DVD also has both full-screen and widescreen versions of the movie. DVD, $29.98; Blu-ray, $39.98. (20th Century Fox) Read the review.
"The Golden Compass"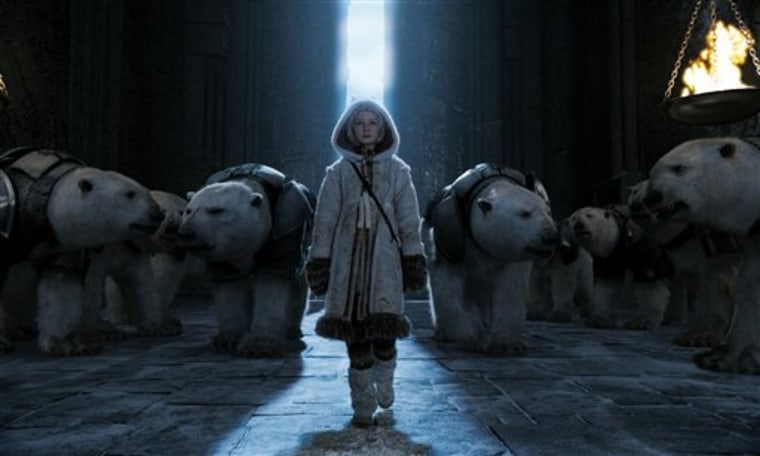 A surprise Academy Award winner for visual effects over blockbuster "Transformers," this fantasy adventure proved a critical and commercial lightweight compared to its studio stablemate, "The Lord of the Rings" trilogy. Featuring Nicole Kidman and Daniel Craig, the movie follows the otherworldly travels of a 12-year-old orphan (Dakota Blue Richards), who becomes the keeper of the last "golden compass" — a mechanism whose magic powers include revealing the truth and offering glimpses into the future. The movie comes in two-disc DVD and Blu-ray sets with commentary from director Chris Weitz and 11 featurettes including a segment on the show-stopping effects sequence that pits two armored polar bears in a duel. A bare-bones single DVD with just the movie also is available. Single DVD, $28.98; two-disc DVD Set, $34.99; Blu-ray set, $39.98. (New Line) Read the review.
"The Diving Bell and the Butterfly"
One of last year's most-acclaimed films also was an unlikely literary adaptation given its source material — the memoir of French Elle Editor Jean-Dominique Bauby, who was immobilized in the prime of life by a stroke that left him with locked-in syndrome, able to communicate only by blinking an eye. Mathieu Amalric stars as Bauby, who painstakingly dictates his memoir through blinks, one letter at a time. The DVD has a Charlie Rose interview and commentary with director Julian Schnabel, who earned a best-director Oscar nomination. The disc also has two behind-the-scenes segments. DVD, $29.99. (Miramax) Read the review.
"The Fall of the Roman Empire"Russell Crowe and Ridley Scott's Roman adventure "Gladiator" borrowed liberally from the story-line of this 1964 epic with an all-star cast including Alec Guinness, Sophia Loren, James Mason, Christopher Plummer and Omar Sharif. Director Anthony Mann's tale traces the power struggle and political decline that emerges after Rome's emperor, Marcus Aurelius, picks his adopted son to succeed him rather than his unstable biological son. Available in a two-disc DVD package or a three-disc "Collector's Edition" boxed set, the movie is accompanied by five making-of segments and commentary with producer Samuel Bronston's son. The three-disc set also has five historical films about ancient Rome, six production stills and a reproduction of the souvenir booklet from the film's premiere. Two-disc set, $24.95; "Collector's Edition" set, $39.92. (Genius)
TV on DVD:
"The Adventures of Young Indiana Jones: Volume Three — The Years of Change" — With his fourth big-screen tale just weeks away, Indiana Jones concludes his formative years in this final boxed set of TV exploits from the 1990s series. Sean Patrick Flanery resumes his role as the youthful Indy, who butts heads with Ernest Hemingway as World War I nears an end and later encounters such figures as Woodrow Wilson, Al Capone, George Gershwin and Louis Armstrong. The 10-disc set has seven movie-length adventures and dozens of detailed documentary segments on the real people and events in Indy's life. DVD set, $129.99. (Paramount)
"Cheers: The Ninth Season" — Ted Danson, Kirstie Alley and the rest of the gang at the Boston bar return with a five-disc set packing year nine's 25 episodes. The five-disc set also includes a one-hour special to mark the sitcom's 200th episode, which included an appearance from former series co-star Shelley Long. DVD set, $42.99. (Paramount)
"The Waltons: The Complete Seventh Season" — With the Depression behind them, the family on Waltons Mountain copes with tragedy and turmoil as the United States enters World War II. Year seven's 24 episodes come in a three-disc package. DVD set, $39.98. (Warner Bros.)
"Beverly Hills 90210: The Fourth Season" — Shannen Doherty, Luke Perry, Tori Spelling, Jason Priestley and the rest of their pretty young pals explore life after high school. An eight-disc set has season four's 31 episodes. DVD set, $61.99. (Paramount)
"Dark Shadows: The Beginning — Collection 4" — The early days of the creepy soap opera about supernatural happenings surrounding the Collins homestead continue with 35 more episodes from 1966-67 in a four-disc set. DVD Set, $59.98. (MPI)
"Arizona Diamondbacks 2001 World Series Collector's Edition" — The fall classic that followed the Sept. 11 terrorist attacks pitted the New York Yankees against newcomer Arizona, which pulled out a come-from-behind victory in the seven-game series. A seven-disc set has the entire series, along with post-game interviews. DVD set, $69.95. (A&E)