/ Source: The Associated Press
"21"Kevin Spacey offers a lesson to academics everywhere on how to beat the high cost of living. Spacey plays a brilliant, greedy Massachusetts Institute of Technology professor who leads a team of math-whiz students (Kate Bosworth and Jim Sturgess among them), the gang developing a card-counting scheme to take Vegas casinos to the cleaners at the blackjack table. Single-disc DVD, two-disc DVD and single-disc Blu-ray releases include three behind-the-scenes featurettes plus commentary with director Robert Luketic. The two-disc DVD set also comes with a digital copy of the movie for computers and portable video players. Single-disc DVD, $28.96; two-disc DVD set, $34.95; Blu-ray, $38.96. (Sony) Read the review.
"Doomsday"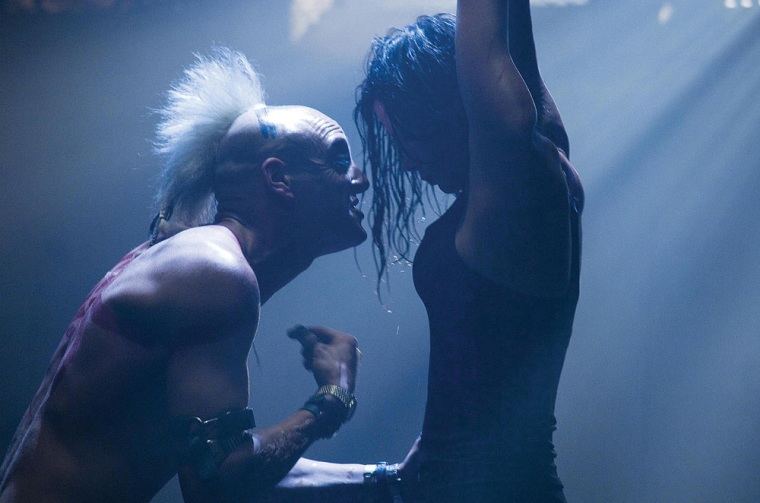 Thirty years after a plague in Great Britain prompts authorities to seal off the island with a wall, the deadly virus emerges again. A military unit is dispatched into the quarantine zone to find a cure among the savage society that has sprung up among the British survivors. The DVD has both the R-rated theatrical version and an unrated cut adding more footage, plus a couple of background featurettes. The Blu-ray disc has the unrated cut accompanied by cast interviews and behind-the-scenes material that can be accessed while watching the movie. Director Neil Marshall and some of the cast provide commentary on the unrated version. DVD, $29.98; Blu-ray, $39.98. (Universal) Read the review.
"The Mummy," "The Mummy Returns," "The Scorpion King"Ancient Egypt joins the Blu-ray age as "The Mummy," its first sequel and the spinoff "The Scorpion King" arrive on high-definition discs in advance of the Aug. 1 big-screen release of "The Mummy: Tomb of the Dragon Emperor." "The Mummy" and "The Mummy Returns" pit Brendan Fraser and Rachel Weisz against mean old dead guy Arnold Vosloo, while "Scorpion King" turns Dwayne "The Rock" Johnson's villainous character from "Mummy Returns" into a hero leading a band of freedom fighters against an evil warlord. Blu-ray discs, $29.98 each. (Universal)
"Vampyr"Carl Theodor Dreyer's 1932 tale of a bloodsucker is a striking grab-bag of visual and auditory tricks that add up to a surreal horror classic. The two-disc set packs a 1998 restoration of the German version of the film, accompanied by commentary and essays with film critics and scholars, a 1964 interview with star and producer Nicolas de Gunzberg and a 1966 documentary on Dreyer. The set also comes with a book containing the original screenplay, the short story "Carmilla" that inspired the film and a 1958 radio essay by Dreyer. DVD set, $39.95. (Criterion)
TV on DVD:
"Spaced" — "Shaun of the Dead" collaborators Simon Pegg, Edgar Wright and Jessica Hynes put together this cult favorite British comedy series centered on the misadventures of a man and woman (Pegg and Hynes) who pose as a couple so they can rent a flat together. A three-disc set has all 14 episodes, plus deleted scenes, a behind-the-scenes documentary and commentary with Pegg, Wright, Hynes, other cast members and fans of the show including Kevin Smith and Quentin Tarantino. DVD set, $59.98 (BBC)
"Robot Chicken: Star Wars" — Seth Green and Matthew Senreich apply the deranged stop-motion animation of their "Robot Chicken" comedy series to this parody of Luke, Leia and the gang, which includes guest vocals from "Star Wars" creator George Lucas himself. Along with deleted scenes, extras include a making-of segment and commentary. DVD, $14.97. (Warner Bros.)
"Las Vegas: Season Five" — Tom Selleck takes over from James Caan as top dog at a Vegas casino in the drama that follows a hot, young surveillance crew keeping tabs on the gamblers and the goings-on. The fifth season's 17 episodes come in a four-disc package. DVD set, $59.98. (Universal)
"Transformers Cybertron: The Ultimate Collection" — This 2005 animated revival based on the 1980s cartoon show centers on the benevolent Autobots' quest to save their home planet amid clashes with the evil Decepticons. A seven-disc set has all 52 episodes. DVD Set, $61.99. (Paramount)