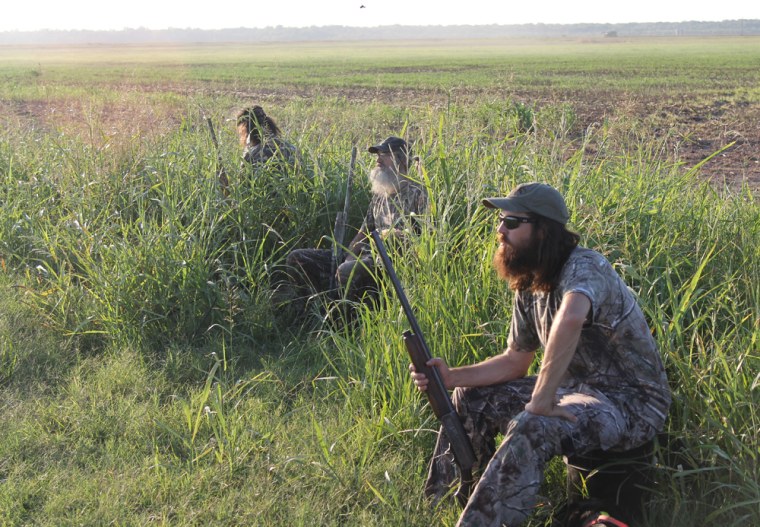 The Robertson family of "Duck Dynasty" will soon have more than their hit reality show and successful line of duck calls to boast about. Gunmaker Mossberg announced on Thursday that the reality stars have teamed up with the company to release 11 guns.
"The long-term agreement with the Robertson family and the hugely popular Duck Commander franchise includes a focus on the family's passion of waterfowl hunting, promotion of the shooting sports and family values as well as a series of Mossberg 'Duck Commander' firearms," the company said in a press release.
Nine shotguns, two semiautomatic rifles and a semiautomatic pistol — all in a camouflage pattern — are part of the Duck Commander line of firearms. The guns will also feature the Duck Commander logo, and will include an American flag bandana. 
The company has already begun shipping some of the shotguns to distributors, a spokesperson for the gunmaker told CNN.
It's no secret that the stars of A&E's hit reality series are gun fans. Last year, Si Robertson told Men's Journal magazine, "It ain't gun control we need; it's sin control."
The family recently found itself embroiled in controversy after patriarch Phil Robertson called homosexuality a sin and compared gays to terrorists in a December GQ interview. A&E briefly suspended the elder Robertson from filming before reversing its decision on Dec. 27.
In the Robertsons' first post-controversy interview, son Willie and his wife Korie said on Fox News Tuesday that the family was "ready to move on," and that they "all learned a lot."
"Duck Dynasty" returns to A&E on Jan.15 at 10 p.m.