Television genres are like the tide: Some seasons all you see are procedurals, and then serialized shows are the rage, only to find the next year that it's all about the comedies.
Of course, keeping to that metaphor, there's been a lot of erosion across the board with generally shrinking audiences wooed away by a plethora of alt-entertainment distractions and rising on-demand viewing. And so the creative brains in Hollywood are always trying to tinker with what works today to discover what's going to work tomorrow.
In particular is the case of the hybrid procedural. Standalone procedurals still rule the TV world with franchises like "CSI," "NCIS" and "Law & Order" dominating their time slots, but there's been plenty of evidence that certain audience factions are fatigued with the tidy storytelling. And that crack has opened the door for hybrid procedurals like "House," "Bones," "The Mentalist" and "Lie to Me," which each solve cases per episode but also sneak in plenty of character development to keep audiences engaged.
But what's the next step for fans of hybrids? For the people who like their procedural dramas but also seek shows with some tasty morsels of the bizarre married with a touch of serialized storytelling.
Television has been catering to those niche audiences, too, through shows that infuse their procedurals with plenty of strange phenomena. Series like "Ghost Whisperer," "Medium," "Pushing Daisies," and "Fringe" have found their place in the competitive landscape by using the dead, the freaky and the unexplainable as the backdrop for their procedurals. While some have been more successful than others ("Daisies" only lasted 22 episodes), most of them show remarkable resiliency.
"From the classic 'The Twilight Zone' to the cultish 'The X-Files,' unexplained phenomena will always have a place on television thanks to our never-ending fascination with the unknown," says Tracy Phillips, Senior Editor at Fancast.com and one who follows these kinds of hybrids. "Supernatural crime solvers were the next logical progression of procedurals to counter the burnout that followed when straight-shooters like 'CSI' and 'Law & Order' started spawning faster than 'Jon & Kate.'"
The trendsettersArguably this latest hybrid trend kicked off back in 2005 with the premiere of "Medium" on NBC and "Ghost Whisperer" on CBS. Both are still on the air and have amassed incredibly loyal fan bases that love the non-traditional mix of investigation storytelling through heroines who get their sleuthing backup from the beyond.
P.K. Simonds, an executive producer on "Ghost Whisperer" for three years, says while some initially in the industry thought the concept of the show was too high-concept, it's proven to be a perfect fit.
"Part of the reason for doing a hybrid show in the first place is that you know audiences engage with certain things," Simonds explains. "The thing they engage with is mystery, always. For instance, the Harry Potter books are all mysteries if you break them down to their structure. There always has and always will be a thirst in your audience for stories with mystery at the core. Then when you think of spiritualism and the occult, they are all about mystery as well. There is so much that we sense as thinking, feeling beings that go on around us in the world that we just don't understand. Yet we know those things are out there and we sense there is a great deal to the universe that we can't explain so it doesn't feel like a stretch to marry the elements of the unknown...with the individual mystery stories that make our show."
The hybrid approach also allows the writers to tinker with the formula to keep the storytelling fresh, a luxury straight procedurals don't have or can't often take.
"We feel like with each episode we have an obligation to present a certain amount of each of the key ingredients of the hybrid blend," Simonds says. "What we change each week is the balance. Some weeks we have less procedural and more supernatural or comedy or romance. We constantly vary the mixture so that audiences come to expect that things will be different week to week...and to make sure that you are delivering what those significant segments of your audience are looking for in your show.
"Last season we tried a big experiment for the show which was to serialize the season in a way we had never done, building around core relationships among our regulars," he said. "That took us away from the occult mystery of the week stuff we had been doing previously, but it turned out to really connect for the audience. It reminded us that we can lean more heavily on our ensemble characters and their lives for storytelling and it works. Now this season we are venturing deeper into the unseen and untapped phenomenon of the beyond. We can also tell crime dramas and mysteries and all kinds of things and accommodate them in the confines of this show without the audience feeling like they are watching a different show. That's frankly something our competitors can't do because they are bound by rules of logic and science and physics that we don't have to worry about."
"Medium," which revolves around psychic Allison DuBois' work as a medium consultant for the Phoenix district attorney's office and who is also a full-time mom, is another show that knows how to maintain narrative balance for success. In fact audiences often cite the grounding of the show in Allison's home life as the reason they watch ... and now follow.
For four seasons, the series lived on NBC until production costs behind the scenes found the show migrating to CBS for its current fifth season. It's now paired with "Ghost Whisperer" on Friday nights; the two shows are even bucking the usual ratings black hole that is typically synonymous with that night of the week.
"'Ghost Whisperer' and 'Medium' indulge in horror-lite, blending spooky with sentimental, and personal lives with the professional, in a way that touches audiences," Fancast's Phillips says of their hybrid success. "Their super-powered heroines, ironically down-to-earth and relatable, have hooked a devoted fan base that follows them, creating an immortal haven on Friday night TV. Insiders often refer to it as the 'Friday Night Death Slot,' and in this case, the term couldn't be more perfect."
Craig Sweeny, co-executive producer of "Medium," says regardless of where they are shown they know what makes the show tick.
"'Medium' has never been terrifically serialized," Sweeny says. "Fortunately for us we haven't had to change all that much. With the exception of a few episodes you can dive in really anywhere in the series and that continues here [on CBS]." From there the writers make their characters, especially Allison and her ever-growing girls, the hook that keeps audiences loyal.
"Every season when we come back all the girls are a year older and we've always had fun exploring what's different about the characters," Sweeny explains. "Ariel (Sofia Vassilieva) comes off as more mature this year and we have crafted a few storylines that feed directly into that. Bridgette (Maria Lark) is on the cusp of being a teenager herself and we have a story that explores her character in the most sophisticated way we have done yet, asking what it's like being Ariel's younger sister and to be in the middle of that family."
Tapping into the unknownAnother big draw with these two hybrid shows in particular is how they tap into the unknown so potently.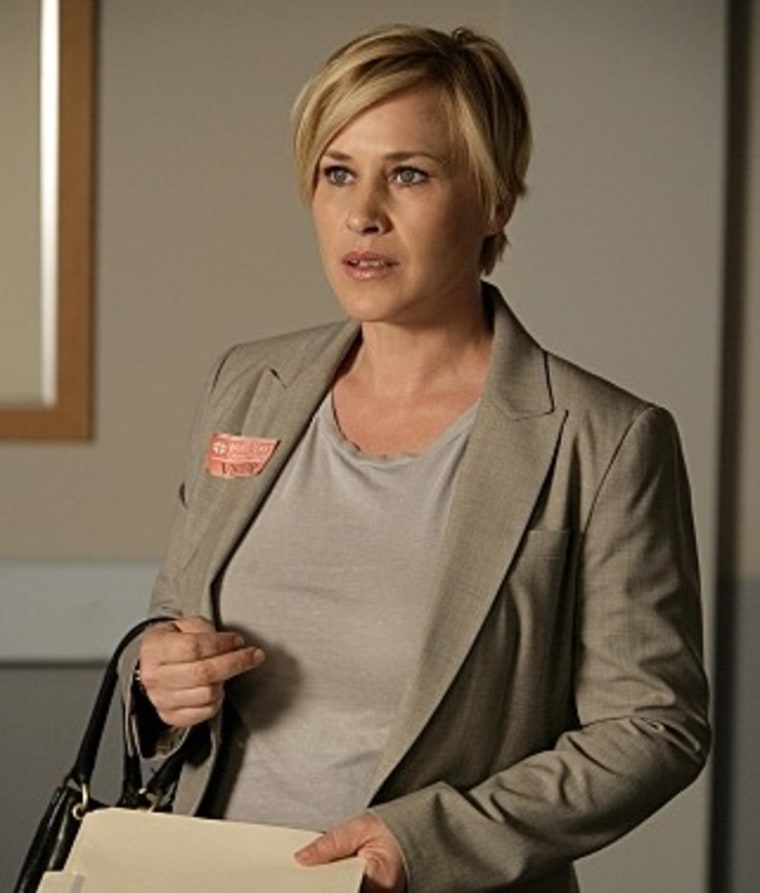 "People want to believe in the unbelievable," says Barb Powell, a renowned psychic medium and profiler based in Saskatoon, Canada. "That there is hope where there should be none. In some ways these shows allow us to engross ourselves in the entertainment of the story, to forget our everyday lives and problems. We are all connected in a universal way regardless of culture, religion and language. We may not be able to exactly relate to the personal examples but we can relate to the emotional state; emotion and energy is universal. Today's paranormal shows are not shown for laughs, they are serious dramas. They speak in personal, easily relatable ways about life and death issues. The programs try to answer the questions we all have been asking for years: 'Is there life after death?' Every week they tell the audience, "don't worry, death isn't really death, it isn't the end of anything". It tells us that there is something more out there - a force or higher power beyond our understanding - that gives meaning to our lives, and our deaths."
And with the state of the world being so emotionally charged and economically complicated for so many average people, Powell says these hybrid shows are ripe for audiences seeking something more.
"I truly believe that people are more willing to embrace spirituality and the paranormal due to the state of the economy," she says. "Studies have shown that in times of stress and turmoil people turn to faith. Trusting that a 'Higher Power' is at work in our lives is not always easy, but it can help us to see the lessons in life's messes and even find some joy in them. We worry too much about trying to find a meaning to things when we should be concerned about finding a solution, not trying to understand the why's."
Of course, Powell says that while she is a fan of both shows they also make her own gifts a little harder to explain as people come to expect an Allison DuBois or Melinda Gordon type experience when they seek her counsel.
"You do get some clients who believe what they see on television and read in books," she explains. "It can make things more complicated when bringing forth information. Perhaps the client wants a spookier atmosphere, bells and whistles and becomes disappointed when there is none. But I am a person who does not care whether a client wants me to act or be a certain way. I always get the remarks of "you look young," or "you are not what I expected to see" when clients first see me. In the end it is the matter of the information you bring through to a client and how it has helped their lives become richer in spirit."
A hybrid on the 'Fringe'
Another hybrid that's doing well with its different approach is executive producer J.J. Abram's "Fringe," now on Thursday nights at 9 p.m. Despite the tough competition of "CSI," "Grey's Anatomy," and "The Office," "Fringe" is holding its own. Actor Joshua Jackson who plays Peter Bishop, a layman investigating strange, fringe science cases with FBI Agent Olivia Dunham (Anna Torv) and his father Dr. Walter Bishop (John Noble), attributes their success squarely on being different.
"The beauty of our show is that if we don't have a new crazy thing, something's gone horribly wrong so I take it always as a positive thing," he laughs.
An avowed sci-fi fan himself, Jackson says the show manages to make real science otherworldly and which appeals to him as a viewer as well as their audience. "What defies my imagination is that there would be nothing out there that would defy my imagination and maybe it's because I'm a sci-fi fan. It just seems like the only justifiable position that a human can have in 2009 is humility in the face of the universe. We're learning so much and everything that we learn, it's like that Carl Sagan thing, the candle in the dark. Every time the candle gets a little bit brighter it only serves to illuminate how much we still don't know."
The actor says "Fringe" illuminates but also does it in a way that is inclusive, an important part of television today.
"This season I'd say we're about 50/50 for episodes that are heavy into the big back-stories and stories that are just sort of one-off investigations," he explains. "The idea is that regardless of whether it's a mythology episode or part of the larger story or not, each one of these investigations in every episode will always have a beginning, middle and end. Even it is a heavy mythology episode you can still tune in and get a satisfying story as opposed to tuning in to the story halfway through. That's one of the conceits of 'Fringe,' that if you want to pay attention every week there's a lot of story being told all the time. But if you just want to tune in, drop in for a fun hour away where you get to cringe at the bad stuff and root for the good guys and hiss at the bad guys, there's that aspect, too. It doesn't turn you away at the door."
And by the looks of this trend, audiences are keeping their doors open for these hybrids too. Just for how long, that remains the real mystery. Phillips offers, "TV trends are cyclical, so I expect this current wave of supernaturalists to linger just like the ghosts that haunt them. No matter how it's refashioned next time, the procedural genre itself is a vital mainstay that worships the holy trinity of TV drama — cops, doctors, and lawyers — and that's a TV convention that will never die."