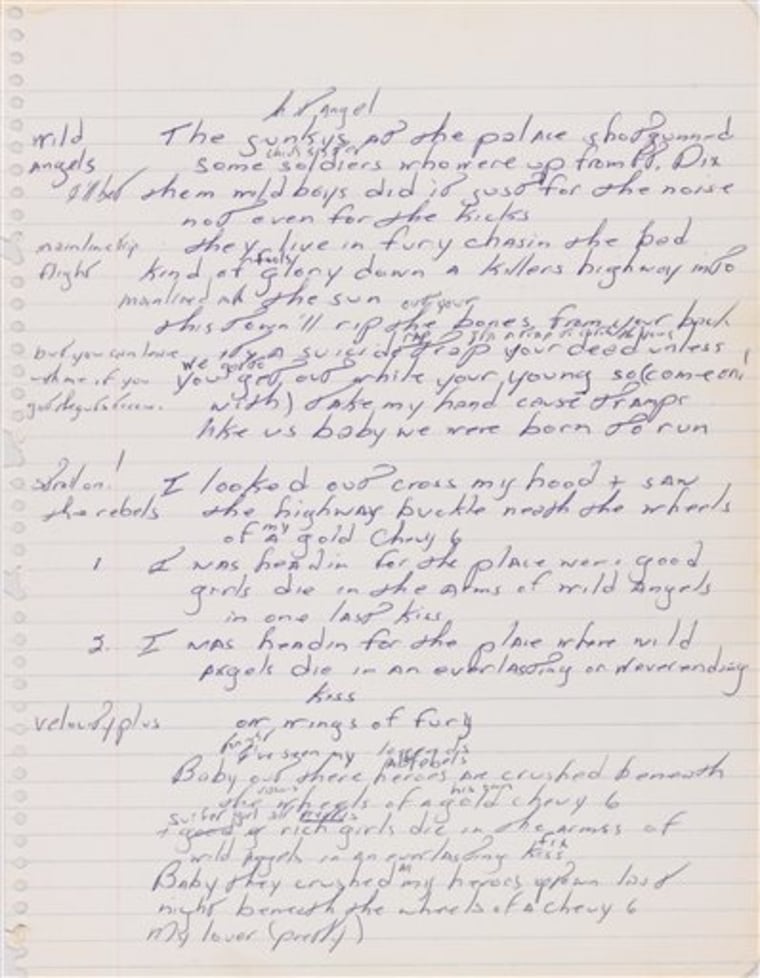 A handwritten, early draft of the lyrics to Bruce Springsteen's 1975 hit "Born to Run" fetched $197,000 at auction today at Sotheby's, according to the Associated Press. The auction house claimed the copy once belonged to the Boss' former manager, Mike Appel, but would reveal neither the seller nor the buyer, who bid by telephone. It was originally estimated to sell for between $70,000 and $100,000.
Where does "Born to Run" rank among the 500 greatest songs of all time?
The draft, which Springsteen wrote in 1974 in Long Branch, New Jersey, contains many unpublished and unrecorded lyrics, though Sotheby's said it had a "nearly perfected chorus." AP reports that Springsteen scrawled the text haphazardly, in blue ink on ruled notepaper, with words like "wild" and "angels" written in the margins.
"Although Springsteen is known to have an intensive drafting process, few manuscripts of 'Born to Run' are available, with the present example being one of only two identified that include the most famous lines in the song," Sotheby's auction notes said. "This iteration expresses the darkness that the early versions are known for, but has the distinction of a nearly perfected chorus."
100 Greatest Guitarists: Bruce Springsteen
Springsteen had an acrimonious fallout with Appel after the release of "Born to Run." The manager sued the singer-songwriter and prevented him from releasing music until they reached an out-of-court settlement. The Boss' next album, "Darkness on the Edge of Town," came out in 1978. Appel and Springsteen have since made amends; AP reports that the singer invited his former manager and son to fly with the band in 2009 to witness a gig where he played the entirety of his debut, "Greetings From Asbury Park, NJ," which Appel had coproduced.
Springsteen's next album, "High Hopes," is due out Jan. 14th. It will contain a mix of covers, studio outtakes and re-recorded originals.