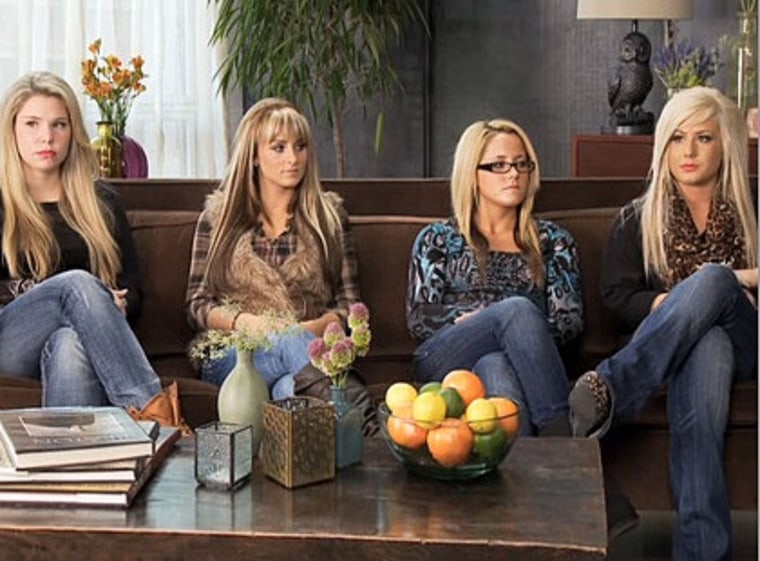 Jenelle, Leah, Kailyn and Chelsea: The doctor is ready to see you now!
The "Teen Mom 2" stars reunited tonight in the first part of the MTV reality show's obligatory "checkup" with Dr. Drew Pinsky, to discuss where they are at "this moment" in their lives.
Never mind that "this moment" occurred last summer (when this reunion show was taped) -- eons in "Teen Mom" time -- when Leah was blond and not engaged to someone else and Jenelle was facing jail for the very first time.
It may be ancient history, but tonight's show had plenty of surprises ... and brand-new drama.
LAST WEEK'S RECAP: "Teen Mom 2" finale recap: Jenelle rehabs, Leah divorces, Kailyn gets dumped and Chelsea ... sigh
First on the couch was Jenelle, who has made great strides since her return from rehab in the season finale: She's back together with bum boyfriend Kieffer Delp, she relapsed and failed a drug test, and is facing jail time. Dr. Drew failed to see the positive and totally harshed on the young mom: "You're on probation, you're smoking pot, you're hanging out with a guy you filed domestic violence charges against. Tell me where you're better."
Well, when he puts it that way....
On the bright side, Jenelle has a "set schedule," has been attending school and isn't arguing (as much) with her mom, Barbara -- who is invited for another round of family therapy, MTV style.
MORE: Would "Teen Mom's" Amber Portwood prefer jail to a halfway house if it meant staying on TV?
Barbara agreed that she and her daughter are "doing a lot better" -- especially since Jenelle's stepfather "is gone": "He moved out with a Hooters waitress!" Barbara cackled, much to the good doctor's consternation.
When asked how she felt about Jenelle's relationship with Kieffer, Barbara perfectly summed up Florida's famous hobo : "He's so no good."
Drew prompted the women to name the things they like about each other (this time Barbara got all the way to three), which ended with a collective "Awww" from the studio audience when Jenelle said Barbara is a "good mom." And they hugged.
Awww.
MORE: "Teen Mom 2's" Jenelle Evans ducks jail after passing drug tests
If there's one thing we learned from Kailyn's session with Dr. Drew, it's this: Chlamydia can be very confusing.
Joining the Teen Mom on the couch were the two men forming the hypotenuse of her love triangle, baby daddy-rap superstar Jo andex-boyfriend Jordan -- whom she cheated on with the aforementioned baby daddy. "Honestly I've treated him pretty bad," Kailyn admitted tearfully about her one-night stand with Jo.
Back up -- now Jo is hinting it was more than once.
Maybe, admits Kailyn, but she insists she only "cheated on Jordan once."
Jo, looking fine in a pair of short pants that Angus Young would envy, says he doesn't want to "try to force a relationship" with Kailyn, who -- now that Jo has shut her down -- says she wants to be with Jordan.
MORE: "Teen Mom's" Jenelle Evans: Restraining orders against her dismissed
"You don't know how hard it is to be a Teen Mom (TM)," she cries, as if defending a brand identity. "It hurts me that I'm hurting you." And then she demands, "It should be a mutual agreement if we break up."
Except Jordan points out that they can't break up, because they are not a couple, and Kailyn dramatically storms off the stage.
Thank the reality TV gods she came back, because the triangle reformed and the topic quickly turned to ... STDs! Dr. Drew lit up like a Christmas tree at this Life Lesson opportunity.
MORE: "Teen Mom's" Amber Portwood headed to halfway house drug program
You see, Kailyn's IUD is great at preventing pregnancy. Chlamydia, not so much, even -- and here's the most important lesson of all, kids -- if you're having sex in the shower.
After Jordan and Kailyn revealed they'd both been tested and treated, realization finally dawned on Jo, who asked: "Wait, did you just blame me for giving you STDs?" Ding ding ding -- we have a winner! "How do I know you're not having sex with someone else?" he responded. Fair enough, but for the sake of N.I.C.K. B's "groupies," we wish he'd get tested and treated.
Dr. Drew is right: Chlamydia can be very confusing.
Next week, Leah and Chelsea take their seats on the couch, and reveal even more shocking secrets. (Chelsea cheated on Adam? That poor, sweet man -- how could she do such a thing.)
What did you think of the bombshells Kailyn and Jenelle dropped tonight? Is Kailyn being unfair to Jordan, or just honest? Did Jenelle's slip-ups surprise you? Tell us on our Facebook page.
Related content: