Long before Dame Diana Rigg brought Olenna Redwyne to life this season on HBO's "Game of Thrones," fans of George R.R. Martin's epic fantasy series compared her acerbic character to "Downton Abbey's" Violet Crawley, played with delicious relish by Dame Maggie Smith.
The distinguished actresses have more than their characters' signature wit in common: among other awards, both Brits have received the female equivalent of a knighthood. Smith has picked up two Best Supporting Actress Emmys for the Edwardian period drama, and will likely go head-to-head with Rigg in the category this year.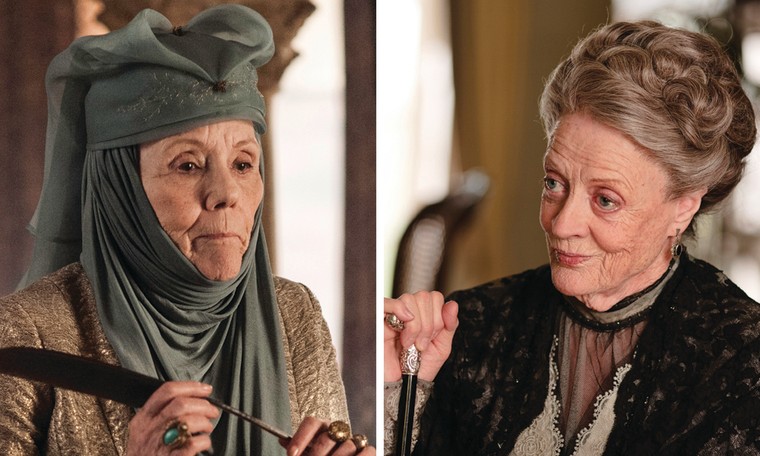 But if the fictional ladyships could meet, who would win the battle of the wits? Let's break this down, period-drama/fantasy style:
Woman of the House: Both elderly matriarchs wield considerable influence behind the scenes in their respective houses (Tyrell and Downton). From the beginning, Violet promoted the match between Mary and Matthew, and despite some (OK, many) hiccups, her wish was eventually granted. Olenna encountered similar roadblocks in her matchmaking efforts (poor Sansa), but she married her granddaughter off to kings. (And probably helped to unmarry her when it counted.) POINT: Olenna
Flower Power: Olenna's nickname is partly derived from House Tyrell's sigil, and she quipped that "when a Tyrell farts it smells like a rose." But Lady Violet is the perennial winner of the Best Bloom in the Village Award (not counting her forfeit to Bill Molesley for his Comtesse Cabarrus rose). What are embroidered pillows compared to the Grantham Cup? POINT: Violet
You've Been Served: Attending to these fussy femmes is a frightening prospect for the hired help. Violet cloaks her complaints in sarcasm ("He looks like a footman in a musical revue!") and gripes ("I was right about my maid. She's leaving -- to get married! How could she be so selfish?"), but the Queen of Thorns is cutting: "Gods, boy, that's enough, we're not in a tavern," she complains to Podrick Payne, before silencing him. "No need to speak!" And don't dare delay her dairy: "The cheese will be served when I want it served, and I want it served now." POINT: Olenna
The Fairer Sex: While men brandish the most power in all eras, these materfamilias happily undermine their authority. "Loras is young and very good at knocking men off horses with a stick," Olenna notes about her grandson. "That does not make him wise." She's even more scathing about his father: "My son's a hunter. It helps him forget he's never been within a mile of a real battle." Violet is more subtle, telling her daughter-in-law that a woman is entitled to her opinions only when "she is married -- and then her husband will tell her what her opinions are." Still, like Olenna, she insists, "I'm a woman…I can be as contrary as I choose." But where Violet is contrary, Olenna is downright cunning, forming powerful alliances (Varys, Tyrion and probably Littlefinger) and a hairnet (?!) to take down her enemies. POINT:Olenna
Trading Barbs: This isn't a fair fight, since Smith has had three seasons to zap zingers compared to Rigg's few episodes. But can Olenna's bawdy barbs ("Once the cow's been milked there's no squirting the cream back up her udder") ever triumph over Violet's high-society zingers? ("Of course it would happen to a foreigner -- no Englishman would dream of dying in someone else's house"; "It always happens when you give these little people power, it goes to their heads like strong drink"; "Don't be defeatist, dear, it's very middle class"). POINT: Violet
The battle may not be as decisive as a joust or cricket match, but in this contest, the Queen of Thorns must be declared the winner. (Your fig and cheese platter is on its way, Lady Olenna!)
Do you agree? Vote in our poll andsound off on our Facebook page!