The controversial shocker that "Downton Abbey's" American audiences finally saw Sunday would've been heavily promoted as a "very special episode" on broadcast networks.

The soapy period drama has already seen its share of tragedy. From deaths by car accident, childbirth and sex, poison, disease, war and even the sinking of the Titanic to a heartbreaking miscarriage and everything that happens to Edith, viewers should almost be immune to "Downton's" calamities by this point.
Spoiler alert! If you haven't seen the episode yet, do not read any further!
But nothing could have prepared fans for what happened to sweet Anna: Our favorite lady's maid was brutally raped by a visiting valet named Mr. Green.
His attack in the downstairs kitchen was swift and violent. It was even more jarring in its incongruity to the revelry upstairs, where the Crawleys, their houseguests and all the other servants were enthralled by an opera singer performing at Downton's first party since Matthew's death.
When they first arrived, Mr. Green and his employer — Mary's suitor, Lord Gillingham — helped to lift the spirits of a household consumed by grief. The valet was a jokester, playing games with the staff and even enjoying a mild flirtation with Anna.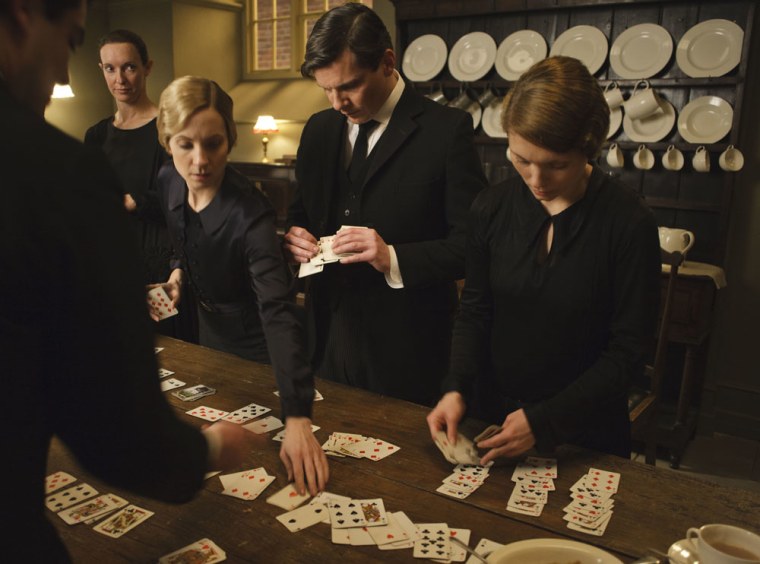 Mr. Bates, of course, didn't approve of him — and even rebuked Anna for encouraging him.
And so, like all too many victims of sexual assault, Anna blamed herself. While Green hoisted up his pants and swaggered away as though they'd shared a mutually pleasurable tryst, Anna hid her bloodied face in Mrs. Hughes' room. She persuaded the head housekeeper to keep her secret — even from her husband, insisting that Bates would kill him and end up hanged for murder after all.
If her attacker had truly been a stranger — as Anna claimed — at least she would be spared having to live and work with him throughout his stay. Instead, she was forced to be civil during their encounters.
Despite its high ratings, "Downton Abbey's" shine has worn off for many fans, and this event may add to the displeasure. The show is struggling to fill the void left by Matthew and Sybil's deaths — both in terms of interesting characters and engaging storylines. Once a critical darling, viewers are more likely to see tepid reviews than raves these days.
When this episode originally aired in the U.K., creator Julian Fellowes and actress Joanna Froggatt, who plays Anna, were forced to defend what many derided as a sensationalist stunt. Will American audiences be more forgiving?
"Downton Abbey" airs Sundays at 9 p.m. on PBS.