A 12-year-old boy with Down syndrome got to do something most singers could only dream of: duet with Dolly Parton.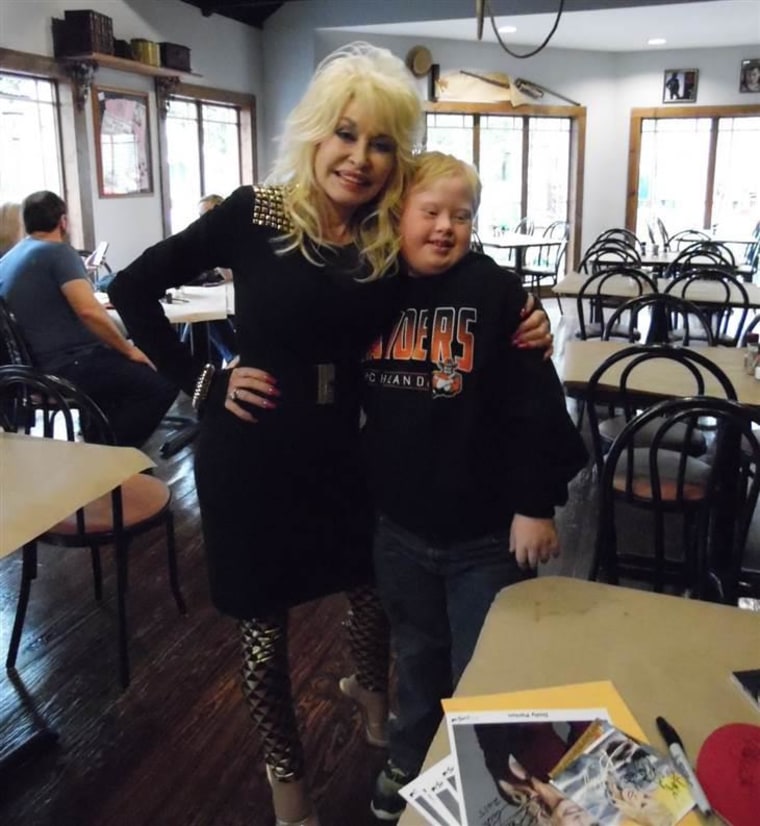 Gage Blackwell hung out with the music legend Saturday at a restaurant within her Dollywood theme park, about a 4-1/2 hour drive from his home in Lynnville, Tennessee. The ebullient singer-songwriter hugged, chatted and sang with Gage, who smiled throughout the encounter and joined her in singing some of country music's greatest hits.
"There are truly no words to explain how much it meant to Gage, myself and my family for him to get to meet Dolly in person," Gage's mother, Lynnae Blackwell, told TODAY.com. "Gage loves country music and for him to get to sit with and sing with someone he idolizes like Dolly was just heartwarming."
When TODAY.com asked Gage if he had a good time, he replied, "I sure did," adding, "She is one of my favorite singers."
The meeting came together, Lynnae said, after someone at Gage's school saw a video posted on Gage's public Facebook page — where the young fan talked about how he'd love to meet Parton — and encouraged Lynnae to reach out to Parton's business associate, Ted Miller. According to Lynnae, emails were exchanged a few days later, and after providing pediatrician documentation to prove Gage has Down syndrome, she was told a 10-minute meet-and-greet with Parton would be possible.
After the eight-time Grammy winner introduced herself to Gage, she opened with the chorus of "Islands in the Stream," a hit popularized by her and Kenny Rogers.
"Is that Kenny Rogers?" she asked Gage. "You look like Kenny Rogers! Did anybody ever tell you that?"
Lynnae said she was "overwhelmed by the amount of love from her to him, with her just having met him," adding, "As a mother, that was just an amazing moment, to see how happy she made him."
Later, Parton played her own fingernails like a washboard while collaborating with Gage on the chorus of one of her biggest hits, "9 to 5." After a round of applause, Parton praised her new duet partner.
"We may be going on the road before you know it," she said. "We're gonna have to put your name on the side of my bus: Gage and Dolly. How's that sound?"
He replied, "That'd be great!"
After singing "Coat of Many Colors," Parton cracked up Gage while wishing she'd picked a higher key for their performance. "I think I got it a little low," she said, joking about the way the final notes of her melody dipped into the depths of her register.
The hits kept coming, as she picked a more comfortable key for "Jolene," with Gage, once again, providing vocal accompaniment. "I think you know every word of my songs," Parton said. "I think you probably know 'em better than I do."
Gage appeared to be a little shy at first, but as he got more comfortable, he stood to join her for Johnny Cash's "Ring of Fire."
He also chatted with Parton about her song "I Dreamed of a Hillbilly Heaven," to which she replied, "Hillbilly Heaven! Well, I'll be there one of these days, and I'll be waiting for you to come help me sing, too."
Parton also signed autographs; chatted with Gage about her friendships with fellow country stars Tammy Wynette, Loretta Lynn and George Jones; and gave the young fan lots of hugs and attention.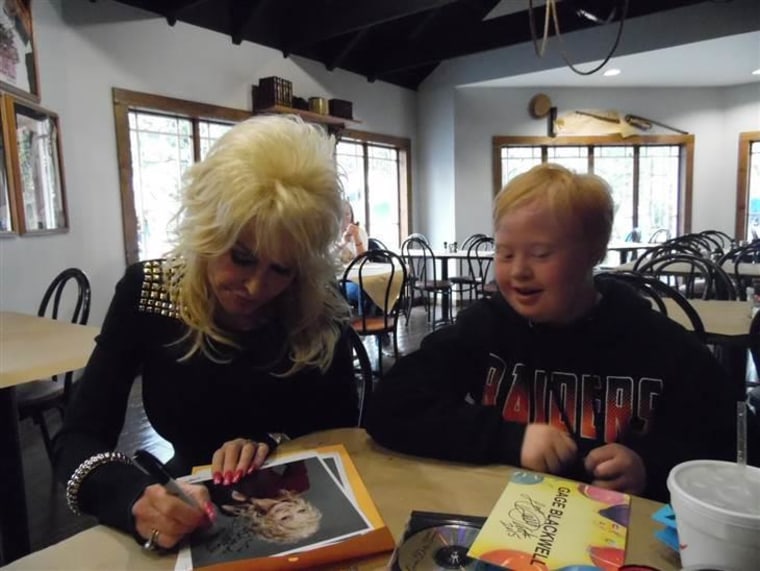 Gage told TODAY.com that singing "Islands in the Stream" with Parton was his favorite part of the experience, and his mother agreed. Watching them interact, she said, moved her to tears.
"Dolly made him feel like the most important person in the room," Lynnae added. "She was so amazing to just embrace him the way she did. He will never forget her kindness and, as his mother, I will always be grateful for the love she showed to my wonderful son."
Follow TODAY.com writer Chris Serico on Twitter.
This article was originally published Mar. 24, 2015 at 4:16 p.m. ET.