More than 30 years after they became the gold standard for country duet magic with their first song together, Kenny Rogers and Dolly Parton will take the stage with each other one last time.
Parton, 71, will join Rogers, 79, in Nashville Wednesday night when Rogers plays the final concert of his legendary 60-year career. Since they first released the No. 1 hit "Islands in the Stream" in 1983, Dolly and Kenny have become the definition of perfect duet partners.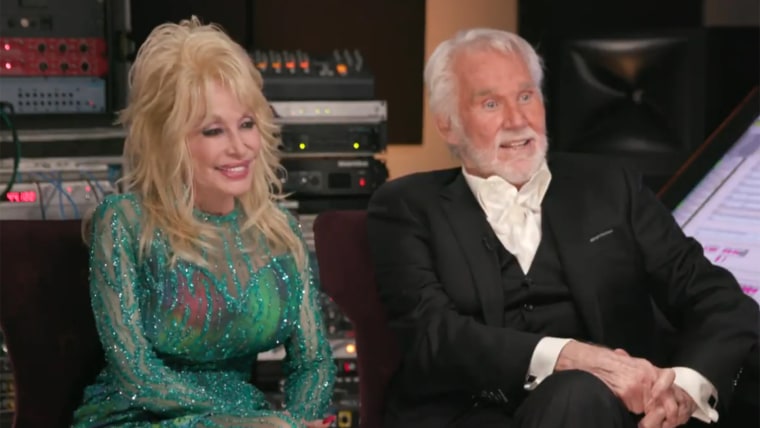 Dylan Dreyer spoke with both of them on TODAY Wednesday, getting to the bottom of why the duo that made beautiful music together never became a couple in real life.
"First of all, she's hard to look at for me,'' Rogers joked.
"I'm not his type,'' Parton joked.
Their friendship helped make songs like "Islands in the Stream," "Love is Strange," "Real Love,'' and "You Can't Make Old Friends" into some of country music's most enduring duets.
"I'm a believer that tension is better if you keep it than if you satisfy it,'' Rogers said. "And then secondly, she said no to me."
"Nah. You know what, we were almost like brother and sister,'' Parton replied. "And it would almost be like incest. So we just never went there."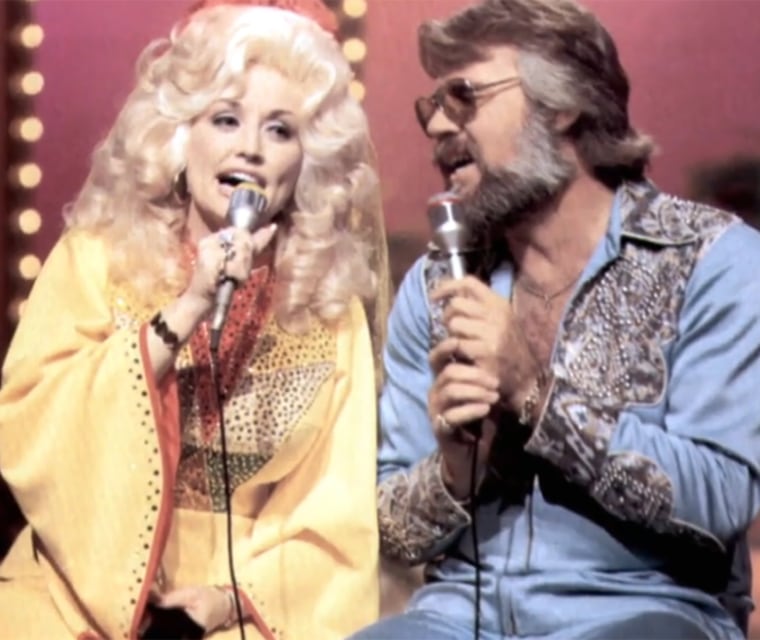 Their eagerly-anticipated duets will be part of Wednesday night's "All in for the Gambler" concert in Nashville as a legend says goodbye. Rogers, a member of the Country Music Hall of Fame, has sold more than 100 million albums worldwide and produced more than 120 hit singles.
"I don't know quite how I feel about it,'' Parton said. "I don't think I feel as scared and as empty as some of the fans do, because Kenny and I are friends, and I imagine that we can go visit and maybe once in a while light into a little bit of a song or two."
The two have maintained a friendship for decades as they both carved out incredible careers.
"We're really good friends,'' Parton said. "And we're so much alike. We know the same people. We laugh at the same kind of jokes. I tell jokes and I tell him not to tell that I told the joke."
A 2005 CMT poll declared "Islands in the Stream" the best country duet of all time, but Parton has her own personal favorite.
"I really love 'You Can't Make Old Friends,''' Parton said. "We love that because it's so personal to both of us. But we love all (Islands in the Stream). Like I say, you just come alive on that."
"I think the memories play a big part in 'Islands,''' Rogers said. "I think when you look back on anything, it's kind of the impact it had on you and your life at that time."
Rogers released "Islands in the Stream," which was written by the Bee Gees, on his 1983 album "Eyes That See in the Dark," and it became the second No. 1 hit for each of them.
"The story is the producer and the writer on the song was one of the Bee Gees, Barry Gibb,'' Rogers said. "And we had been singing this song in my studio in L.A. for four days. And I finally said, 'Barry, I don't even like this song anymore.' And he said, 'We need Dolly Parton.'''
It turned out that tracking down Parton for the duet didn't take long.
"I said, 'Well, why not, you know?''' Rogers said. "And Ken Kragen, my manager said, 'I saw her downstairs.' I said, 'Well, go get her.' And Dolly, in her inimitable fashion, marched into the room and the song was never the same."
Follow TODAY.com writer Scott Stump on Twitter.