One of the secrets to Dolly Parton's 50-plus years of success is that she always writes from the heart, and from her experience.
That helps explain why her 1971 hit "Coat of Many Colors," about growing up poor in rural Tennessee, resonates throughout the generations — and why it's now been turned into a heartwarming movie of the same name that premieres Thursday night on NBC.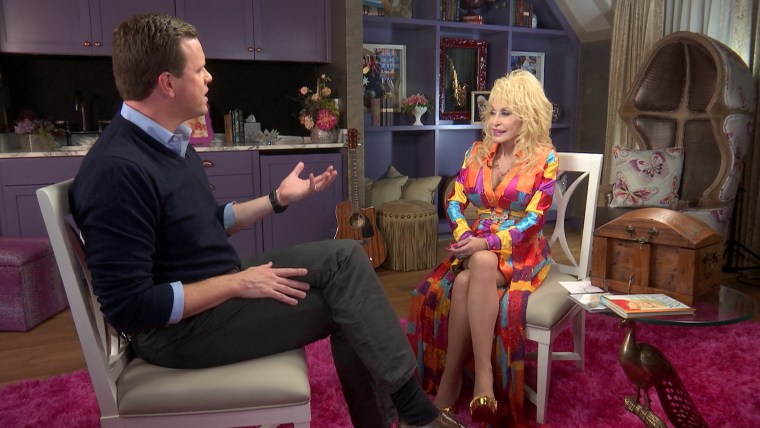 In her continuing interview with Willie Geist (the first part aired on Tuesday), Parton said that her parents made sure that while they didn't have much money, they had a good life.
MORE: Dolly Parton still enjoying 'rags to rhinestones' journey with new movie 'Coat of Many Colors'
"We always made jokes and said we didn't even know we were poor till some smart aleck up and told us," said the singer, who will turn 70 in January. "We didn't have any money, but we were rich in things that money don't buy. You know, like love and kindness and understanding."
But when Parton broke big, she said her mother took it in stride. "I don't think Momma was that surprised," she said. "Momma saw it in me. She thought, 'Well, if anybody is gonna do what they say, it's gonna be her.' Because I was always very determined."
But it was her grandmother who unknowingly contributed to Parton's distinctive look early on: "I used to steal shoulder pads out of my grandma's winter coat to make me a push-up bra," she chuckled. "My poor grandma would say, 'Where's my shoulder pads?'"
Geist also had a surprise for Parton, and showed her his performance of her song "9 to 5" on "Lip Sync Battle" from earlier this year.
MORE: Willie Geist channels Dolly Parton in amazing 'Lip Sync Battle' clip
"Well, you sing really good," she said. "You sound like Dolly!"
Of course, it was Parton's voice all along!
"Coat of Many Colors" airs on NBC on Dec. 10 at 9 p.m. ET.
Follow Randee Dawn on Twitter.