When Joe Manganiello stopped by TODAY on Tuesday to show off his stripper moves from his latest film "Magic Mike," his body rolls sent a ripple effect through the stratosphere. Kathie Lee and Hoda fans joined in on the fun, liking the heck out of our post on Facebook.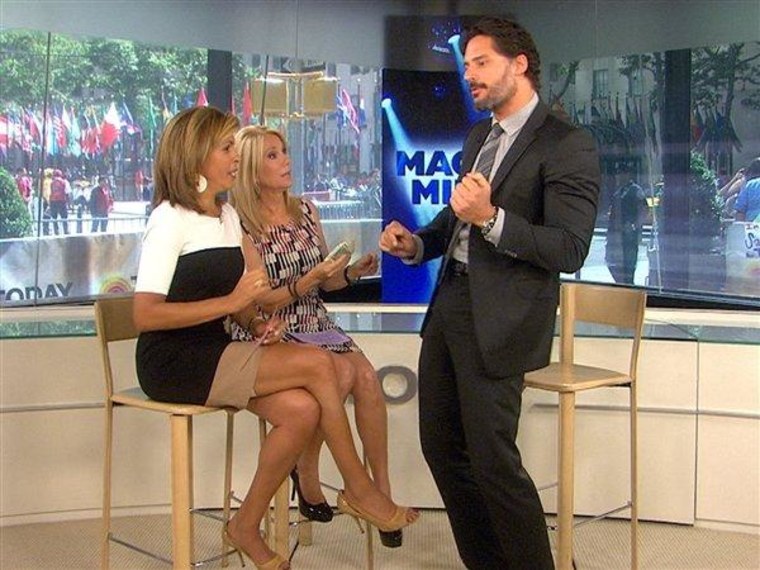 When asked who would go to a male strip club, 34% of you said you'd go to a male strip club and 19% would never. KLG said the 19% reflect "my mother and her friends." And 47% said yes, but only if the strippers looked like Joe. 
Wednesday, to one-up Joe's fourth hour appearance, Channing Tatum, his "Magic Mike" co-star and producer, stopped by TODAY to speak with Ann Curry and Al Roker — and started a stripper flash mob.
Kathie Lee approved of Channing's moves. Hoda agreed too but said, "You don't want a guy with too many moves...you know those guys who enjoy dancing a little too much? I'd rather a guy who keeps it kind of low near you. I don't want one who's doing all that — do you?"
Well? Do you like a man with mad dance moves? Vote in our poll!
TODAY.com contributor Jillian Eugenios wishes she could bring Channing's surprise stripping flash mob wherever she goes, just to liven up things every once and awhile.
More:
Chiseled 'Magic Mike' hunk shows off stripper moves
'Magic Mike' is a beefcake bonanza with heart