The Memorial Day weekend is nearly upon us, which means it is about time to get the party started!
And on Friday, TODAY made sure to get things going in the right fashion by inviting country superstar Dierks Bentley to kick things off.
Savannah Guthrie was just one of many screaming fans who enjoyed Bentley cracking through songs like "Somewhere on a Beach" and "I Hold On" (the latter dedicated to service personnel) — after one song, she told the camera, "I can die now!"
Bentley's fans (who are probably thrilled to know that his latest studio album, "Black," is out today) came out early and brought signs, which Bentley appreciated with this tweet:
Meanwhile, fans were happy to share their glee:
Bentley noted to TODAY that the new album was "very personal," and was meant to showcase a story and theme that tied everything together. Plus, he made a specific effort to feature female voices on the album, too, and even named it after his wife Cassidy's maiden name!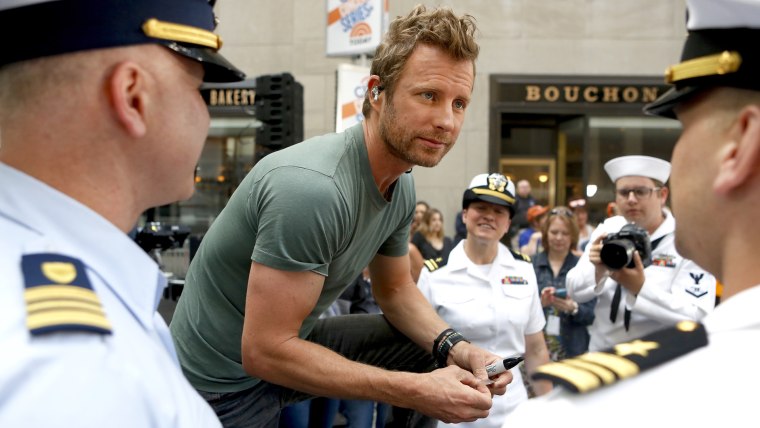 The singer/songwriter burst onto the scene in 2003 with his single "What Was I Thinkin'" and hit even bigger heights in 2014 with "Drunk on a Plane." Along the way, he's been racking up some impressive numbers: 13 Grammy nominations, 5 million albums sold and 14 No. 1 hits.
WATCH: Dierks Bentley talks hairstyles over the years
But one reason for his success is that he's willing to cross over to other genres than country: Over the years, Bentley has dipped into pop, rock and even has a background in bluegrass.
He and his band must have a great sense of humor, because some of the men attending Friday's show were making us laugh with their tweets:
For Bentley, who wrapped up his set on TODAY with "Freedom," life right now is a "dream come true and keeps getting better every year." We can hardly disagree.
Yee-haw!
Follow Randee Dawn on Twitter.