In "Nice Guys," Russell Crowe and Ryan Gosling play an enforcer and private investigator that bumble their way through a case. But how do they play together in real life?
Nicely.
TODAY's Willie Geist sat down with the pair, as well as co-star Matt Bomer and writer-director Shane Black, and found out a few fun facts about their off-screen chemistry.
MORE: Russell Crowe: Michael Jackson used to prank call me, tell terrible jokes
For instance:
Crowe only took the role in the action-comedy because of Gosling.
"I was gearing up to just not express any interest," the big-screen veteran said.
But then Black told him who his pal would be in the flick.
"He literally said, 'I got some bad news for you," Black recalled. "I said, 'Well, we got Ryan Gosling.' He goes, 'I'd love to do the movie.'"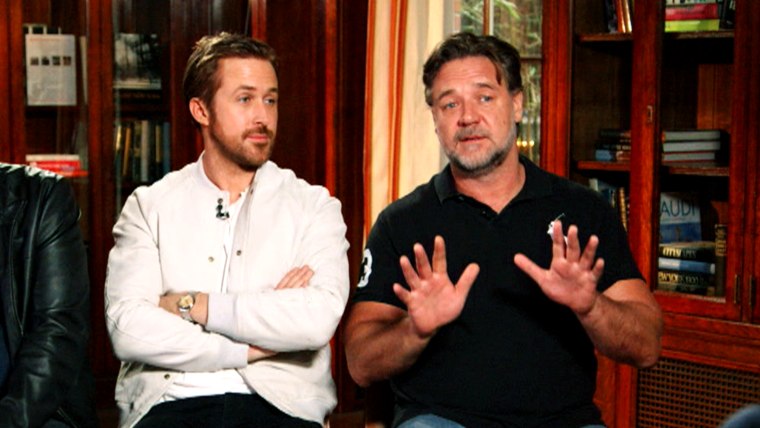 The respect goes both ways.
"I remember seeing when Russ went from 'Gladiator' to 'The Insider,'" Gosling said. "It just, like, totally changed my idea of what acting could be. Because I'd never seen that kind of an about-face from one role to another."
But Crowe's professional admiration only goes so far.
When Geist asked if Crowe had seen Gosling's 2004 romantic blockbuster "The Notebook" — and if he'd cried while watching it — the star admitted he skipped the tearjerker.
MORE: Nicholas Sparks: 'No one wanted to play' Ryan Gosling's character in 'The Notebook'
"Look, even though I've worked with Rachel [McAdams] and I'm friends with [director] Nick Cassavetes, I haven't seen 'The Notebook,'" he said, adding, "Sorry."
Bomer, however, had nothing to apologize for.
"For sure," he said of watching the flick. "And 'yes' is the answer to the crying [question]" — a confession that left the rest of the guys laughing.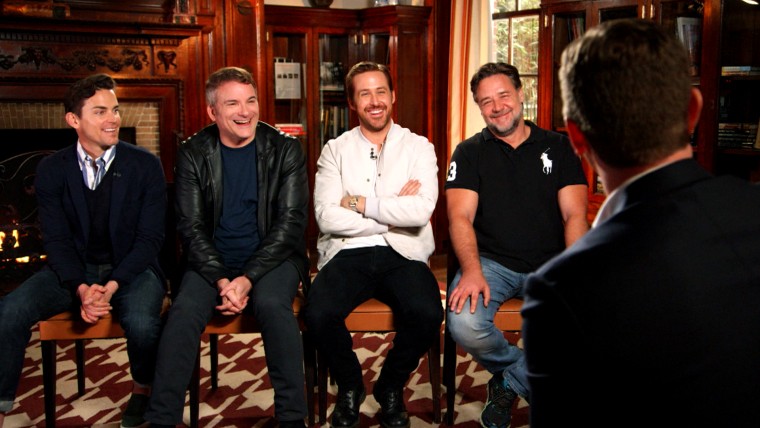 "Nice Guys" is open in theaters nationwide.
Follow Ree Hines on Twitter.