Julia Roberts won over moviegoers 26 years ago with her portrayal as a down-on-her-luck prostitute who found unlikely love with a rich businessman in the rom-com "Pretty Woman."
But the film wasn't always intended to be a sweet Cinderella story — and Roberts wasn't the only actress in the running for that lead role.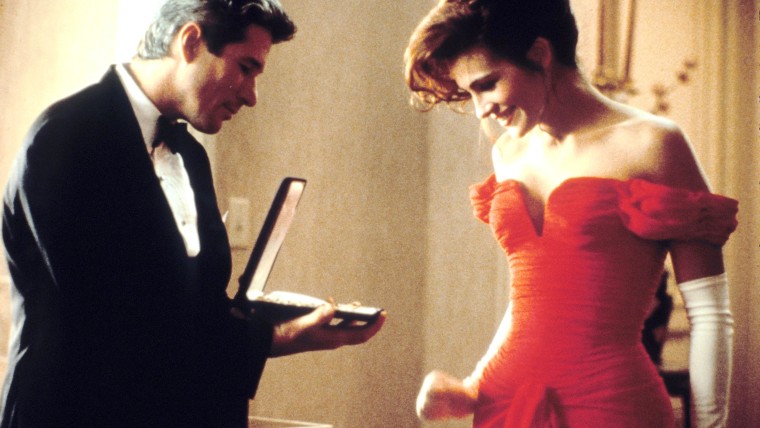 "Trumbo" star Diane Lane also tried out for the part back in the day, and she shared some pretty dark details about "Pretty Woman" on the "Late Show" Tuesday night.
MORE: Julia Roberts, Richard Gere re-create iconic 'Pretty Woman' scenes during 25th reunion
"It seemed to me that every girl in Hollywood was crawling around in her underwear at that point in time — our best lingerie, let's be clear — to get this film," she told host James Corden. "Because at that time, it was a story about this psychotic call girl who had a delusion of grandeur."
In other words: no shopping spree, no jewelry surprises and certainly no infectious laughter.
And the ending was anything but happy.
"It was called '3,000' — her fee for the weekend," Lane explained. "And at the end of the film, she gets kicked out of a rolling limousine and into the street."
That prompted fellow "Late Late Show" guest Paul Rudd to joke about trying out for "300" — back when it was "about a muscular prostitute who gets chucked out of a chariot."
Actually, Rudd confessed that there was one big role he tried for that got away — the lead in "Titanic."
MORE: 'Pretty Woman' boutique owners look back on their famous movie scene
"I think the guy that got it was pretty good," he deadpanned before channeling his inner-Leonardo DiCaprio for a "King of the World" moment with Lane.
Follow Ree Hines on Twitter.