If you thought Dennis Quaid's recent meltdown was a prank, as TODAY hosts suspected Wednesday morning, you were right.
On Wednesday, comedy website Funny Or Die revealed the viral video was in fact an elaborate ruse, revealing the "full video" of Quaid's on-set antics.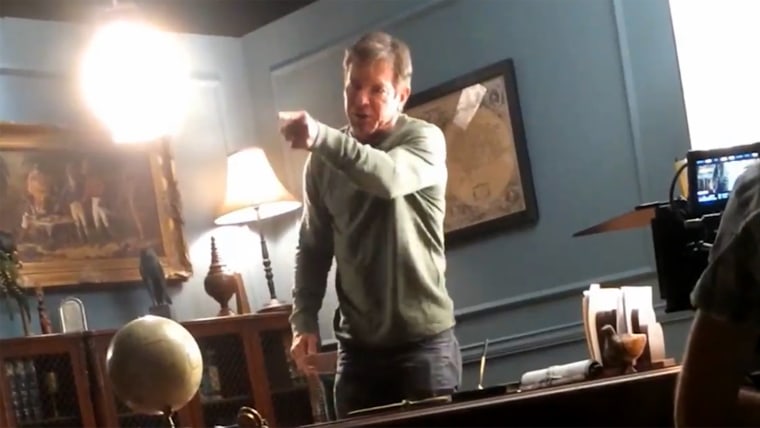 In the video, Quaid is seen on the set of a nondescript (and likely fictional) drama, delivering an emotional plea, only to be interrupted by a middling director and irked by an array of unorthodox distractions. Many of the curses and insults Quaid uses turn out to be literal examples of figurative terms, including zombies (or in this case, people dressed accordingly) and horse excrement (except, of course, he doesn't say it that way, exactly).
(Warning: Both the original video and the Funny Or Die follow-up have lots of NSFW language, as is the nature of expletive-filled rants.)
Funny Or Die also teased the "truth" behind the meltdown in a clip posted to Instagram. (Again, language NSFW.)
Despite rumors that Jimmy Kimmel was behind the foul-mouthed tirade, for once, the prank-loving late-night host wasn't to blame/congratulate. During his monologue Tuesday, Kimmel denied rumors he was the mastermind behind the video.
"I have to say, it's disappointing," Kimmel told his audience. "You play 50 pranks, and all of a sudden, people don't trust you anymore."
On Wednesday, "Saturday Night Live" alumnus David Spade also had fun with the reveal, posting a photo of Quaid, who's seen playfully(?) wrapping a chokehold around the neck of actor Seth Green while Spade appears to look on in horror.
"This Dennis Quaid video is no joke," reads Spade's caption. "He killed @sethgreen today."
Follow TODAY.com writer Chris Serico on Twitter.