As fall arrives and temperatures begin to drop in most places (sorry, Phoenix, you're on your own), cooking and baking appeal more than they might on a sun-kissed summer afternoon. Whether your region's autumn brings crisp cool snaps and colorful leaves or rain showers and early snowflakes, it's just easier to turn on that oven and stove again and start poring over new cookbooks.
We've got a fall cornucopia of new cookbooks to offer you in this roundup. Who can resist a cupcake, especially one as cutely decorated as those in "A Baker's Field Guide to Cupcakes"? The spices and rich flavors of Southeast Asia, as depicted in the recipes in "Cradle of Flavor," give a cook a first-class ticket around the world without ever requiring that they leave home. Speaking of travel, the authentic Mexican dishes of Oakland's Doña Tomás restaurant are a world away from the fast-food Mexican most of us are used to. And it's tough to resist a cookbook in which authors accustomed to composing best-recipes-of-the-year cookbooks go back to those books and dig out the best of the best.
It's fall, and it's time to eat well.    —Gael Fashingbauer Cooper, Books Editor
Cupcake kingdomDede Wilson's "A Baker's Field Guide to Cupcakes" (Harvard Common Press, $18) calls out to your inner kid, your neighbor's grandsons, the older couple three doors down, your sweet-tooth spouse and a myriad of starving coworkers.
In easy-to-follow, spiral-bound format, Wilson's book includes a larger-than-expected variety of master recipes, the basis for 60 cupcake variations. Pick a photo — there's one for every cupcake — and get out the mixing bowls. My attempts thus far:
"Real Carrot" Cupcakes: The recipe turned out middle-of-the-road carrot cupcakes. Though they could have used more spice, the generous layer of cream cheese frosting made these a hit. With a row of cookie-crumb "dirt" and a tiny sugar "carrot" half-buried in it, these cupcakes fascinated my coworkers, who actually paused — why spoil the look? — before digging in.
Tombstone Cupcakes: These are all-chocolate rich. I would have preferred ganache frosting over the sweeter fudge frosting, but otherwise these were chocoriffic. The chocolate-dipped graham cracker tombstones, in chocolately crumb "dirt," make the cupcakes a spooky sweet for kids and Halloween parties.
Mocha Chip Pound Cake Cupcakes: These low-effort, sophisticated cupcakes contrast a polished swirl of chocolate ganache frosting with a pale, chocolate-chip speckled, pound-cake cupcake. This was the only batch my husband wouldn't let me give away. Great for adults.
Key Lime Coconut Cupcakes: Another good candidate for adults; the confectioner's sugar frosting topped with toasted coconut is understatedly pretty. The lime-curd filling — a buttery tart surprise — matched the coconut perfectly. I hoarded these from my coworkers.
By-the-Beach Cupcakes: Kids will love these; they come with tiny parasols, graham-cracker crumb sand and glossy blue icing waves. There's nothing too exotic here, just moist yellow cake with confectioner's sugar frosting. The splashy fun lies almost entirely in the decoration.
I'm heading back to my oven. With five recipes served and savored, I still have 55 to choose from.    —Joan Wolfe
Taste of MexicoRick Bayless and Diana Kennedy already introduced American cooks to authentic, regional Mexican cooking. After that, many home cooks long ago decided that they are either the type to buy and use a molcajete and a tortilla press or they are decidedly not.  "Doña Tomás" (Ten Speed Press, $30), by Thomas Schnetz and Dona Savitsky, owners of the popular Oakland restaurant by the same name, covers the same authentic Mexican cuisine, but with plenty of recipes and techniques for those cooks in the latter category.
Kitchen martyrs may still want to spend two hours preparing chiles rellenos con papas (roasted and fried chiles stuffed with potatoes) for breakfast, but the rest of us will find plenty of quick and simple dishes in each category. A breakfast melon salad with crema, mint and chili powder is a lively blend of sweet and spicy and takes minutes to prepare. Traditional lunch and dinner dishes such as enchiladas and quesadillas, take on new life with such fillings as roasted sweet potatoes and porcini mushrooms.
Salads and side dishes would fit in almost any meal — a must-try is the corn pudding, nearly as light and rich as a soufflé with a fraction of the effort.  Included variations make most of the dishes transcend seasons, with options for whatever fresh ingredients are available. That corn pudding, ethereal with fresh summer corn, might instead feature asparagus and scallion and serve as a perfect addition to any Thanksgiving table.
This book is an excellent starting point for anyone who is intimidated by authentic Mexican home cooking, with recipes that will satisfy the beginner and the expert. The restaurant Doña Tomás has patrons lined up outside for this food, and with a surprisingly small amount of work you can get that same crowd reaction in your own home.    —Hannah Meehan Spector

Shrinking food down to size
"Big Small Plates" (Ten Speed Press, $35), an oxymoronically named cookbook from Cindy Pawlcyn, mixes cuisines and ingredients seemingly at random but with surprisingly appealing results.  Small plates, here, are just about anything that can be served in a tiny bowl, as a snack, or just miniaturized (or not, for the bigger small plates).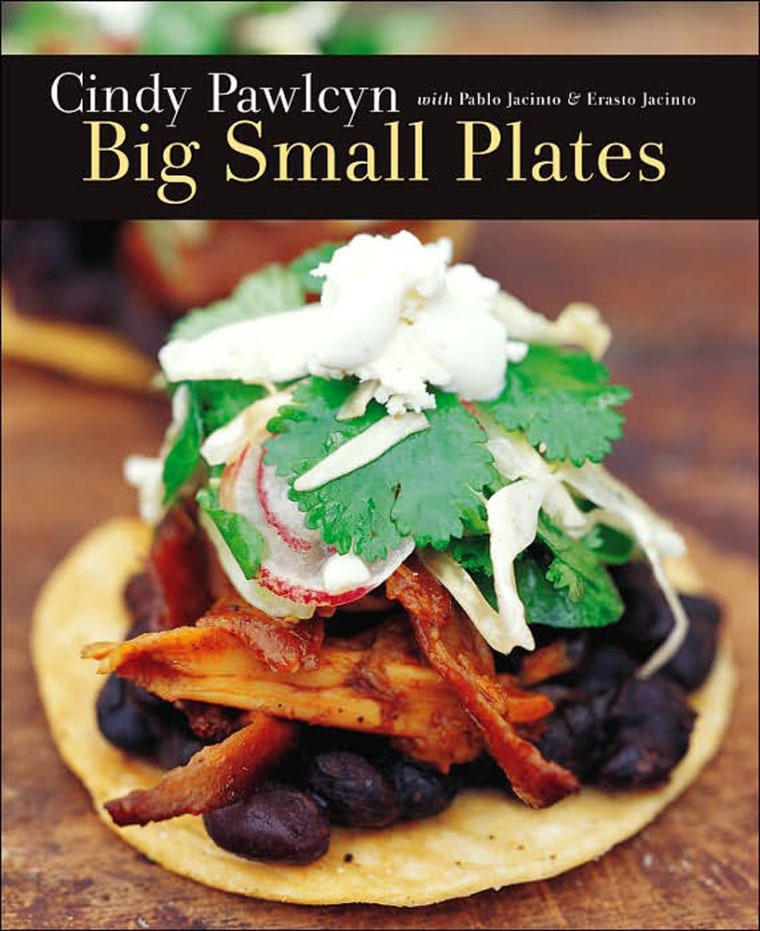 The wide scope and curious combinations seem impractical, at first, but when given a chance (and plenty of prep time) these odd-seeming dishes do work.  Plantain chips may not seem to need two garlic-based dipping sauces, but alternating between the biting mojo sauce and the cool, cilantro-garlic aioli makes for an addictive contrast. Even Pawlcyn admits that Madeira and soy sauce seem like weird pairing, but together with mirin and ginger, they make a rich glaze for scallops or other fish.
Most of the recipes are clearly company food, but the leftover sauces all have simpler uses — the cilantro garlic aioli will liven up sandwiches for a week, as will the horseradish-mustard cream that accompanies crepes croque-monsieur.  In fact, many readers will cherry pick some of these sauces and skip the more elaborate dishes altogether. Some dishes seem to be made unnecessarily fussy to fit into the small plates theme — there are four varieties of mini-burger, and they all seem like they would be just as tasty full-size. 
There are a few simple gems in here — garlic soup with a dizzying number of variations makes a handy first course for almost any meal — but the majority of the dishes are designed for show-stopping, multi-course meals.  If you have the time, though, the payoff is worth it.    —H.M.S.
Kitchen mysteries, recipe roulette
Margaux Sky's "Beautiful Breads and Fabulous Fillings: The Best Sandwiches in America," (Rutledge Hill Press, $25) claims to be "best," but misses the mark.
Things got iffy during tests, when not-so-favorable descriptions bubbled up in my mind like simmering water. "Excessive" surfaced first. How could one person have the appetite for an egg-salad sandwich made from five eggs and ¾ of a cup of mayo? Or a sandwich packed with two cups of chicken, three cups of veggies and nuts, and a cup of dressing? The loaf of cinnamon-raisin bread, overfilled with a half-pound of butter and three cups of sugar, left me scrambling — after one slice — for a glass of water to dilute the shock.
To recover, I scaled back. The harvest bread, nubby with oats, whole-wheat flour, and four kinds of nuts, but minus additional toppings, tasted great toasted. Unadorned sweet dough made fine dinner rolls. We're back on track, I thought. That is, until I found the spinach-and-beet salad photo for which there is no recipe. Really, none matched. Other photos revealed similar problems. Here, I'm directed to "make three diagonal slits" in the bread when the accompanying image shows one horizontal slash.  Another sandwich, the fruit-and-nut butter Garden of Eden, is topped with a berry sauce that the recipe never mentions.
Excessive, in many cases, led to expensive. I used up sizeable quantities of butter, nuts and chocolate, but drew the line at $25 worth of maple syrup, about five cups, for a pumpkin soup.
Vague directions added to the frustration. Why call for six tablespoons of butter then only tell me what to do with five tablespoons of it? How does one "arrange a hard-boiled egg on both sides of each plate" or "boil [chocolate] on low"? Won't adding eggs to said chocolate, hot off the stove, create chocolate scrambled eggs?
Overall, my cooking efforts were a constant attempt to figure out both what Sky intended and what my taste-testers and I would actually eat. My advice for readers of this cookbook: Proceed with caution.    —J.W.
Culinary journeyThe islands of Southeast Asia have long provided some of the world's most prized spices, and the region's cuisines are packed with bold flavors that sear themselves into your taste memory. Sadly, most cookbooks that attempt anything beyond a how-to on the Indonesian rijsttafel (rice table) fall far short. So it was refreshing to dip into James Oseland's "Cradle of Flavor: Home Cooking from the Spice Islands of Indonesia, Malaysia, and Singapore" (Norton, $35) and find a solid collection of recipes brimming with authenticity.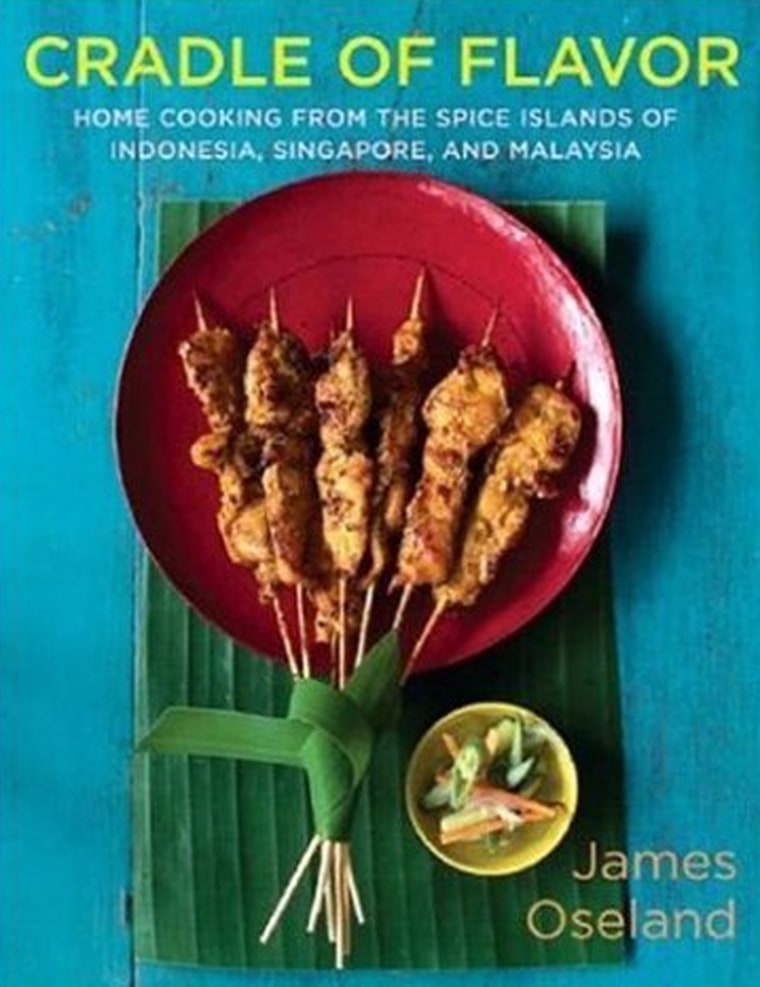 Oseland, recently appointed as editor-in-chief of Saveur Magazine, is more than up to the task; he has had a love affair with Malaysia and Indonesia since 1982, and his repeated trips to the region pay off, not only in well-researched recipes but detailed explanations of ingredients ("Chinese celery greens are used as an herb, not a vegetable"), geography and cooking traditions.
The layers of spice necessarily require that these foods are labor intensive. Few recipes are quick. But, on balance, they're quite good. A Malaysian shrimp sambal had more depth and less obvious heat than its chile-laden base would have hinted. Coriander-spiked chicken satay was addictively tasty. Only an herbal rice salad (nasi ulam) fell flat and needed serious flavor adjustment. I only wish the book had included recipes from East Malaysia, perhaps Sarawak laksa (noodle soup) from Kuching.
Oseland's intent is to capture tradition, perhaps too much so. My long hunts through New York City neighborhoods for such items as candlenuts and kaffir lime leaves were proof that cooks in less well-appointed corners of the nation may grow frustrated with the lengthy, esoteric ingredient lists. (He does offer tips on ingredient sources.) That doesn't make for useful everyday cooking, but it does make "Cradle" one of the most satisfying cookbooks this year.    —Jon Bonné
Recipe roundupEvery cookbook reviewer has his or her own way of tackling and testing a cookbook. I first skim through the book, dog-earing pages with interesting recipes and listing them on a Post-It note I attach inside the front cover, giving easy access to page numbers of priority dishes. My scheme hit a snag, though, with "The 150 Best American Recipes" (by Fran McCullough and Molly Stevens, Houghton Mifflin, $30). I found myself folding back so many pages that I felt like a confused student of Shakespeare, highlighting every word in the text and then finding myself faced with option paralysis.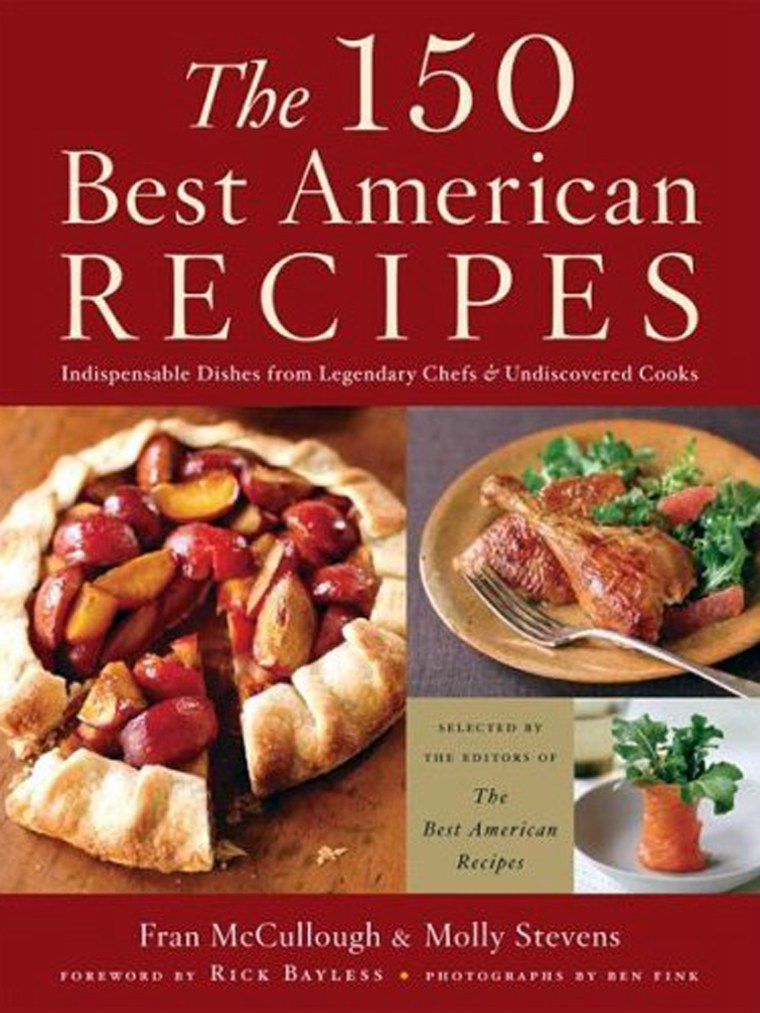 Each year, Stevens and McCullough scour sources to put together a best-of-the-year cookbook. This book collects their picks for the best of the best, their favorite 150 recipes from the nearly 1,000 that have been published in their book series so far. It's a tempting and mouth-watering premise that explains why I nearly developed RSI from folding over so many pages.
And most of the recipes lived up to their exalted position. I'm counting the days until I can make the butternut squash and bacon soup again (though one really needs a hacksaw for the squash). Senegalese peanut soup may not be your standard American dinner, but turned out to be a piquant, tasty treat.
Manly Meatballs, a downhome party snack consisting of homemade meatballs smashed into baguette slices and then baked, were a hit at my book club — even though no one in the all-female crowd could be considered "manly." The rigatoni alla toto, a pasta dish spiked with sausage and basil, was easy and tasty, and shockingly simple roasted sausages and grapes made for a meal so yummy I packed the leftovers up for lunch the very next day.
Not all recipes would have earned a place in a book of this title if I were editor, however. Southwestern black-bean burgers had promise, but fell apart easily when flipped, and ended up being served in broken-up pieces, not as burgers. And stir-fried chicken with lime and coconut turned out to be pale and rather blah. But I took heart in that there are still plenty of dogeared recipes awaiting their turn.    —Gael Fashingbauer Cooper