Last winter after her breakup with Ben Affleck, Jennifer Lopez' career was declared "kaput" by one of our very own columnists, Michael Ventre. In his article, he also made the assertion that Lopez' only good acting performance was in the 1998 film "Out of Sight," in which she co-starred with George Clooney. Noted Ventre "Her only real hope is to latch onto another superfamous boyfriend."
As for her role in "Out of Sight" our intrepid columnist said, it "was far more the result of director Steven Soderbergh's expertise than hers" and that Affleck was the more likely candidate for a comeback. It made me wonder: had we been watching the same actress?
Enough personal baggage for a U-Haul truck
Many actors have suffered backlash due to personal baggage. Some — like Gwyneth Paltrow — never seem to truly recover. Let's face it, the phenomenon that was "Bennifer" was profoundly annoying. There's something about seeing two young successful celebrities flaunt their happiness in front of the cameras, and seemingly use it as marketing for their films and albums that just leaves us cold. But should this be a reason to dismiss their talents?
At the height of her career, a married Ingrid Bergman got involved with Roberto Rossellini, who was also married. She was denounced as "immoral" and her career was ruined for many years. Does that mean that her performances in "Casablanca," "Notorious" and "Gaslight" are any less miraculous? What of Richard Burton and Elizabeth Taylor? Did their headline-making marriages make them any less talented?
All of this is just to say that yes, it would be silly to suggest that Lopez doesn't possess tons of personal baggage, from dating P. Diddy to her penchant for quick marriages. But to simply discount her talent because of that baggage seems short-sighted. Especially when all signs point to the fact that she wants to be taken seriously as an actress.
The roles tell the story
Halle Berry's done "Catwoman." Angela Jolie's done the "Tomb Raider" films. Cameron Diaz and Drew Barrymore did "Charlie's Angels." Other than becoming cartoon versions of themselves, there's no real acting in any of these films. These are for-the-money roles.
Lopez is different. There are no Bond girls in her past. Perhaps because she's had a successful music career, the roles she chooses can be motivated less by money and more by a desire to perform. In a recent episode of "Inside the Actors Studio," she talked about how she knew that "Anaconda" and "Money Train" weren't great movies, but "When you're an actor and you want to work, and you want your chance to do what you want to do, you take it and you love it, and I loved it."
She's worked with Oliver Stone and Francis Ford Coppola, starred opposite Jack Nicholson and Sean Penn. It seems unlikely that these things occurred simply because she wanted to be a star. In her "Actors Studio" appearance, when James Lipton asked her what she wanted from a director, she said, "I want him to push me." A response that shows her ambition to do good work.
In the Oliver Stone film "U-Turn" the audience can't really know what Lopez's character wants from Sean Penn until the end of the film. She has to keep us guessing. Similarly, in "Blood and Wine," Lopez also has to play moral ambiguity. She believes Jack Nicholson's character can give her the American Dream she desires, but at what price? These are two well-written, small films by good directors — Bob Rafelson ("Five Easy Pieces") directed "Blood and Wine."
Unfortunate leading men
As Lopez became a bigger and bigger star, she seemed to be paired opposite less and less appealing co-stars. This could be because her price was so high that the studio could not afford an A-list leading man. Or it could be that the studio thought Lopez was a big enough star to open a film on her own. Whatever the case, she's paid the price.
In "Enough" she plays a battered wife opposite Billy Campbell, who had just come off playing a sensitive dad in the television series "Once and Again." It was awfully hard to believe that, even without all the training, she couldn't have just kicked Campbell's butt. Simliarly, in "Angel Eyes," Lopez almost seems like too much woman to be paired opposite the rather frail Jim Caviezel.
Matthew McConaughey was her co-star in "The Wedding Planner." Here's an actor who's never had chemistry with anyone or anything outside those peach jeans that he sported in "Dazed and Confused." Ralph Fiennes seemed utterly uncomfortable in "Maid in Manhattan." He's a little too dark for a romantic comedy. Lopez, however, did find chemistry with Tyler Posey. She and the boy came off like an actual mother and son. So even if the movie was weak, it's hard to completely dismiss Lopez.
Two other mediocre films, "Selena" and "The Cell" also offer good turns by Lopez in roles that seem like TV-movie-of-the-week fare and silly sci-fi nonsense, respectively. (And, P.S., does anyone buy Vince Vaughn in any role that doesn't have the word "wacky" in front of it.? His cop in "The Cell" was laughable.)
That elephant in the middle of the room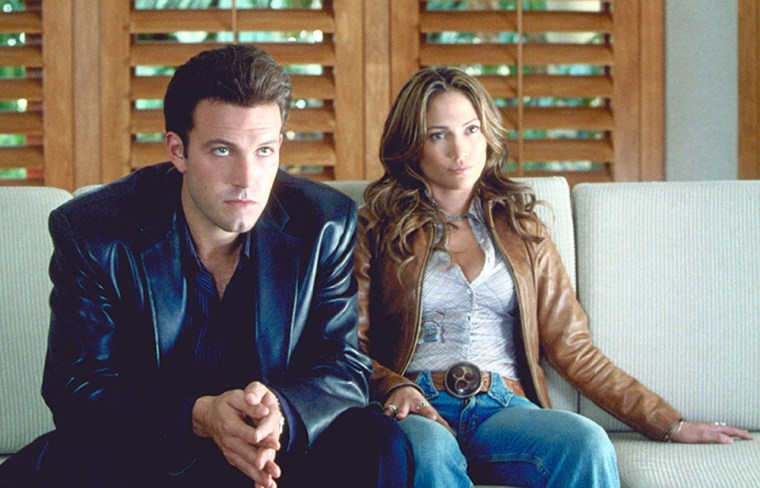 Yes, "Gigli" is just as awful as you've heard. It's honestly hard to believe that anyone ever greenlighted a script as horrendous as Martin Brest's — he also directed the film. And I'm dying to know what direction he gave to Ben Affleck, who plays his role like some kind of "Saturday Night Live" version of a goombah.
He and Lopez — who plays her role pretty straight (no pun intended) — don't even seem to realize they are in the same movie. I'm not going to defend Lopez's performance or the movie. But honestly, watching it, I mostly just felt bad for her. Some of the dialogue she has is absolutely excruciating. The most embarrassing being, of course, "It's turkey time...C'mon, gobble, gobble" as a euphemism for oral sex. As if any woman in the world would refer to it that way.
Just what the doctor ordered
Lopez recently said on "Primetime Live" that she's not going to talk so much about her personal life anymore, that she's learned the hard way to treat what happens in that side of her life as "sacred" and private. Three cheers for that.
One thing that will always work against her is the way she has to promote her music career. Her appearances and music videos put her out in the public eye way too much.  She has to cut back. Actresses who win Academy Awards don't do "TRL."
Lopez should also take a look at what Charlize Theron did to ignite her career with "Monster." She shouldn't be afraid to put her glamour on the shelf in service of a good role. Looking like "J.Lo" in movies will only undermine her credibility. She needs to treat that persona as another role she plays.
In this era, Lopez is never going to get the chance to showcase the range of her talents the way Cyd Charisse did in the '40s and '50s. If the movie adaptation of "Phantom of the Opera" does well at the box office, Lopez should jump on that trend and look for a musical of her own to star in.
Next up for LopezWhile it's hard to have much hope that "Shall We Dance" will have the charm of the Japanese original, at least Lopez did herself the favor of teaming with some strong co-stars in Richard Gere and Susan Sarandon. In her next film, "An Unfinished Life," she teams with a good director in Lasse Hallström ("Cider House Rules," "Chocolat") and even more veteran actors, Morgan Freeman and Robert Redford.
In her "Inside the Actors Studio" appearance, Lopez said "Being a celebrity is not being an actor." This gives me hope. Despite all the naysayers in the media, I'd love to see her triumph.