Filmmaker Oliver Stone is defending the bisexuality in "Alexander."
"Alexander lived in a more honest time," the controversial filmmaker, who directed the big-budget flick starring Colin Farrell, tells the upcoming issue of Playboy magazine. "We go into his bisexuality.  It may offend some people, but sexuality in those days was a different thing.  Pre-Christian morality. Young boys were with boys when they wanted to be."
The studio distributing the flick, Warner Bros., has denied rumors that the film was being delayed while they considered whether to cut some of the same sex scenes, but Stone tells Playboy that he couldn't get financial backing for the flick in the U.S. "We did not get financed in Hollywood. We were rejected there. We got financed in Europe only."
The highly political Stone also discusses the presidential candidates in the interview, which hits newsstands later this week. Speaking of John Kerry, who was a senior at Yale when he was a freshman, Stone says: "He had a funereal groove about him, like some Dickensian character.  He was always too old for his years." Of George W. Bush, he says: "He's worse than Nixon in his vulgarity. He looks like he shops at Wal-Mart. That's not what the president is supposed to be. He has no intellectual curiosity and is proud of it."
Moore protection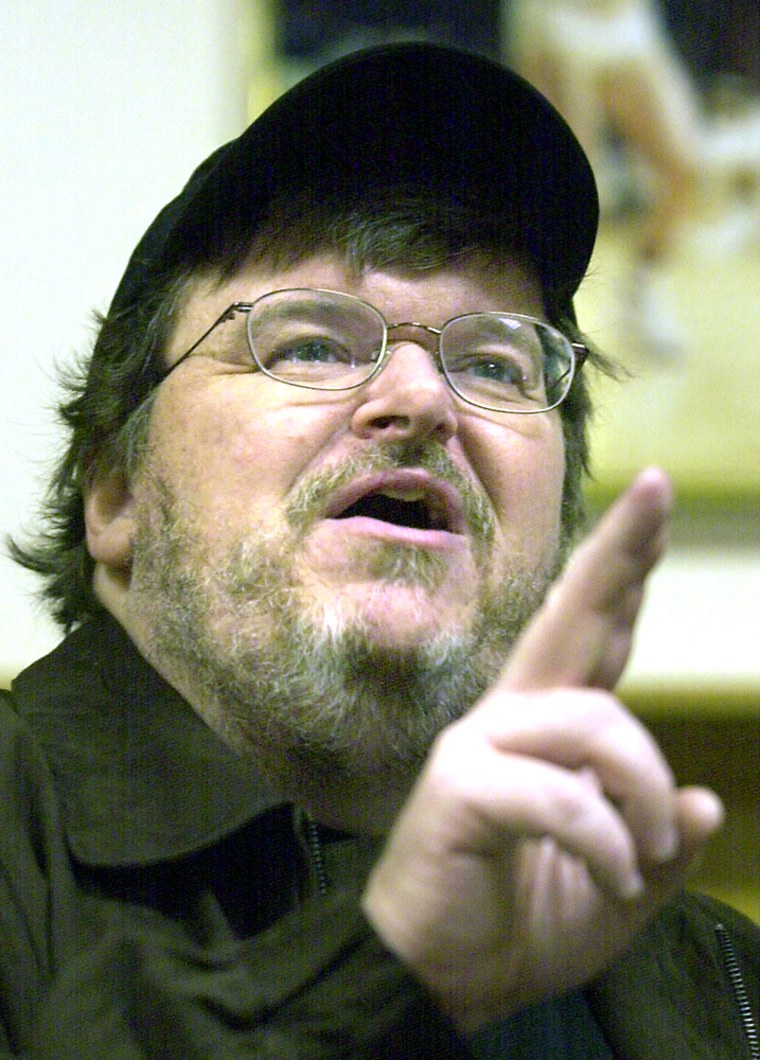 Looks like Pfizer doesn't want to get Michael Moored.
The controversial filmmaker's next documentary is about the prescription drug and health-care industry — tentatively titled "Sicko" — and Moore is telling people that drug-company giant Pfizer has sent out a "secret memo" instructing employees not to talk to him and to alert their bosses if Moore tries to call them or is spotted on the premises.
"He's telling people about it in his slacker uprising tour," Moore's spokesman confirmed to The Scoop. "It's become this whole thing now, about how maybe he'll sneak in to Pfizer in a disguise."
A spokesman for Pfizer, the makers of Viagra, denies to The Scoop that any such memo exists or that the company's employees were told not to speak to Moore.
Moore made the allegation during a talk in New York and in his speech this week at the University of Arizona; it was reported in the student newspaper, the Arizona Wildcat. Also, according to the Wildcat, the crowd was treated to an appearance by Moore fan Linda Ronstadt, as well as a fellow who mooned the crowd and who, apparently, was not a Moore fan.
Notes from all over
Pierce Brosnan seems to be recovering from being fired as James Bond. "From the beginning, I had a contract for four Bond films," the actor told the Swedish paper Aftonbladet, according to our translator. "I did them and told them that I'd like to continue.  But suddenly, in the middle of negotiations, they changed their minds. They said that they weren't interested any more. I was shocked, perplexed. I loved Bond. He's given me so much, mostly a face out in the international market. Afterwards, I was happy.  Now it feels like a relief."  . . . Construction of the $190 million set for "King Kong," to be directed by "Lord of the Rings" director Peter Jackson, is rumored to be way behind schedule. . . . When Susan Sarandon's jewelry was stolen on the set of "Shall We Dance?" the whole thing was "very 'CSI'" Sarandon told the Edmonton Sun. "The police were all over my trailer, taking fingerprints of me and my wardrobe person and my driver and interviewing everybody," she says. "So I took Polaroids of them to send to my boys at camp because they were very into 'CSI' at that point.'"
Mondays through Thursdays on MSNBC.com