No matter how their lives turned out, Debbie Reynolds and Carrie Fisher were always going to be linked together as mother and daughter.
But the pair of iconic actresses will now be forever linked in another way: Having died within hours of one another in late 2016, Reynolds and Fisher are sharing a tombstone at Hollywood's Forest Lawn Memorial Park.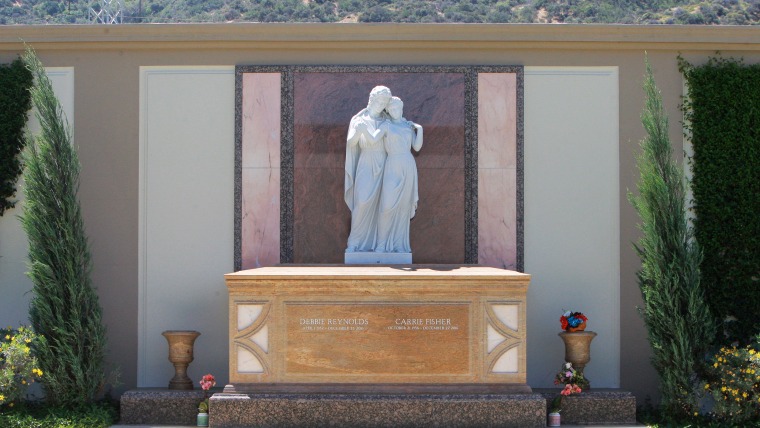 It is a monument worthy of Greek goddesses: an oversized marble memorial featuring a sculpture of a mother and daughter holding hands. A large headstone is inscribed with both names, their birthdays and days of death.
RELATED: How Debbie Reynolds and Carrie Fisher healed their relationship before their deaths
It's awe-inspiring and yet simple at the same time, telling the true story at the heart of the women, who had a tempestuous relationship for many years. But by the end, they were best friends.
A documentary that aired on HBO earlier this year, "Bright Lights," showed the pair (who lived next door to each other) and their day-to-day interactions.
RELATED: 'Devastating': Debbie Reynolds' death leaves stars reeling after loss of Carrie Fisher
Fisher, 60, had a heart attack while flying from London to Los Angeles on Dec. 23, and she died on Dec. 27.
Reynolds, 84, suffered a stroke one day later and died on Dec. 28.
A public memorial for both was held on March 25 at Forest Lawn, and was streamed on Reynolds' website.
As she had asked, Fisher was cremated and had some of her ashes placed in an urn shaped like a Prozac pill (Fisher was vocal about facing her mental health issues), which was laid net to her mother.
RELATED: Carrie Fisher gets candid on TODAY: See her open up about 'Star Wars', love and life
"She wanted to be with Carrie," Todd Fisher, Debbie's son and Carrie's brother, told Variety after Reynolds' death. "In fact, those were the last words that she spoke this morning."
Follow Randee Dawn on Twitter.