What did Kanye West get fiancée Kim Kardashian for Christmas? An Hermes Birkin bag! Not only that, West had artist George Condo turn the handbag into a work of art.

Or did he?
Well, that depends on your perspective. 
New York Magazine senior art critic Jerry Saltz told TODAY that maybe Kardashian, West and Condo should be forbidden to get near great fashion accessories for two years as punishment for what they did to the bag. 
"I love Birkin bags; the painting on this one is grotesque," Saltz said via email. "George Condo has made good work. This painting or cartoon stinks. For the last few years he's been making knock-offs of his own work, getting weaker and weaker. When it comes to how to handle a great bag, this is clueless. No one should pay more than ten dollars for this monstrosity and travesty of a great bag."
No matter: Kardashian clearly loves it. She's been spotted carrying the bag in public, and Instagrammed a photo of the gift on Dec. 26 with the hashtags #HandPaintedGeorgeCondo #HermesBirkin #OneofOne #ChristmasPresentFromYeezy.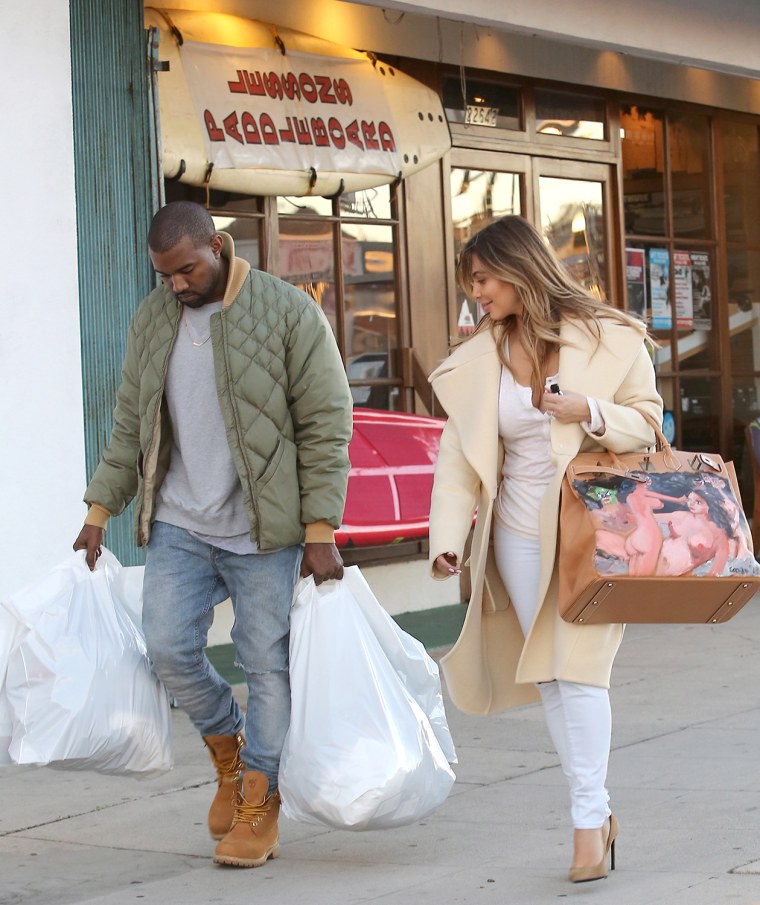 Her Instagram followers weren't big fans of the one-of-a-kind gift, with several commenting that it was "ugly" and others wondering if it was a joke.
Condo is an artist who has had his works displayed in New York's Metropolitan Museum of Art and has had many gallery shows over the years. He and West also worked together on the five covers for the rapper's 2010 album "My Beautiful Dark Twisted Fantasy." 
Condo commented on the record covers to Vulture when the albums were released, noting that he was "challenging (West) with the imagery. ... He said, 'I'm shocked, but I like it, and I gotta go with my gut feeling.'"
Birkin bags are hot properties with high price tags, usually selling for tens of thousands of dollars. Francesca Eastwood, daughter of Clint, caused a kerfuffle in 2012 when she and her photographer boyfriend posted photos of the bags being cut up and set on fire to his website.