Injuries are unfortunately common on "The Deadliest Catch," which follows the lives of men who work in one of the most dangerous professions on Earth — crabbing in the Bering Sea. In a clip of the season 10 premiere that Discovery is sharing exclusively with TODAY.com, one man suffers a rather painful, though not rare, injury: getting pinched by a giant king crab.
As the Cape Caution vessel's greenhorn Kelly Collins screams in pain, his crewmates yell at him to "don't break" the valuable crustacean. 
"It was a harvestable crab so it was probably worth in the neighborhood of $60," Capt. "Wild" Bill Wichrowski told TODAY. "So when it came up, it was real important to save that crab. If you break a leg, they're gonna die, and if they're dead, they're not worth anything."
Thanks to a shortened crabbing season, every crab really counted, but unfortunately for the crew of the Cape Caution, they had an extra challenge on their hands in the form of their greenhorn, who wasn't seriously injured by the crab.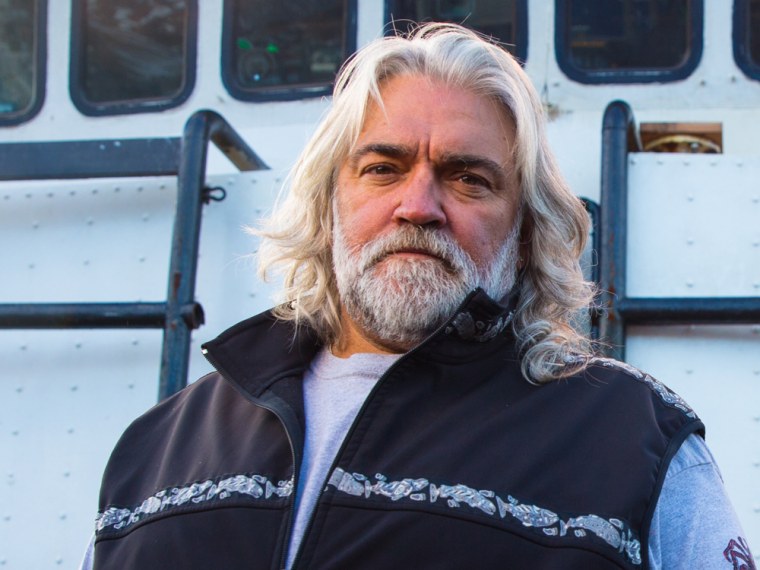 "It's painful. I've been there!" Wichrowski said. "I've seen guys actually have a crab break their finger, so they don't require that much force with the big pincher claw. ... As the show goes on, you'll see that (Collins) has a lot more trouble than that crab pinching him."
The captain explained that the ship's newbie had a great background that made him a good fit for the tough line of work, but Collins ended up not being the best addition to the crew.
"He was one of the worst ones I've ever had," Wichrowski said, noting that he could see right from the start that the young family man was going to have trouble. "The entire season was an effort trying to keep him motivated. ... I pushed really hard to keep him on board to finish the (crabbing) season, because if you don't finish the season, you don't make much money."
"Throughout the season, it went through a cyclic ride where there were times when the guys were trying to help him and get him to perform and encourage him, and there were other times when everbody was pretty much fed up with his lack of effort," the captain told us.
But Collins isn't the only problem the crew of the Cape Caution faces in the show's 10th season. 
"There's another kid on board, my deck boss Nick, he's kind of my other son," Wichrowski said. "Nick has alcohol issues, and there's a lot of trials and tribulations because of that. Toward the end of the season, we have some pretty tough moments because Nick has trouble separating work from fun."
See how the men of the Cape Caution — and of course, the other boats — fare when "The Deadliest Catch" kicks off season 10 on April 22 at 9 p.m. on Discovery.