During his tenure as one of the kings of late-night TV, David Letterman has long preferred asking the questions rather than being the one offering up revealing answers.
But now that the end of his "Late Show" run is nigh, the host is opening up about his 33 years in the business, including scandal, his successor and whether or not "the Jimmys" drove him out of his job.
"No, they didn't push me out," he told The New York Times of his youthful competition, "The Tonight Show's" Jimmy Fallon and the host of "Jimmy Kimmel Live." "I'm 68. If I was 38, I'd probably still be wanting to do the show. When Jay [Leno] was on, I felt like Jay and I are contemporaries. Every time he would get a show at 11:30, he would succeed smartly. And so I thought, 'This is still viable — an older guy in a suit.' And then he left, and I suddenly was surrounded by the Jimmys."
Ultimately, Letterman simply felt it was his time to step down, even though the impending end leaves him feeling "awash in melancholia." But he's not planning a sentimental send-off, à la former "Tonight Show" host Johnny Carson.
"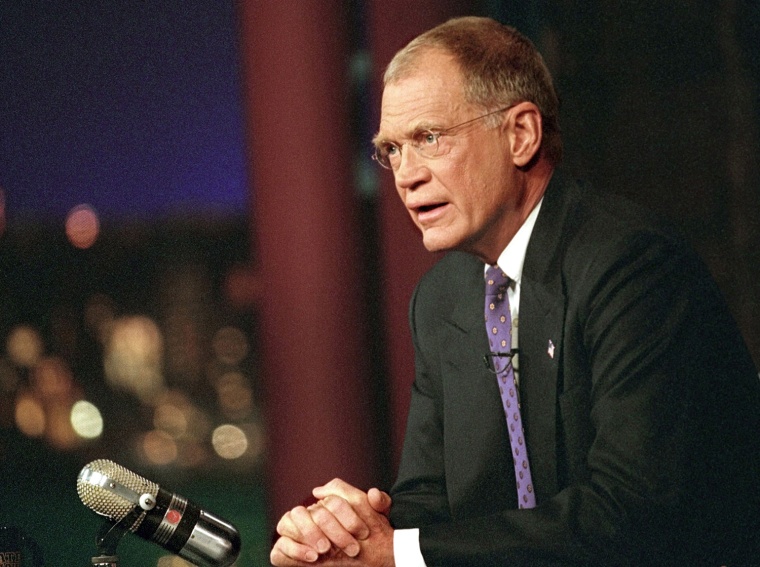 Of course, Johnny's last show was historic," he said. "This one won't be. This one, people will say: 'Ah, there you go. When's the new guy starting?'"
About that new guy — Stephen Colbert — it turns out, Letterman didn't have any say in his selection.
"I always thought Jon Stewart would have been a good choice," he said of his personal first choice. "And then Stephen. And then I thought, well, maybe this will be a good opportunity to put a black person on, and it would be a good opportunity to put a woman on. Because there are certainly a lot of very funny women that have television shows everywhere."
Regardless of who got the job, Letterman would have just liked to have had a say.
"As a courtesy, maybe somebody would say: 'You know, we're kicking around some names. Do you have any thoughts here?'" he mused. "But it doesn't bother me now."
The truth is Letterman recognizes that he's lucky he has the chance to step down on his own terms. In 2009, his sexual relationships with staffers — which he now refers to as his "sex scandal" — came to light when he exposed an extortion attempt against him.
"Looking at it now, yes, I think [CBS] would have had good reason to fire me," he told the Times. "But at the time, I was largely ignorant as to what, really, I had done. It just seemed like, 'OK, well, here's somebody who had an intimate relationship with somebody he shouldn't have had an intimate relationship with. And I always said, 'Well, who hasn't?' to myself. But then, when I was able to see from the epicenter, the ripples, I thought, 'Yeah, they could have fired me.' But they didn't. So I owe them that."
Letterman's final episode of "Late Show" airs May 20 on CBS.
Follow Ree Hines on Google+.