David Letterman's mother, Dorothy Mengering, who was once a sweetly homespun comic fixture on his show, died at 95 in Indiana on Tuesday.
Mengering achieved a measure of fame when Letterman began having her on his show in the 1990s for segments like the Thanksgiving staple "Guess Mom's Pies," and annual Mother's Day appearances.
She died a day before Letterman's 70th birthday.
With a beaming smile, Mengering often appeared remotely from the kitchen of her home in Carmel, Indiana. Her Midwest charm contrasted with her son's biting sarcasm as he tried to guess what type of pie she had made.
In 1996, she wrote a cook book, "Home Cookin' With Dave's Mom," which included some of his favorites like "Hot Baloney Sandwich" and "Sour Cherry Pie."
RELATED: See David Letterman's hilarious tribute to Pearl Jam at the Rock and Roll Hall of Fame ceremony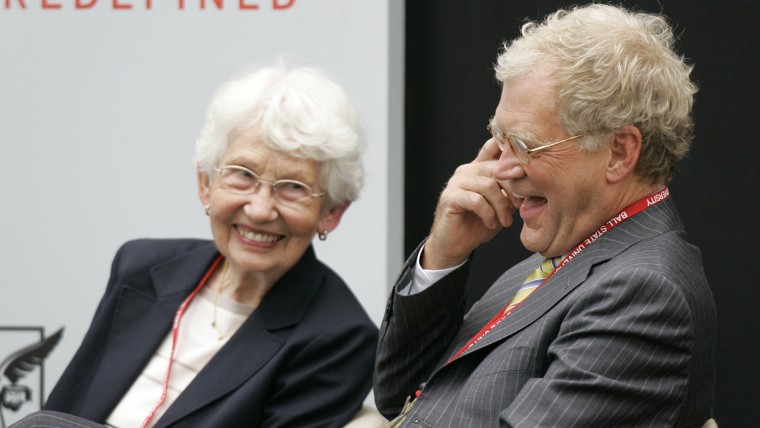 She also was a hit as a Winter Olympics correspondent for Letterman's "Late Show" on CBS, beginning with the 1994 Games in Lillehammer, Norway, and continuing in 1998 in Nagano, Japan, and 2002 in Salt Lake City.
While she was in Lillehammer, she once asked spectator Hillary Clinton if there was anything she could do about the speed limits in Connecticut, where David had racked up multiple speeding tickets.
"Well, his dad had a good sense of humor, but I think he may get it from my dad," she told The New York Times of her son in 1996. "He drove Mother crazy sometimes, cracking jokes. I guess I'm more like she was. I kind of take things more seriously, although I'm much more laid-back than I used to be."
Letterman's iconic "Top 10" lists were another recurring bit for Mengering. She would often appear on his birthday or Mother's Day to offer a deadpan delivery of a list.
RELATED: David Letterman reveals moment he realized he 'couldn't care less' about late night TV
"We just all loved the fact that she shined in her unexpected second career as a television star," her youngest daughter, Gretchen Letterman, 61, told The Tampa Bay Times. "I was just so very proud of her in that role.
"She wouldn't take any stuff from him, which was what was so funny. Even though she let him fill her fridge with Colt 45 malt liquor and bags of White Castle, when he would say something really ridiculous, she would say: 'Oh David, that's not true.' She was the perfect foil for him."
Mengering was a mother of three children, David, Jan and Gretchen, and a grandmother of five. She lived her entire life in Indiana and was a longtime secretary at Second Presbyterian Church in Indianapolis, according to an obituary written by her children for The Indianapolis Star.
Her first husband, Joe Letterman, died in 1973, and she remarried to Hans P. Mengering 10 years later. The pair traveled frequently and raised money for the Kiwanis Club until his death in 2013.
"Dorothy's idea of a good time was being with her family, driving in the country or enjoying a meal together,'' her children wrote. "Though she was an extraordinary cook, one of her favorite things to eat was the Greek pizza at Some Guys."
Follow TODAY.com writer Scott Stump on Twitter.