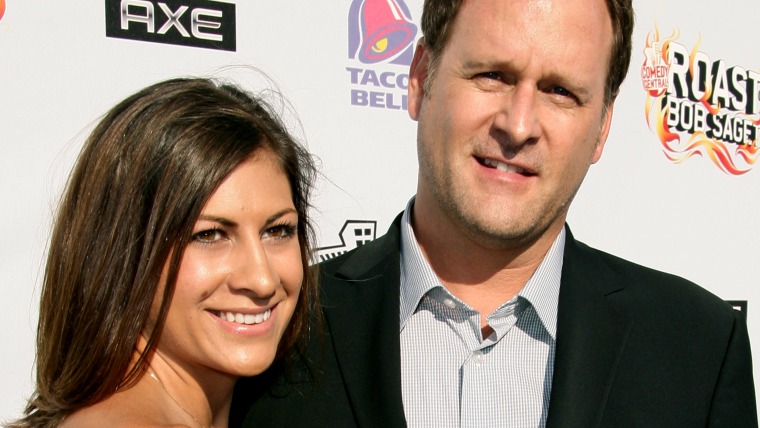 "Full House," indeed. Actor/comedian Dave Coulier's Wednesday wedding to photographer/producer Melissa Bring was practically a cast reunion for the members of that hit ABC series, as the pair was joined by John Stamos, Bob Saget, Candace Cameron Bure, Andrea Barber and show creator Jeff Franklin for their nuptials.
Coulier (Uncle Joey), 54, married Bring, 31, in Paradise Valley, Montana after a long courtship — and thanks to the actors' activity on social media, some of the run-up to the big day and the post-event fun turned up online.
Bure (DJ Tanner) and Barber (Kimmy Gibbler) had told Us Weekly that they would attend as each others' dates, leaving their husbands at home to watch the kids, and chronicled their good time, from parade-watching to sharing a bench at the event.
Sign up for top Entertainment news direct to your inbox 
Bure also posed with the groom on Instagram, noting: "Happy wedding day Dave & Melissa!!! I love you both SO much!!!!"
Neither of the ladies passed up a shot with a snazzy-looking Stamos (Uncle Jesse).
Stamos, it seems, was happy to goof around. Saget (Danny Tanner) even caught him walking off with a bench at one point.
But in the end, it was Franklin who made sure his three leading men gathered for one spectacular group shot, post-nuptials:
Mary-Kate and Ashley Olsen (who played little Michelle on the show) were not in attendance, and clearly missed out on a good time!
Us reported news of Coulier's engagement in June and he told the magazine then, "Melissa has been my best friend since I met her nine years ago. I feel like the luckiest man on the planet. I get to marry my best friend, and she doesn't mind that I have a really bad gas problem."