Two women in need of changes got exactly that on Thursday, thanks to some gorgeous Ambush Makeovers.
Natalie Peterson, 28, came to New York with her sister and some friends, who were hoping to see their gal pal's look transformed into something more professional, yet fun.
"It's kind of crazy. Out of my comfort zone, but I'm ready," Peterson said before going in for her makeover.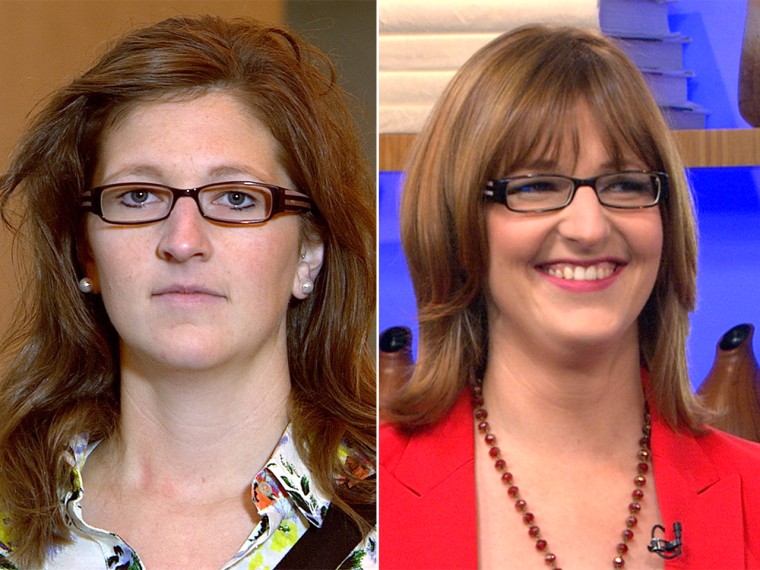 Beauty guru Louis Licari took several inches off of Peterson's hair to give her a layered bob, while stylist Jill Martin put her in a red blazer with a black lace-trimmed tank peeking out from underneath.
"You look more professional, sexier. The phone's going to be ringing off the hook," Licari declared.
The reveal prompted a lot of whooping and hollering from Peterson's friends.
"It's different. Much different," Peterson agreed.
Marsha Bigler, 41, was picked for her makeover thanks in part to her daughter's strategy of putting her mother in the "ugliest shirt" she owned.
Bigler's daughter, Dominique, has been battling cancer for the past five years and wanted someone to take care of her mother for a change.
Licari lightened Bigler's brown hair, turning it dark blonde. He also took several inches off the length and warmed up her look with some soft makeup. Martin then put her in a sexy black dress and a white trench coat.
The change was so stunning it left Dominique completely speechless.
But her mother was definitely pleased with what she saw.
"Oh my gosh," she said.
See the best transformations on TODAY! Hairstylist Louis Licari and TODAY contributor Jill Martin give fans stunning makeovers from head to toe.